This article is our latest study on the highest-paying Biology jobs / Biology majors. 
Ever wondered what careers in your chosen field could be best for you? While pay should NEVER be the only consideration for a job, it's one of the most important factors.
So, we've compiled a list of the latest job data to help you make an informed decision in the field of biology. 
Biology is a broad field of study, involving everything from health care to agriculture to zoology. 
The scope of biology degree jobs can be quite wide. But here are our top 10 Highest-paying biology jobs to get you started.
#15. Physical Therapist Assistant
Source: Glassdoor
Low Range: $7k per year
High Range: $593k per year
Median Pay: $65,030 per year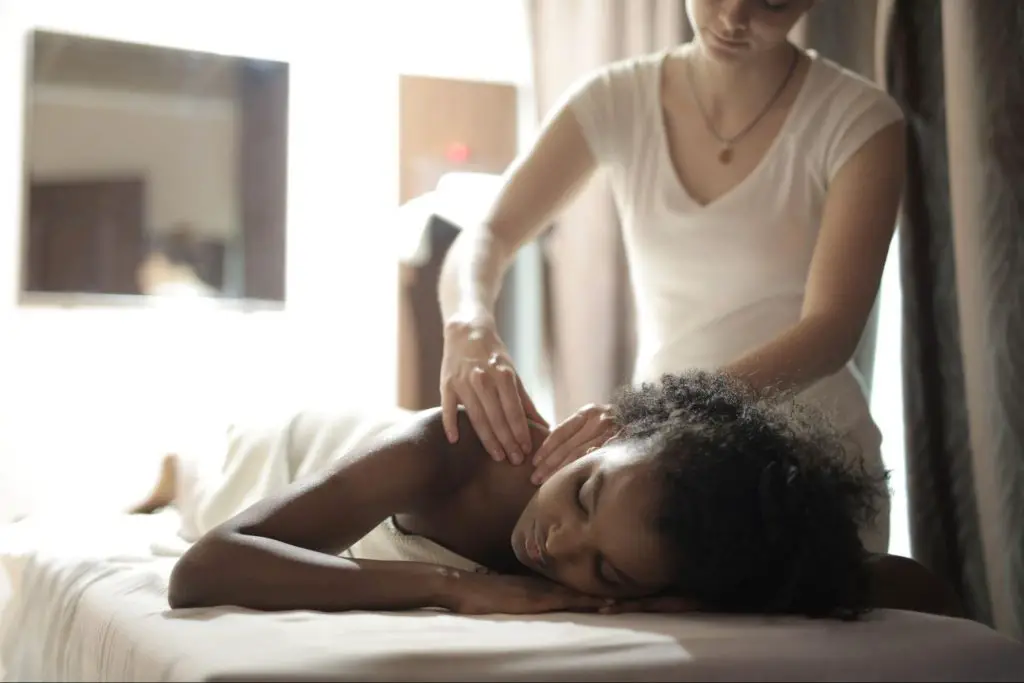 Physical therapist assistants help physical therapists provide care to patients. They do administrative tasks and help patients do exercises prescribed by their physical therapists.
A high school diploma or equivalent is necessary to enter a post-secondary education program for physical therapist assistants. 
Some programs require that applicants complete courses in chemistry, biology, physics, psychology, and algebra. 
At least an associate's degree is required for this field, though most of the accredited programs are bachelor's degree programs. A master's degree is required for students who want to become physical therapy educators.
Most states require physical therapist assistants to be licensed or certified by passing the National Physical Therapy Examination (NPTE) administered by the Federation of State Boards of Physical Therapy (FSBPT). 
According to Glassdoor, the median annual wage for physical therapist assistants is $65,030.
#14. Agricultural & Food Scientist
Source: ZipRecruiter
Low Range: $18,500 per year
High Range: $139,500 per year
Median Pay: $67,890 per year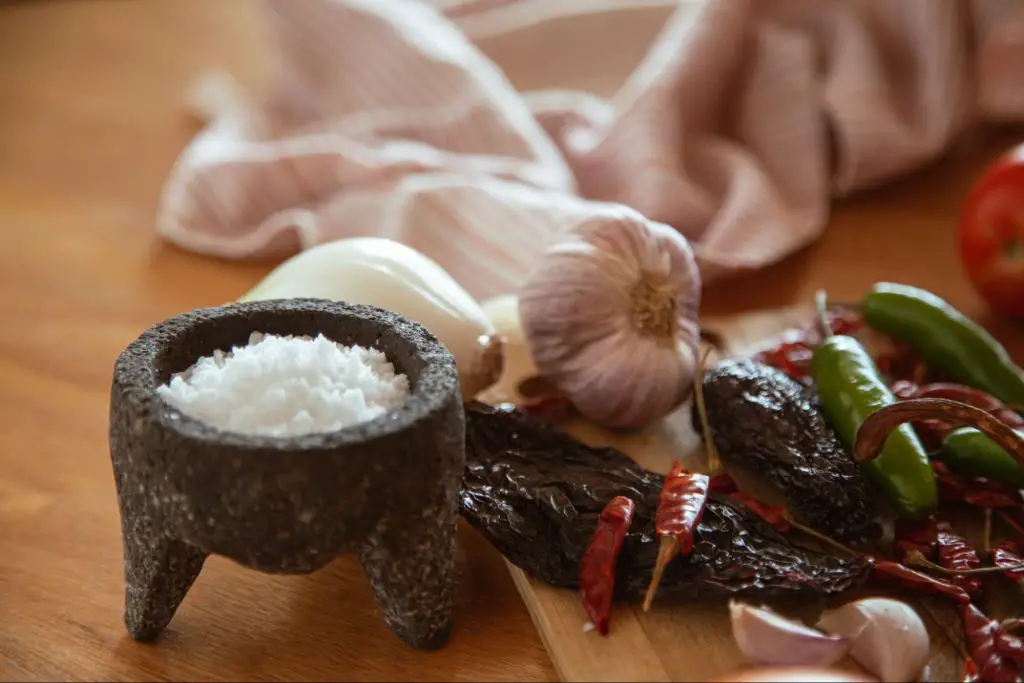 Agricultural and food scientists are passionate about solving food, nutrition, and agricultural production problems. They evaluate the nutritional quality of foods, develop new foods and food processing methods, test new ways to grow crops, control pests, and improve livestock production.
Agricultural & food scientists must have a bachelor's degree in food science or a related field. Often, they have to be licensed or certified, and it helps if they're bilingual.
These scientists make about $67,590 per year, according to data from ZipRecruiter.
You might find Agricultural & food scientists working at food manufacturers, government agencies, the military, and more.
#13. Biochemist
Source: Zippia
Low Range: $43k per year
High Range: $118k per year
Median Pay: $71k per year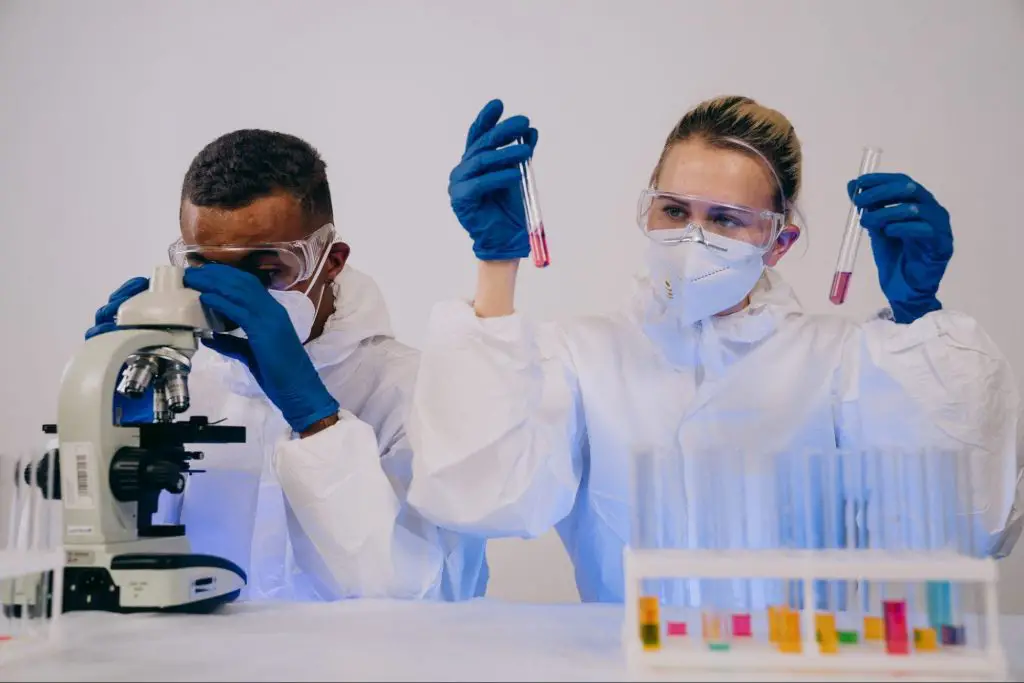 Biochemists study the chemical makeup of living organisms and their processes, including DNA and proteins. They also study blood and urine samples to analyze them for certain diseases, among other things.
Biochemists usually need a bachelor's degree in biochemistry or another related field to get an entry-level job in this field. However, if you want to work independently or in research projects, you'll need a Ph.D.
Salaries for biochemists vary depending on the industry they work for and their level of education. The median annual salary for Biochemists is $71k Zippia.
BLS projects the job outlook for Biochemists to grow 5 percent from 2020 to 2030.
Biochemists may be employed by pharmaceutical companies or government agencies such as the Food and Drug Administration (FDA), Environmental Protection Agency (EPA), or Department of Agriculture (USDA). Other possible employers include oil companies and research laboratories.
#12. Genetic Counselor
Source: Glassdoor
Low Range: $20k per year
High Range: $277k per year
Median Pay: $71,686 per year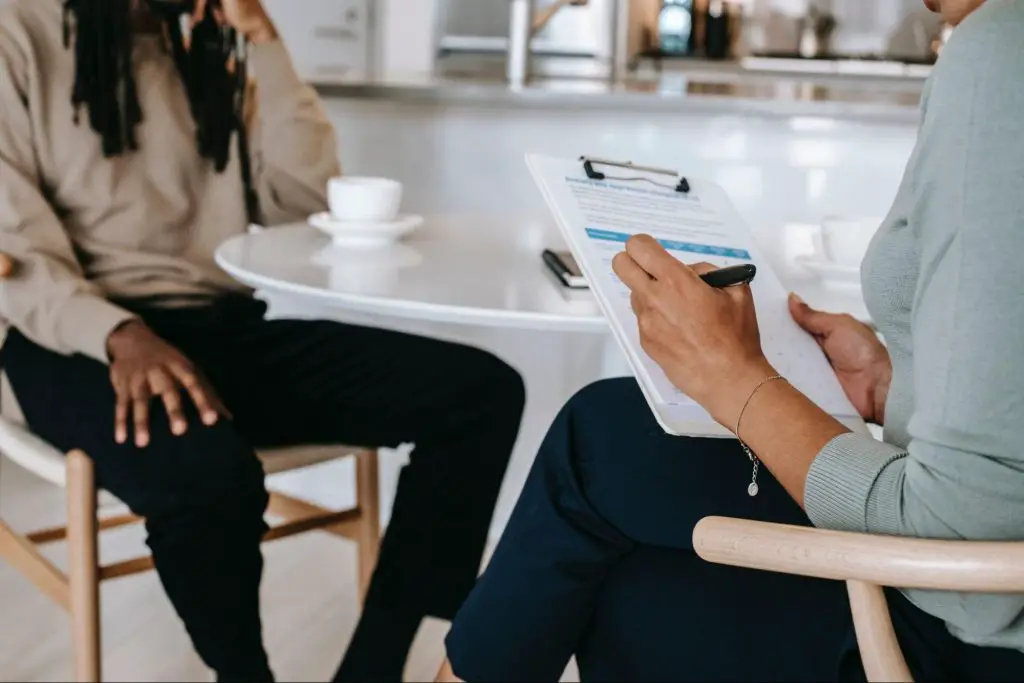 Genetic counselors are health professionals who are trained in genetics, counseling, and medical ethics. They help people understand and adapt to the medical, psychological, and familial implications of genetic contributions to disease. 
Genetic counselors may be involved in cancer genetics, prenatal diagnosis, and carrier testing for genetic disorders. They also participate in diagnostic testing for neurological conditions such as Alzheimer's disease. 
The median annual wage for genetic counselors is $71,686. Many employers offer benefits packages that include health insurance and paid vacation time.
#11. Health Communications Specialist
Source: Glassdoor
Low Range: $39k per year
High Range: $144k per year
Median Pay: $71,819 per year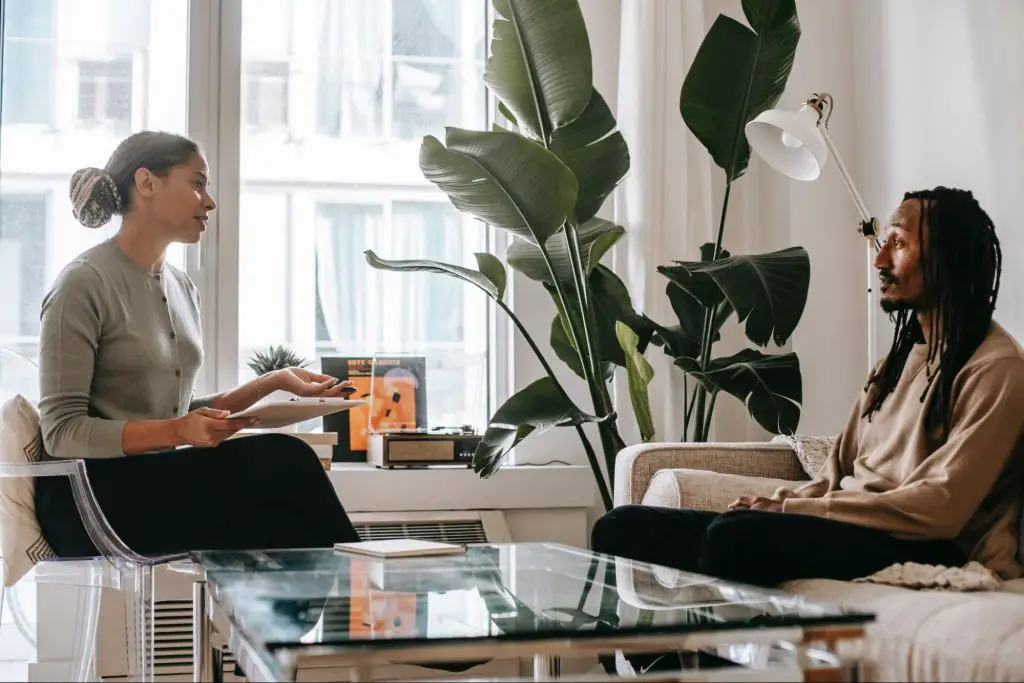 Health communications specialists are responsible for educating the public about health and wellness. They spread the word about physical fitness, nutrition, disease prevention and treatment, and mental health. Health Communications Specialists may be generalists or specialize in a specific area, like pediatric health or gerontology.
The average salary for a health communications specialist is $71,819. The job outlook is expected to grow by 11% by 2030.
These specialists can work in a variety of settings and environments, including doctors' offices and hospitals, nonprofit organizations, schools, media outlets, or corporations with internal teams of communications specialists.
#10. Environmental Scientist
Source: Glassdoor
Low Range: $23k per year
High Range: $322k per year
Median Pay: 78,552 per year
Environmental Scientist is a job that involves identifying and studying the causes of pollution and developing methods to minimize the effect of environmental hazards. They work for companies with environmental concerns and government agencies, often at hazardous waste sites, on oil rigs, or in factories.
Environmental Scientists need a bachelor's degree to get started in this field. The median annual salary for an Environmental Scientist is $78,552, according to data from Glassdoor.
#9. Registered Nurse
Source: Salary Explorer 
Low Range: $41,800 per year
High Range: $123,000 per year
Median Pay: $80,400 per year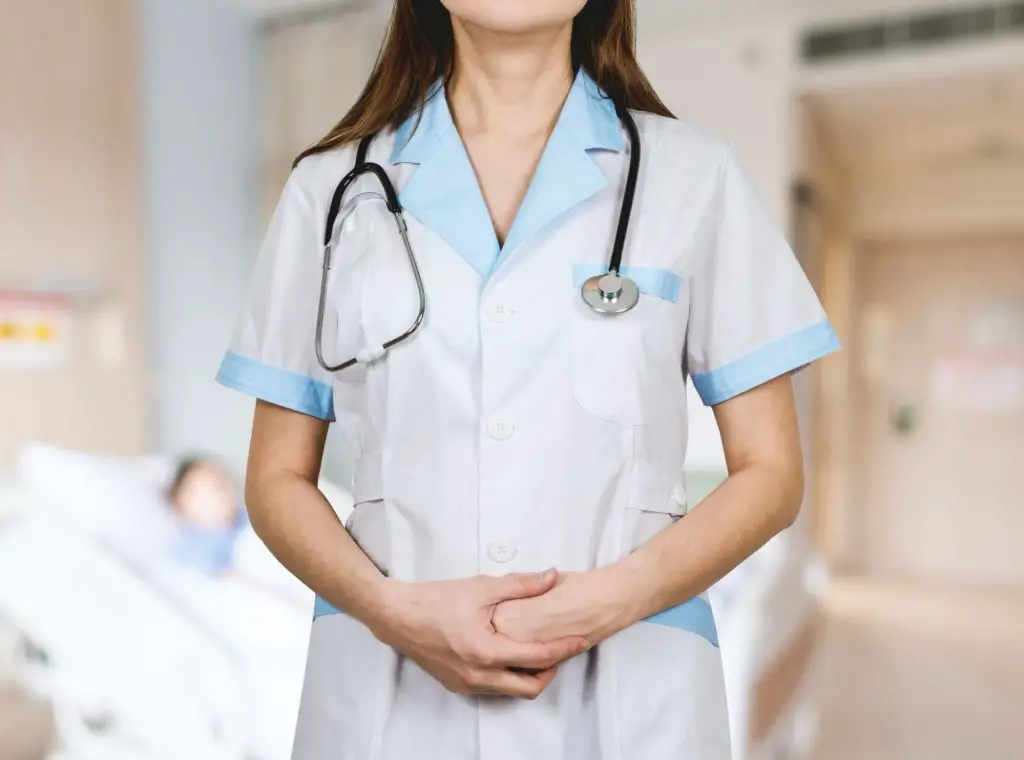 The primary role of a registered nurse is to care for patients in hospitals, clinics, and other medical facilities. They work to promote health, prevent illness and help patients cope with illness. Registered nurses also educate patients and the public about various medical conditions.
A registered nurse typically needs an associate's or bachelor's degree in nursing and must be licensed by the state where they plan to practice.
Pay for registered nurses varies depending on their level of education, the type of facility at which they work, and their specialties. According to Glassdoor, registered nurses earn a median annual salary of $80,400.
The BLS also predicted that job opportunities for all registered nurses would grow 9% by 2030.
#8. Pharmaceutical Sales Representative
Source: Payscale
Low Range: $52k per year
High Range: $125k per year
Median Pay: $88,497 per year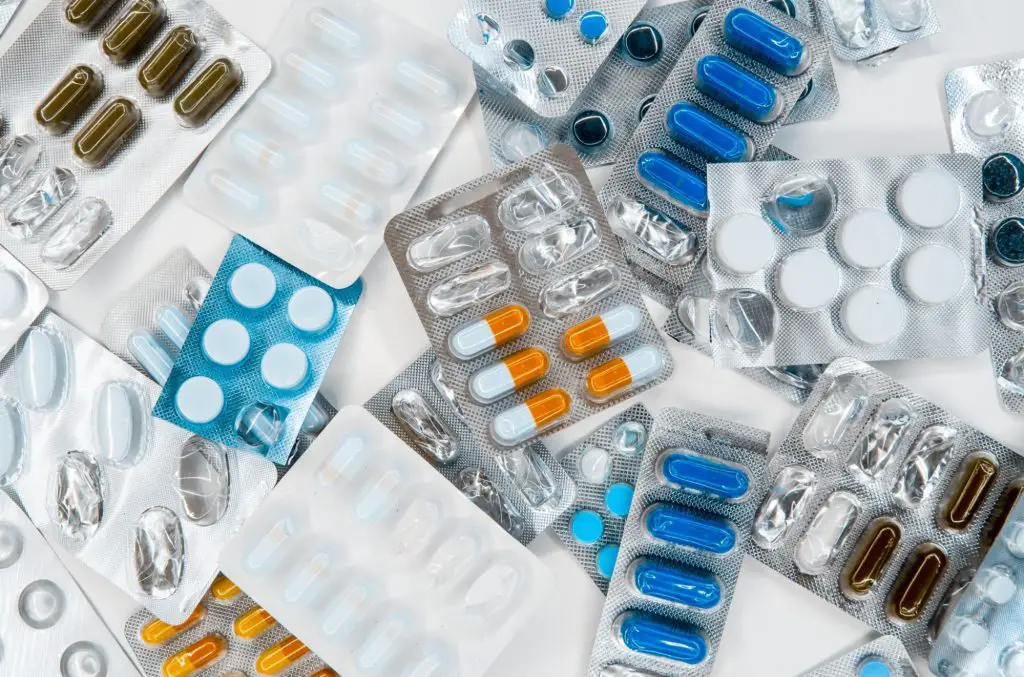 A pharmaceutical sales representative is responsible for selling prescription drugs and other medical products to physicians, clinics, and hospitals. They are also known as medical sales representatives.
To begin a career in this field, you need to have at least a bachelor's degree in business or science. Employers often require experience in pharmaceutical sales, customer service, or marketing.
The average salary for Pharmaceutical sales representatives is $88,497 per year, but this number varies widely depending on location and experience level. 
Some companies prefer to hire people with a background in medicine or science who can talk about the drugs they are selling from an expert perspective.
Other employers prefer candidates who have more sales experience because these professionals understand how best to get people interested in their products.
Pharmaceutical sales representatives usually work in offices or hospitals.
#7. Veterinarian
Source: Glassdoor
Low Range: $41k per year
High Range: $309k per year
Median Pay: $116,038 per year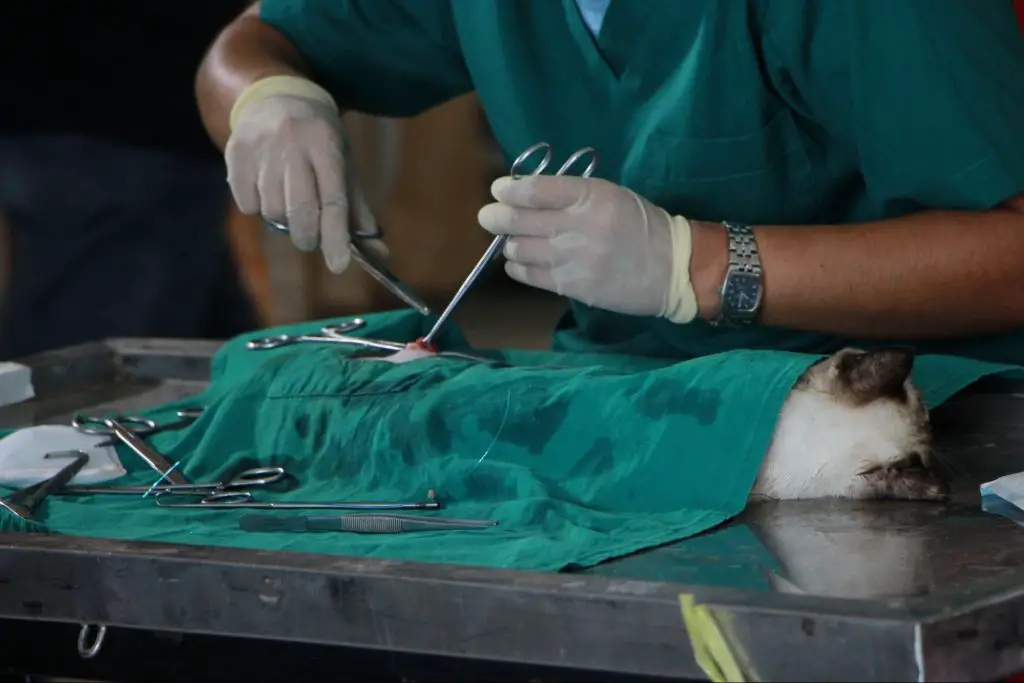 Veterinarians care for the health of animals and work to protect public health. They diagnose, treat, and research medical conditions and diseases of pets, livestock, and other animals.
Veterinarians are at the forefront of managing animal health care.
Veterinarians must have a Doctor of Veterinary Medicine degree from an accredited veterinary college. You also need a state license to work as an animal doctor. 
You must have good communication skills because you will be interacting with pet owners and others regularly.
Veterinarians may work in research projects, or for pharmaceutical companies or agricultural organizations.
The median annual wage for veterinarians is $116,038, according to Glassdoor. The employment of veterinarians is projected to grow by 17 percent from 2020 to 2030 by BLS. 
#6. Pharmacist
Source: Salary Explorer 
Low Range: $64,100 per year 
High Range: $199,000 per year
Median Pay: $128,000 per year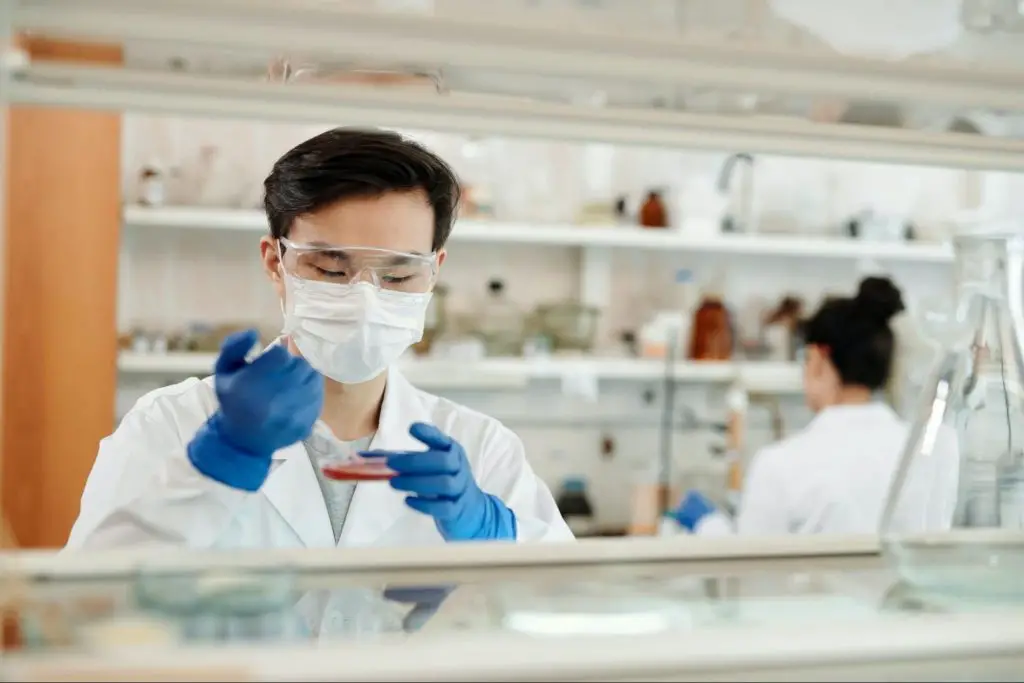 Pharmacists are healthcare professionals who dispense medications to patients and offer expertise in the safe use of prescriptions. They also may conduct health and wellness screenings, provide immunizations, oversee the medications given to patients, and provide advice on healthy lifestyles.
A Pharmacist must have a Doctor of Pharmacy degree from an accredited pharmacy program and a state license. 
Pharmacists also must have good interpersonal skills because they often deal with frustrated or sick people. Additionally, it is important for a Pharmacist to be detail-oriented because they often deal with complex and potentially dangerous medications.
The employment of pharmacists is expected to decline by 2 percent from 2020 to 2030. Job prospects will be best for those who complete a 1- or 2-year residency after getting their degree.
The median annual wage for pharmacists is $128k.
#5. Physician Assistant
Source: Salary Explorer
Low Range: $75,300 per year
High Range: $240k per year
Median Pay: $154k per year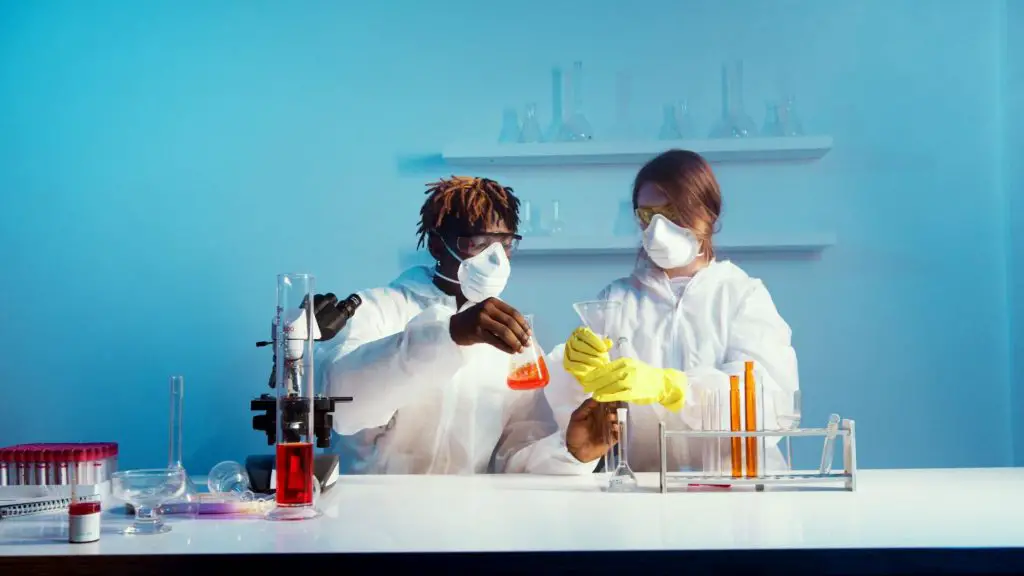 Physician assistants (PAs) are health care professionals who provide medical treatment and services under the supervision of physicians and surgeons. They examine, diagnose and treat patients. They also provide patient health education, assist in surgery, and order medical tests. 
PAs can order treatments, prescribe medications, and perform various medical procedures.
The educational requirement is a master's degree from an accredited physician assistant training program that meets the Accreditation Review Commission on Education for the Physician Assistant (ARC-PA) standards. Certification is required to work as a PA within the U.S., although some states allow PAs to practice without certification.
Physician assistants earn a median annual wage of around $154k.
Most biology jobs for physician assistants require at least two years of clinical experience working as a medical assistant or paramedic before applying for formal training programs. The BLS predicts a job growth rate for physician assistants of 31% by 2030.
#4. Dentist
Source: Glassdoor
Low Range: $106k per year
High Range: $261k per year
Median Pay: $166,391 per year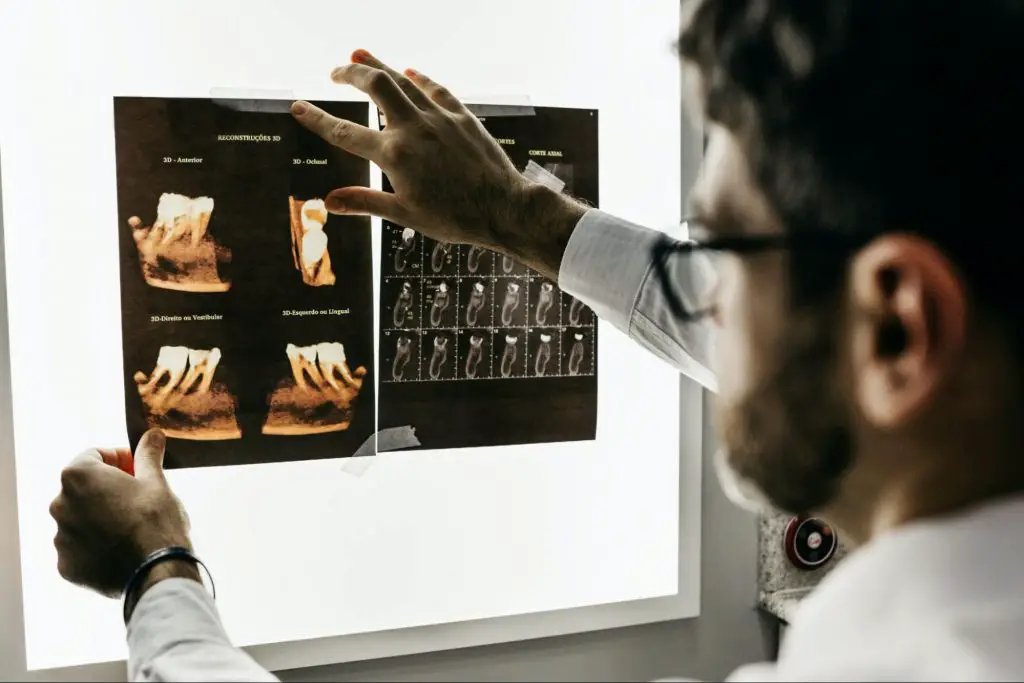 This profession is one of the highest-paying jobs for biology majors.
Dentists are valuable professionals in the medical and science industry. They perform routine dental procedures and help patients maintain healthy teeth and gums. They provide services like tooth cleanings, cavity fillings, crowns, root canals, and extractions. In some cases, they also perform surgery on the jaw or mouth, like if a patient needs to have their wisdom teeth removed. 
Dentists are also responsible for performing checkups and diagnosing oral health conditions. They look for signs of things like cavities, gum disease, oral cancer, and other diseases that affect the mouth.
As a dentist, you'll maintain proper oral health care for your patients.
To become a dentist, you need to attend dental school after receiving your undergraduate degree. Once you have completed dental school, you will still need to be licensed by your state before practicing dentistry. 
Dentists earn an average annual salary of $166K. Salaries can range from $106K to $261K.
The job outlook for dentists is very good, with job openings expected to increase by 8% in the next 8 years.
Dentists typically work in private dental practices, though they can also work in hospitals and clinics.
#3. Physician
Source: Salary Explorer
Low Range: $81,800 per year
High Range: $376k per year
Median Pay: $223,000 per year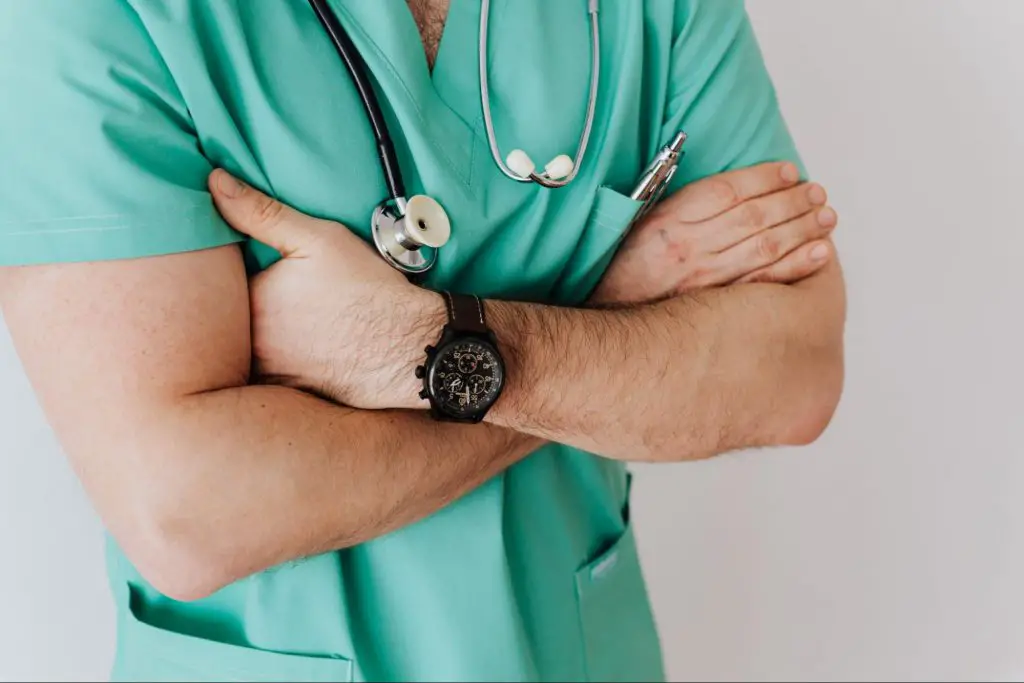 Physicians are medical scientists who perform physical examinations, order and interpret tests, diagnose diseases, and prescribe medications. Most physicians specialize in a particular area, such as internal medicine or pediatrics.
Physicians typically do not need only a bachelor's degree. You must have a degree from a medical school- which takes 4 years to complete- and, depending on their specialty, 3 to 7 years in internship and residency programs. 
According to data from Salary Explorer, the median annual wage for physicians and surgeons is $223k.
Employment of physicians and surgeons is projected to grow 3 percent from 2030.
Continued growth in the demand for healthcare services will lead to more demand for physicians and surgeons to treat patients.
#2. Podiatrist
Source: Salary Explorer 
Low Range: $112,000 per year
High Range: $347,000 per year
Median Pay: $224,000 per year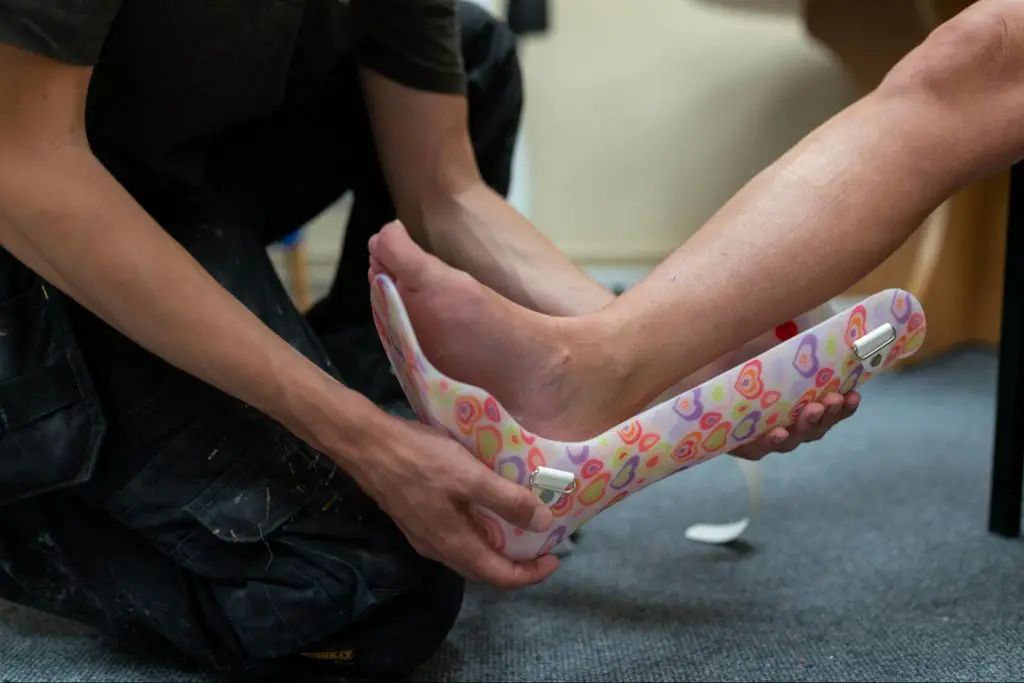 Podiatrists are medical doctors who specialize in diagnosing and treating foot, ankle, and related leg disorders. They diagnose and treat injuries, diseases, and other foot, ankle, and lower leg conditions. They also prescribe medications and perform surgery.
Podiatrists must complete four years of podiatric medical school and hospital residency training in podiatric medicine and surgery. They must also pass state licensing examinations to practice.
According to data from Salary Explorer, the average salary for all podiatrists is $224k per year. Salaries vary depending on location and experience level.
The BLS projects that employment will grow slower than average from 2020 to 2030 (2 percent growth).
#1. Oncologist
Source: Glassdoor
Low Range: $69k per year
High Range: $800k per year
Median Pay: $232,048 per year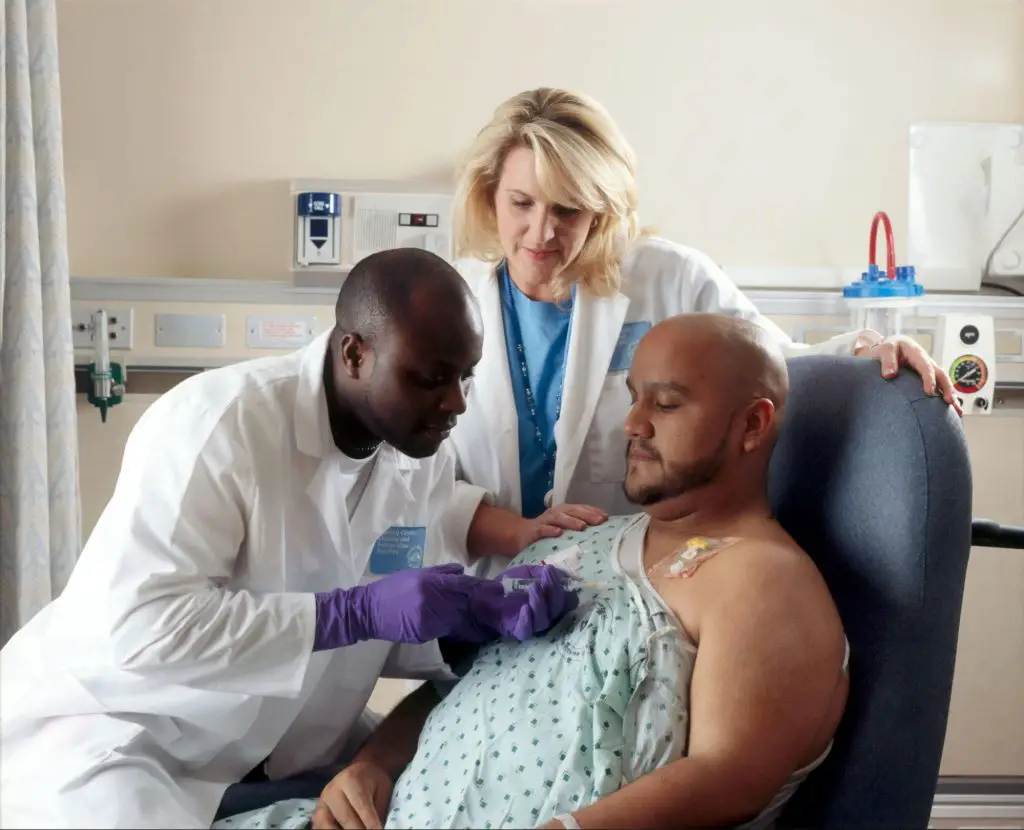 Oncologists are doctors who specialize in the treatment and care of people with cancer. They treat patients with chemotherapy, radiation, surgery, or a combination of these treatments.
Oncologists need to have both an undergraduate and medical degree to qualify for licensure as a doctor. Because oncology is a subspecialty, doctors aspiring to be oncologists must complete a residency program in internal medicine or pediatrics before applying for a three-year fellowship in oncology.
Oncologists work in hospitals, medical clinics, and private practices.
Conclusion
During our research, we found a couple of interesting jobs related to biology. While they might not be the highest jobs in terms of average salary. But for people with bachelor's degrees, it's a good practice to keep your eyes open to the new jobs outside of development and research projects.
There's plenty of good news for biology majors in our research. 
Here, you can see that these are some of the highest-paying biology jobs available. While some opportunities require only a bachelor's degree, other companies prefer a higher level of education with biology majors.
Similar articles
References
[2] https://www.glassdoor.com/Salaries/index.htm
[4] http://www.salaryexplorer.com/
[5] https://www.ziprecruiter.com/