Looking for the best AI-based Summary Generators? You have come to the right place.
A summary in the academic world is anything that gives the essence of your research ideas.
Summarizing can be difficult for some researchers, but it's important to find a good balance between too much information and too little detail.
I understand this difficulty.
After all, you invested all your youth into this research. A summary simply is too short for your masterpiece. 
Unfortunately, experienced professors, simply don't have the patience or time to sip through all your datapoint before you tell them what your research is all bout. 
This is where a good summary saves the day. It's the elevator pitch that makes people go: tell me more.
And, here is our view on why one could use a good text summarizer.
Simplify your language. It could pull you out of the Curse of Knowledge and speak like a normal person (kind of the opposite of our friend Dr. Sheldon Cooper from the Big Bang Theory).
Synopsis/Summaries: In your career as a researcher, you will need to write many summaries for different audiences and purposes. With a good text summarizer, you can adjust the length and tone.
Identify the core ideas of other people's work. A good text summary summarizer could also help you save some time by turning a long article into a nice summary.   
Conduct literature reviews: you will be able to spend less time on reading and more time on producing your own original insights.
Avoid plagiarism: A good summary generator takes in more words to summarize the content. It does more than simply reword key sentences one by one. 
With this context in mind, we have tested a number of the next generation of AI-Based Summary Generators. 
Best AI Summary Generator (Free and Paid)
| | | | |
| --- | --- | --- | --- |
| Summary Generator | Free Version Available | Price | Note |
| Jasper/Jarvis | Yes – free credits  | $29/month | Swissknife of Academia |
| Quillbot | Yes with word limits | $4.95/month | Best Value |
| Scholarcy | Yes with word limits | $7.99/month | Best Academic Fit  |
| Resoomer | Yes with word limits | $5.57/month | Best Alternative |
| TLDR This | Yes with word limits | $4.00/month | Most Flexible |
#1. Jasper (formerly Jarvis) – Swissknife of Academia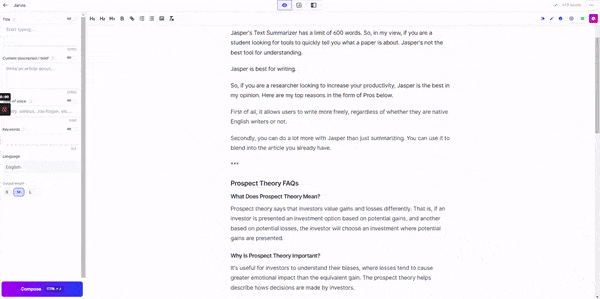 Jasper's Text Summarizer is a great tool for experienced users who want to increase their productivity. The summarizer allows you to write first and then adjust the text to make it your own. Additionally, you can use Jasper to blend in with other articles you are working on, making it a versatile tool for any academic writer.
Jasper's Text Summarizer is great for academic users who are looking for tools as part of the WRITING process, not just understanding. 
Let me explain.
Jasper has a template "Text Summarizer" which has a limit of 600 words. So, in my view, if you are a student looking for tools to understand a long paper. Jasper's not the best tool for this objective.
Experienced Jasper users will just go to the boss mode and write there.
You can simply copy the text that you want to review as part of your writing process in the canvas (see GIF). Jasper can trace back 2,000 words before the line. You can also ask Jasper to draw out implications.
Granted, Jasper won't be as smart as you. It will miss some nuances that only you , the expert, will know. But, what's great about it is that it breaks the writer's block perfectly.
It is easier to correct someone's writing than to create a writing. Especially for those who are perfectionists. 
So, if you are a researcher looking to increase your productivity, Jasper is the best in my opinion simply because it has the best "flow".
First of all, it allows users to write more freely, regardless of whether they are native English writers or not. You can write something done first and fast. Then just get Jasper to write a summary of the above. You can adjust its tone, and length, and include certain words as if you are talking to your assistant.
Secondly, you can do a lot more with Jasper than just summarizing. You can use it to blend into the article you already have. Say you are working on a difficult text of a medical paper. You can either ask Jasper to give you the key takeaways or summarize the above in the Boss Mode like the GIF I made below. 
✔️Pros:
Allows you to break writer's block
Increases flow to write first and then uses AI tool to rehash it to uncover new angles
Can be used to blend in with other articles you are working on
Very versatile tool for any academic writer
❌Cons:
Not the best tool for understanding a long paper
Update: Jasper is giving a one-off 10,000 words for free for 5 days to our readers. Check it out before it expires.
#2. QuillBot – Best Value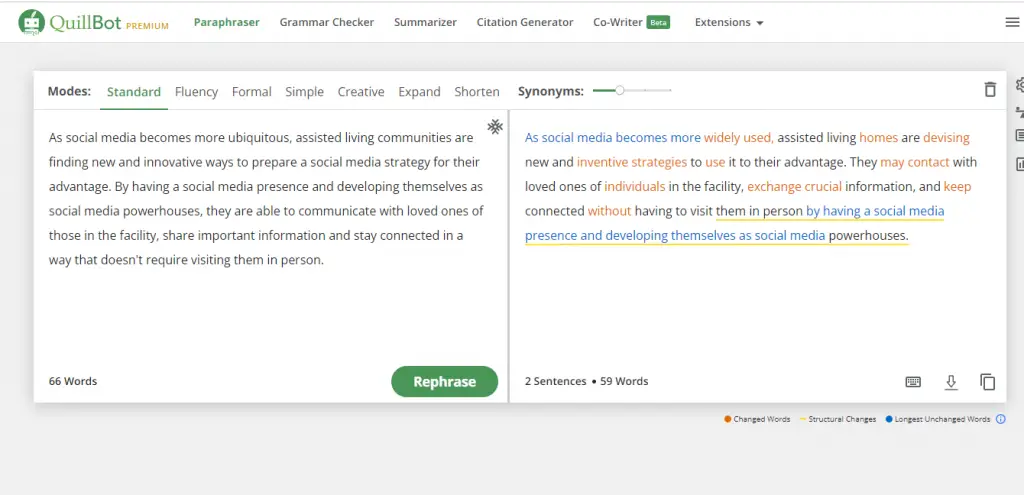 We have covered QuillBot in another article on the best AI writing tool (Read it here).
QuillBot is one of the best summarizing and paraphrasing tools on the list as it can summarize an article, a newspaper, research paper, long and confusing paragraphs in a matter of minutes. It uses natural language processing to locate the most important and relevant information while maintaining the original context.
QuillBot lets you summarize an article in two ways that are key sentence mode and paragraph mode. Key Sentence mode gives all the important information in the form of bullet points. With the help of the summary length slider, you can also decide how many bullet points you want to acquire.
The paragraph summarizer mode, on the other hand, condenses the content to extract relevant and distinctive information. A summary length slider, similar to Key Sentence summarizer, allows you to modify the length of the text.
✔️Pros
Summary options with the ability to fine-tone: It can summarize content into a paragraph of summary or just the key bullets. It also works well to generate original content.
No sign-up; just use its features. 
Best value: the price is one tool that gives you the whole package of high performance tools like AI writer, citation generator, and grammar checker.
Powerful free plan – one of the most appealing aspects of QuillBot is its powerful free plan. Three-word flipper options, three writing modes, Google Chrome & Doc Extensions, 5000 Summarizer character limit, 700 Paraphraser character restriction, and more features are included in the free plan.
❌Cons
Free plan offers limited words for a summary.
💸Pricing
Monthly Plan: $4.95/month
Semi-Annual: $4.15/month ($24.95 for 6 months)
Annual Plan: $3.33/month ($39.95 for a year)
Note that the semi-annual subscription plan will save you 16 percent, while the yearly subscription plan will save you 32 percent.
#3. Scholarcy – Best Academic Fit 
If you have a query in your head about how you can summarise a paragraph or article, then Scholarcy is for you. This AI-powered article summarizer makes it easy for students, librarians, and publishers to access information in just a few clicks.
To begin, either upload a PDF or input the public URL of a PDF, and it will begin reading the document and breaking it down into readable bits.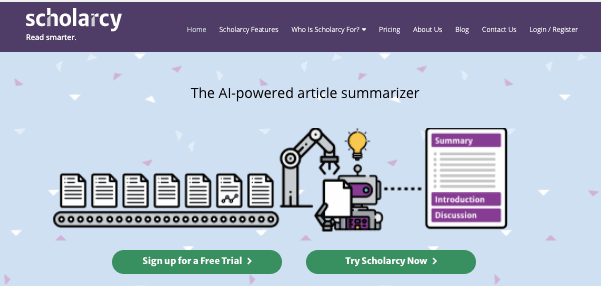 Moreover, they have browser extensions for Chrome and Edge users. If you are using other browsers then, they supply you Flashcard web app and Flashcards bookmarklet. They also provide a variety of price alternatives that you may tailor to your specific demands and budget.
✔️Pros
Design specifically for academic users
It generates a background reading list for persons new to a field, as well as a linked overview.
The paper's main contributions are automatically highlighted by their proprietary Robo-Highlighter.
❌Cons
The trial is limited to 14 days only
The sign-up process is not as easy as tools like QuillBot 
💸Pricing
#4. Resoomer – Best Alternative

Resoomer is yet another excellent summarising tool for college students, editors, authors, professors, and anybody else who wants to extract only the most crucial points from a lengthy, complicated, and complex text.
It's really straightforward and easy to summarise your material using Ressoomer; all you have to do is copy and paste the article's text or URL and click the Resoomer button. The process begins as soon as you press the button, and you will receive the results in a matter of seconds.
At the top of the result, it also displays the total words of the original article, as well as the percentage of the reduced text and the total words of the summary article.
They also offer a variety of settings, including Automatic, Manual, Optimized, and Analyze. All of these options aid in the optimization of your results. You can also use the Resoomer addon to summarise a web article right at your fingers.
✔️Pros
No sign-up; just use it feature (same as QuillBot)
Its AI algorithm can determine if a sentence is important, making it a powerful tool for semantics analysis.
Dedicated to summary generation 
Compatibility with different browsers
❌Cons
The customer service might be slow at times.
💸Pricing
Free version available.
From USD 5.57/ Euro €4.90 per month.
#5. TLDR This – Best for Flexibility 
If you don't have time to read long articles, documents, or any other type of content, use the TLDR This tool to condense it.
The software's main goal is to extract important information by filtering out any spurious or weak arguments and providing the gist of the document so you don't have to read the whole thing.

It's an AI-powered great summarizing tool that students, writers, professors, journalists, institutions, and others can utilise. Furthermore, there is a Chrome and Firefox extension that allows you to condense any online article with a single click.
To use the TLDR This, either copy and paste the text into the text area, or just paste the URL of the web page into the URL field and hit the "Summarize This" button to condense it.
✔️Pros
Chrome and Firefox extensions are available. 
Simple and easy-to-use interface.
Usage is based on credits so you use it as you go 
❌Cons
Free version has limits on both paragraphs and usage)
The cheapest tier is more expensive than QuillBot
💸Pricing
It comes with flexible pricing options such as pay-as-you-go, monthly, and annual subscriptions. 
Free – This package comes with 10 credits (one-time), 10 advanced AI summaries, browser extensions, important keyword identification, article metadata extraction, distraction and ad-free reading, limitless basic summaries, and more.
Starter – For $4.99/month ($4/month with an annual subscription), you get everything in the Free Plan plus 100 credits per month and 100 advanced AI summaries and paraphrases.
Professional — For $9.99 per month ($8.25 per month with a yearly membership), you get everything in the Starter Plan plus 500 credits per month, advanced AI summaries, paraphrasing, and priority support.
Business – For $19.99 per month ($16.60 per month with an annual subscription), you get everything in the Starter Plan plus unlimited credits per month, advanced AI summaries, paraphrase, and priority support.
Other summarizing tools that we have reviewed
SummarizeBot – Best on the Go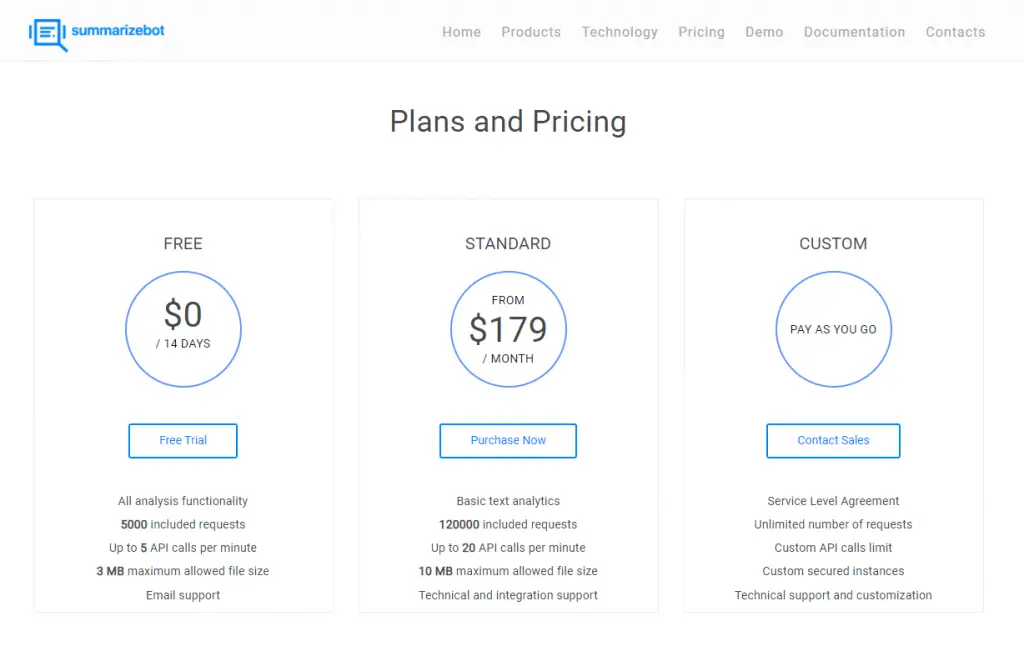 SummarizerBot is yet another excellent text summarizer available online. The software employs cutting-edge artificial intelligence, natural language processing, machine learning, and blockchain technology to deliver a better version of the data by condensing it.
Teachers, students, marketers, copywriters, content authors, institutions, journalists, and others can all benefit from SummarizeBot.
✔️Pros
Intend to be used in Facebook Messenger or Slack, this can be a powerful tool when you are on the go. This tool helps you extract key points from lengthy articles very quickly.
Natural language processing, AI web data scraping, document summarization, and image identification are all made simple with this API. 
Supports a large number of languages (over 100), and can analyze audio data.
❌Cons
You need to use it as in Facebook Messenger or Slack, which is probably not most researchers prefer to do their series work
Free for 14 days only
Takes a bit of learning to be able to get the best out of the tool – for this reason, we think it's a tool that you should experiment 
Inksprout – Great for social use cases
Inksprout is a social media text summarizer tool that generates social media posts that include article summaries. Increasing your social presence takes time. Inksprout allows you to create content in a matter of seconds. It's made exclusively for sharing your blogs and news on social media. 
It includes a Chrome extension that works with all of your favorite social scheduling apps. You simply copy and paste links, and it will automatically populate your posts with the appropriate content. Other content creation tools, such as rewrite and quotation pickers, are included.
Features
In less than 10 seconds, link summary and intro ideas are generated.
Integration with your favorite schedulers via a Chrome extension.
Schedule as many posts as you want on Facebook, Twitter, and LinkedIn.
💸Pricing
Monthly – $17.99
Yearly – $179.9
IvyPanda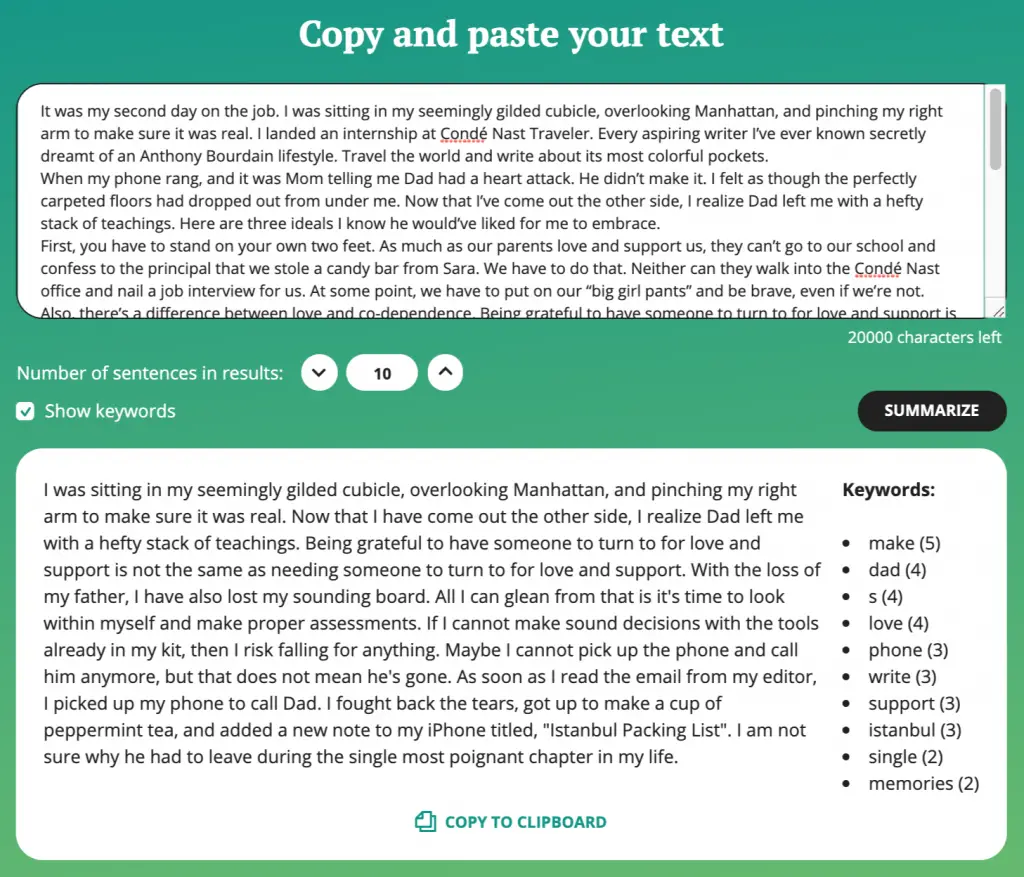 Inner algorithms are used by the IvyPanda Text Summarizing Tool to condense an input text into a concise version without losing the main ideas. The IvyPanda web app's user-friendly and clear structure allows academic researchers to quickly and easily generate the best summary of their writing assignments.
The system's design is straightforward and easy to comprehend. Fill in the "Text to summarise" field with your document and hit the "Summarize" button. You can also choose whether or not to display the keywords and which sentences to include in the summary. 
By pressing the appropriate button on the online summarizer tool, you can copy the created result to the clipboard. This feature is important for smartphones and tablets, where the touch selecting feature isn't always reliable or convenient.
💸Pricing
You will not be limited by the number of daily generation tries or the functionality block when using the IvyPanda Text Summarizing Tool. There is a fully functional web app accessible for free.
SummarizingTool.net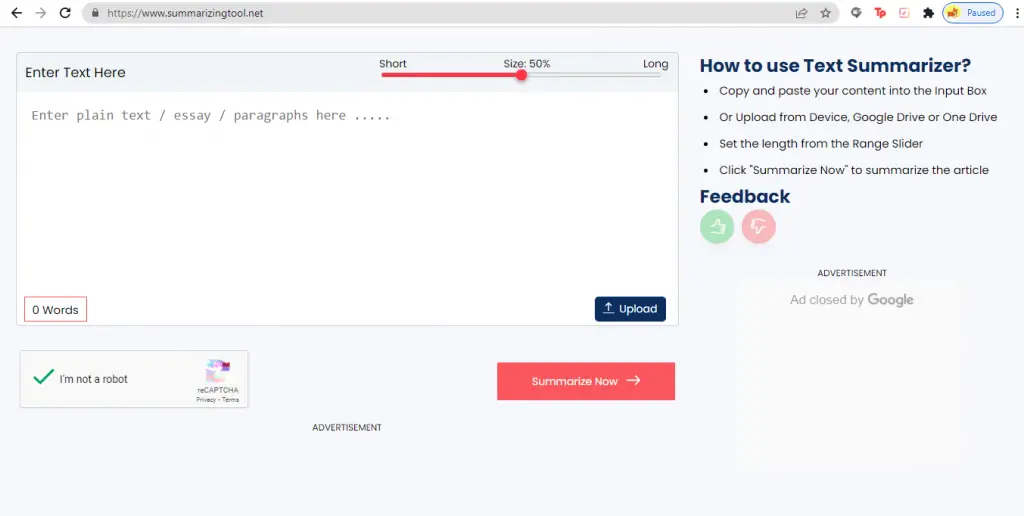 We can say that this tool is specifically designed for the ease of students, and we have seen a majority of students using this tool.
And the most impressive thing is that manufacturers used the latest Ai technology to maintain the accuracy and efficiency of the content.
When you have AI technology in a tool, the sense of the content remains the same after summarizing or even paraphrasing the content so, it is essential.
The interface of summarizing tool is very simple and easy to understand, so; anyone can use this tool either they are a technical user or not.
The second thing that can attract the users is they are providing unlimited text summarization free of cost that can be a good option for students.
Summarizer.org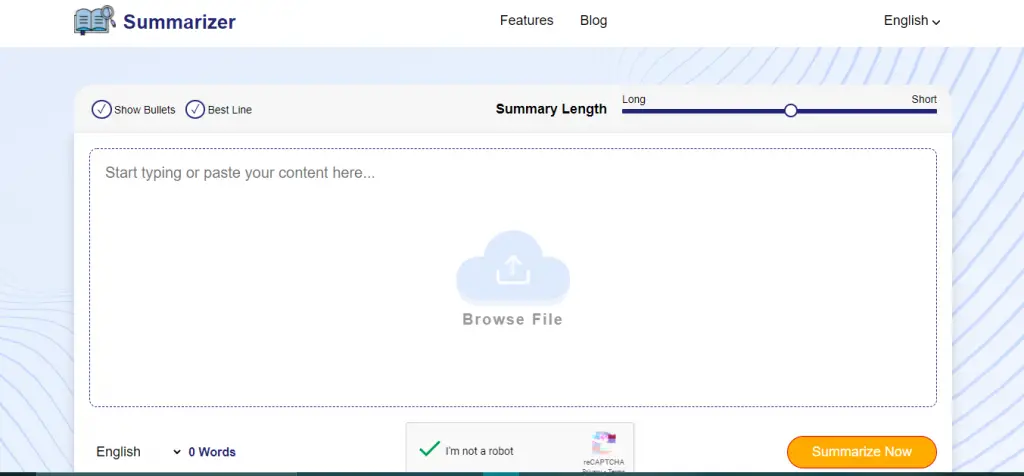 We need to highlight the important sentences or words for summarizing content, but many unauthentic tools sometimes compromise it.
But not in this case! We have one of the best summarizing tools, which highlights the important lines first and then starts summarizing the content.
In this way, the content will stay meaningful and keep the idea the same as mentioned in the whole content so, you can pick this.
We also have many additional features, like you can select the length of your summary by yourself, and we can say that it is rare.
💸Pricing: And the most attractive thing about this tool is that it can show bullets, highlight the important lines, and is free.
Check-plagiarism.com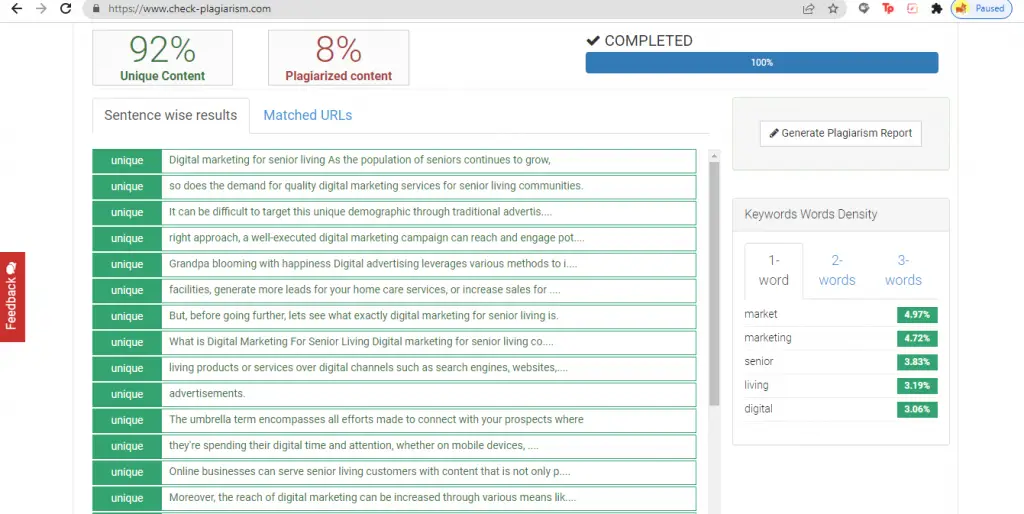 If you prefer to select the easiest tool, you can surely go for it because it is very user-friendly and easy to use.
As we mentioned above, these tools are specifically created for the help of students, so they must be easy to understand and easy to use as well.
As soon as you reach this tool, you can see two boxes; one is for input, and the second is to show the results.
You can easily paste the copied content in the input field, and you are all set to get your desired results; you can also set the text density in your content.
Final Thoughts
Now, you have the list of the best summarizing tools that are infused with AI technology.
We discussed the merit of using advanced AI tools like Jasper and Quillbot for writing a summary. With the power of machine learning and natural processing language, Jasper can help you develop your own voice. It can also expand your writing with additional ideas and relevant information.
The best AI summary tools can save you time, which can be better spent on your research!
Above mentioned summary tools have a free plan or free trial so that you can also try your end and decide which one is the best for you.
Is there any other best summary tool available that deserves to get featured here?
Drop us a comment below. We'd love to hear from you.