Top researchers use the best survey tools for research in academics to generate, validate, and support their theses. Online surfer software allows researchers to collect and analyze the data more effectively and efficiently. 
Online survey software has become popular because they allow researchers to reach more people at less cost than traditional methods.
Today we will try to identify the best online survey software. We will compare the most popular survey software. We will also explore the limitations of free survey tools and discuss the merits of premium tools. 
First off, why survey research?
Survey research is viewed as an easy research approach. It's kind of like breathing, most people think it's easy and doesn't think much about it. For researchers that do mediation or sports, you will know how important and difficult to breathe right. 
As with all research methods and approaches, it is easy to conduct a low-quality survey rather than one of high quality and real value. Kate Kelley et al. wrote a paper on Oxford Academics that provides a checklist of good practices for conducting and reporting surveys. [1] 
They talked about the pros and cons of conducting survey research:
Pros:
Real-world observations are used in research (empirical data).
By including a large number of people or events, we have a greater chance of obtaining a representative sample and generalizing the results to the whole population.
Surveys can generate a large amount of data in a short amount of time at a relatively low cost. 
Therefore, researchers can set a specific time frame for a project, which assists in the planning and delivery of the final product.
Cons:
Researchers can get distracted by focusing on a wide coverage rather than exploring the implications of those data for relevant issues, problems, or theories.
The data produced usually lacks detail or depth on the topic being investigated.
It is challenging to achieve a high response rate to a survey, especially when it is mailed, but it is also difficult when it is conducted face-to-face or via telephone.
10 Do's and Don'ts of Survey Research
Top researchers know how to conduct research that is trustworthy, objective, and rigorous. 
Novice researchers, on the other hand, tend to get distracted by "fancy stuff" fall into the trap of using great data to save a weak research question. 
Following is a list of Do's and Don'ts:
Do proper research BEFORE and know the topic you wish to research.
Do expand your knowledge, investigate related areas, and talk with other researchers and practitioners within the field you are studying.
Do have a strong research question. The purpose of good research is to address a single, clear, and explicit question.
Do be laser-focused.  A study that aims to answer a lot of questions is often weak. 
Do keep questions unbiased and avoid leading questions 
Do consider your sample and sampling design for a proper survey 
Don't put survey data before the research question. Weak studies merely collect a range of data and then look for associations that appear 'interesting' or 'significant'."
Don't let the choice of methods determine which questions will be asked.
Don't ask questions that can't be answered
Don't ask questions that have already been answered.
Best Survey Tools for Research
Here are the top options that we have selected based on ease of use, performance, value, and compatibility. Microsoft Forms will make our list because of the very fact that it works with Microsoft Teams. This makes a lot of sense for certain groups of users.
SurveySparrow – Best User Experience
Qualtrics – Most Trusted Online Survey Tools
SurveyMonkey – Best Overall
QuestionPro – best for experience research
SurveyLegend – Emphasis on Privacy
SoGoSurvey
Zoho Survey
Google Forms – Free Online Survey tool Great for Individual Projects
---
Related
---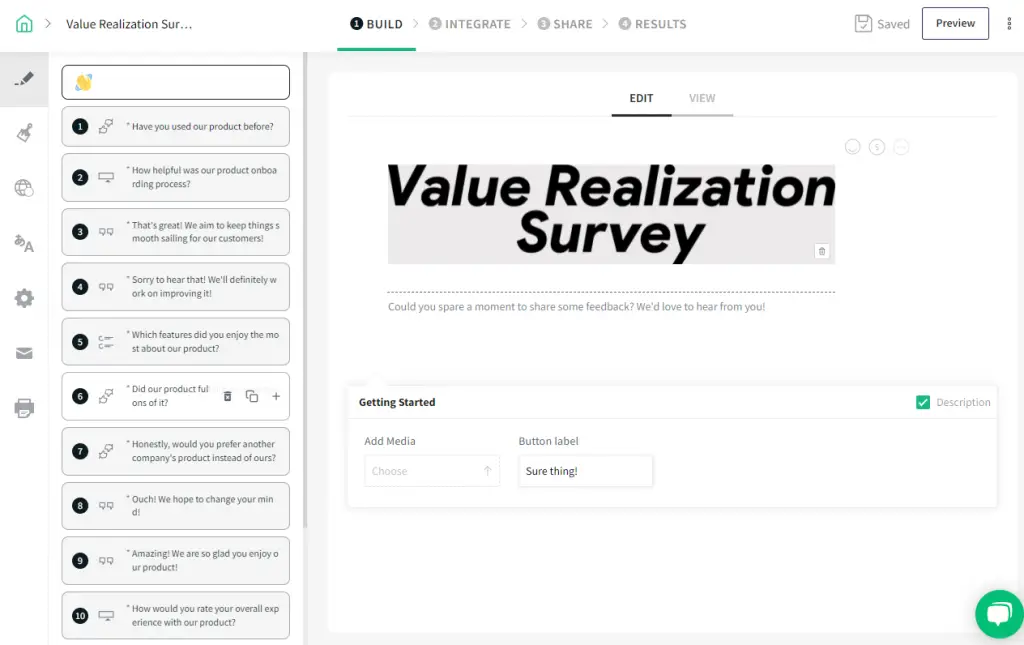 The SurveySparrow Survey Tool is a simple to use, automated survey tool created by a team of researchers and application developers. The SurveySparrow Survey Tool has many benefits for academic users and scientific researchers due to its simplicity, power, and flexibility. 
They can create a poll or an online survey in a matter of minutes by using the SurveySparrow template library. SurveySparrow provides you with all the tools needed to build your own surveys in just seconds! 
You will be able to design your own customized polls that are tailored specifically to your needs.  It offers a variety of features, including surveys, questionnaires, and feedback forms.
SurveySparrow can be used to create surveys in a variety of languages, including English, French, Spanish, and German. Surveys can be customized with a range of question types, including multiple-choice, open-ended, and rating scales. SurveySparrow Survey results can be analyzed and visualized in a variety of ways, including graphs and charts. Survey data can be exported to a variety of formats, including Excel, PDF, and JSON. 
Pricing
Free for 500 responses per month. 
Paid version plans start at $19/month and include up to 5,000 responses per month.
Qualtrics – Most Trusted Online Survey Tools
Qualtrics is one of the best online survey tools for prestigious universities. Truth be told, this survey software probably came to you because your institution uses it. Not the other way round. 
Qualtrics is trusted by 100+ top universities and has all the features needed, such as artificial intelligence for analyzing survey data, different types of questions, ready-made templates.
It doesn't stop with that – it has logic branching, email triggers, and displays logic to make the experience of using the program pleasant. Qualtrics also helps you understand data better with their Stats IQ tools including predictive models that are easy to find through natural language processing.
The Text IQ capability allows qualitative analysis on text comments then suggests topics with sentiment scores that can be used in your research. The information repository or IQ Directory lets you store important data like beliefs/sentiments/beliefs for future use in research projects too! They have multi-channel distribution as well as QR codes for those who don't have smartphones.
My guess is that you either love or hate this tool and wish your organization just leave you alone. Well, the tutorial below may help ease your pain. 
SurveyMonkey – Best Overall 

Many people conduct their first online surveys because of SurveyMonkey. It was one of the best online survey tools for a while because of its simplicity. When it came out some 10 years ago, an online survey is meant to be ugly, chunky, and a pain to do. 
SurveyMonkey positioned itself as a free survey software (limit to 10 questions at the time). This free version went viral like Hotmail in its early days. People love how easy its survey templates are for customer satisfaction surveys and employee surveys.
The survey responses tend to be higher with SurveyMonkey back in the days when there aren't that many good options that we have listed here today. 
Now, SurveyMonkey is one of the few public online survey tools companies that have shareholders to answer to. This keeps the online survey creator busy improving existing and innovating in order to deliver value to shareholders.
As a trusted name, SurveyMonkey has been providing survey tools to academics and scientific researchers for over a decade. Through its robust system, the company has helped millions of people be heard and has completed over 10 million surveys. With their free and paid services. 
SurveyMonkey continues to be an important tool in the academic and scientific community by providing a potent tool for data collection and analysis. Surveys are one of the best ways to collect information from your audience. They can help you understand what they think about certain topics or how they feel about something that's happening around them. 
The tool offers a wide range of features, including the ability to create surveys with a variety of question types, distribute surveys via email or social media, and view response data in real-time. 
Survey Monkey also offers a number of integrations with other software applications, making it easy to collect and analyze survey data.
Pros:
Survey monkey is Ease of use
Variety of question types
Flexible survey design 
Survey monkey provided customizable reports 
Free account 
Numerous integrations 
Customer support is available 24/7.
Cons:
A limited number of questions can be asked.
The low response rate from participants.
Some survey participants may find the survey questions to be too personal or intrusive. 
Limited ability to analyze survey results. 
No ability to target survey participants by demographics or other factors.
Pricing
Team Advantage $25/month
Team Premier $75/month
Enterprise (Contact to the Supplier)
---
Related:
---
QuestionPro – Best for experience research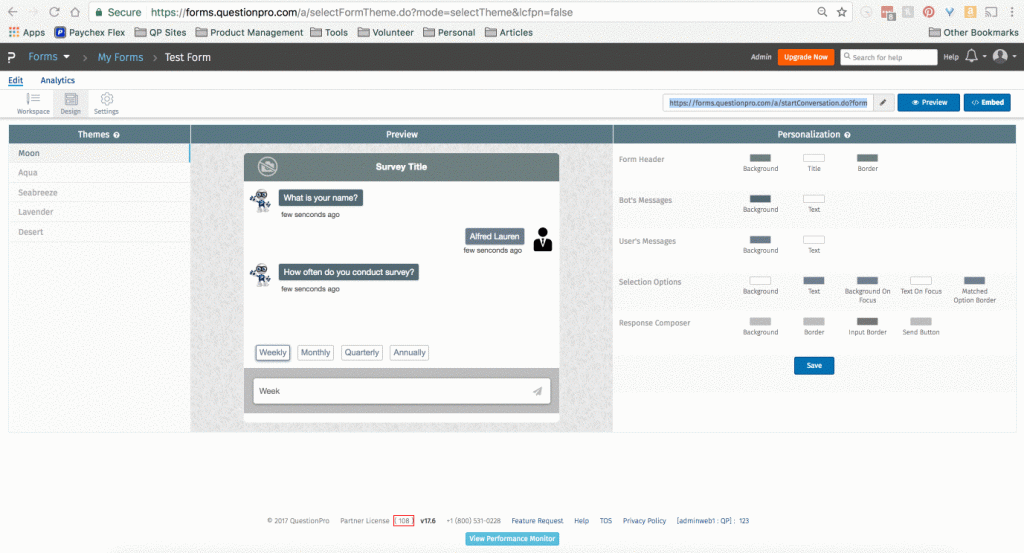 QuestionPro is a good survey software for academic researchers because it comes with multiple pre-built templates and over 30 types of questions which you can use to create personalized surveys and questionnaires.
As a more commercial tool, QuestionPro emphasizes its survey solution for valuable insights. 
It also computes scores on how many questions got answered and presents the overall scores once it is completed. You can then export results into CSV, Excel, and other formats or share them through the mobile app.
Additionally, it is multilingual, with a full set of reporting features like text and trend analytics, segmentation, and real-time summary. Lastly, for academic research, you get unlimited access to the highest paid license if you're a student in an academic institution.
QuestionPro may not be a good option if you need features like the multimedia integration that makes the survey more interactive for your respondents.
Cons:
Pricing can be expensive for larger surveys.
Some features are not available without paying more 
Question types are limited 
Can be difficult to use for complex surveys
Price:
Essential account = free trial 
Advance account price is $129/month
Team Edition for Multiple users (Contact Support team)
---
Related
---
SurveyLegend – Emphasis on Privacy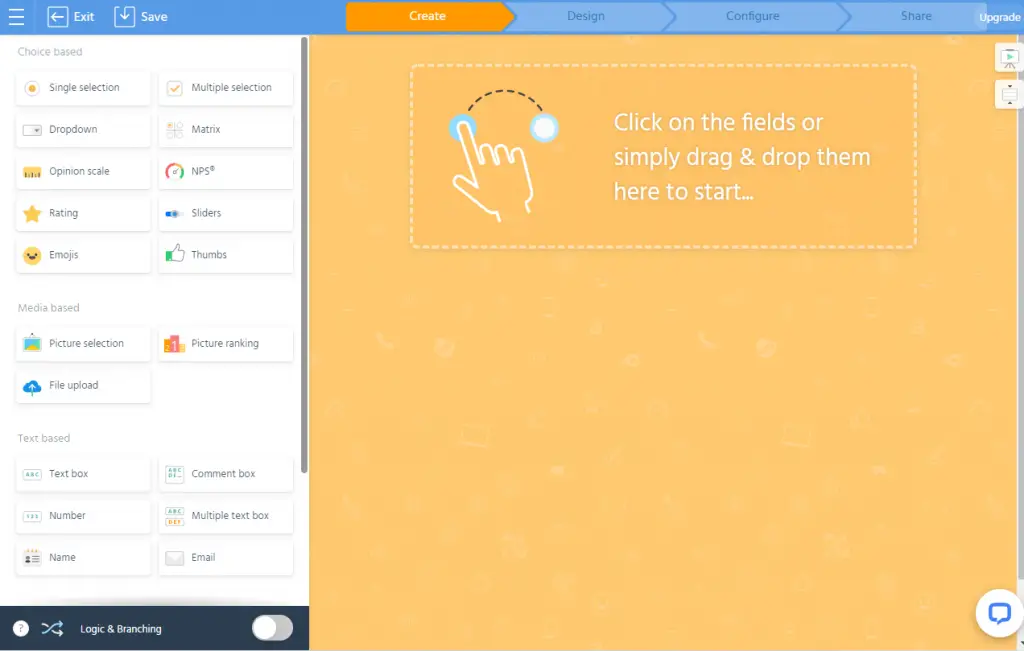 For the past few years, there has been a movement of people interested in their privacy and data, which is why sites like SurveyLegend were created to provide an anonymous survey tool for academic users and scientific researchers. 
These surveys are designed with security features such as the use of two-factor authentication, encryption, and fraud protection. 
SurveyLegend is a survey tool that is known for making surveys that are much pleasing to the eyes. It has a simple learning curve and easy-to-use drag and drop interface, which allows users to build decent surveys in minutes. The survey app is highly customizable and lets you put together surveys with the help of a myriad of templates.
You can also share surveys through multiple channels like email, SMS, social media, etc. with a single click! The powerful real-time analytics lets you collect insights and information about your customers effortlessly. Overall, SurveyLegend is a free survey creator that's fairly good but you can't expect it to be as mobile-friendly as it claims to be.
Pricing/ Free Version
Free plan Forever
Pro plan is $15 per month
A business plan is $25 per month
The legendary plan is $65 per month
SoGoSurvey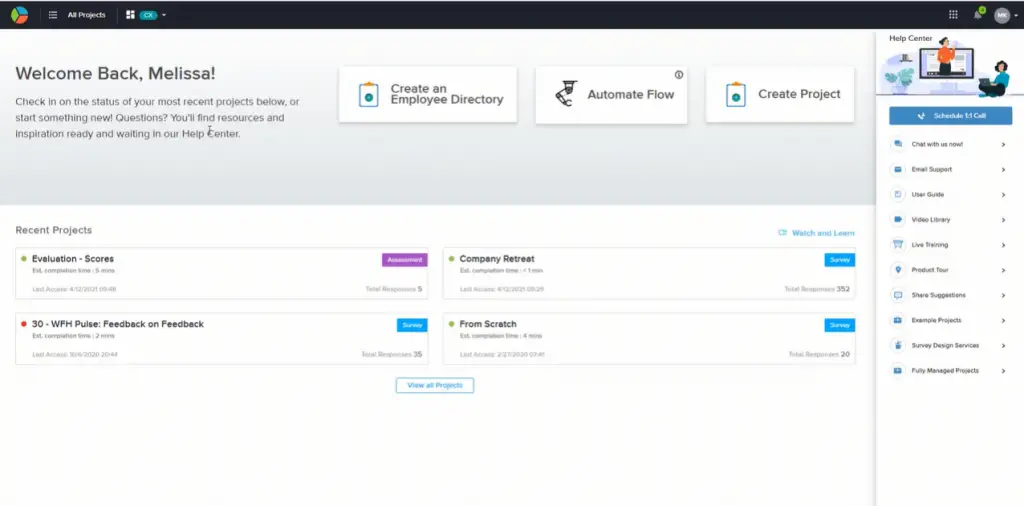 The most compelling feature of SoGoSurvey is its ability to generate results for both binary and multiple-choice responses, as well as its easy-to-use format. 
SoGoSurvey has great potential for use in academic settings where research and teaching intersect and is a valuable addition to the suite of tools available to scientists and researchers worldwide.
With its deep analytical reports, robust data security, intuitive UI, and responsive customer support, SoGoSurvey is a tool worth considering. However, on the downside, you will have to deal with a steep learning curve, and the free version of the software comes with limited functionalities. 
Pricing/ Free plan
Plus Plan is $25 per month. 
Pro Plan is $66 per month. 
Premium Plan is $99 per month.
Zoho Survey
Zoho Survey is a free, easy-to-use online survey tool. It's a great choice for individuals and small businesses looking to conduct surveys with 10 questions or less. The interface is slick and easy to navigate, with help options relative to each field. 
There are also templates if you're not sure what type of survey you'd like to create. Surveys can be done with an email link or through the Zoho Survey app on iOS or Android devices.
You can create, publish and analyze surveys through this tool. The tool allows users to collect feedback from customers and employees, and measure customer satisfaction levels. Zoho Survey also offers features such as data analysis, reporting, and collaboration, which help users to make better business decisions. 
Pricing:
Free Plan
Plus Plan: $25
Pro Plan: $35
Google Forms – Free Online Survey tool Great for Individual Projects
If you have smaller individual projects such as teaching a small Ph.D. class, you may just Google Forms.
Google Forms is a good survey software for academic researchers because it is easy to use, has a customizable design, provides real-time response information and charts, and can be synced with other Google products. Additionally, Google Forms can also be used as a quiz maker for educational professionals.
It's the best free option. But, it's also quite limited in terms of usability. So I'd say it's good for small-scale research projects. But, it can take significantly more time to make it work for larger more complex research. 
Responses are automatically logged into Google Sheets, allowing them to be easily transferred to an Excel spreadsheet or database.
Pricing: Free.
I love the simplicity in the video below that shows you how to create and grade questions automatically. 
Famous tools that didn't make our list
Microsoft Forms – Limited coverage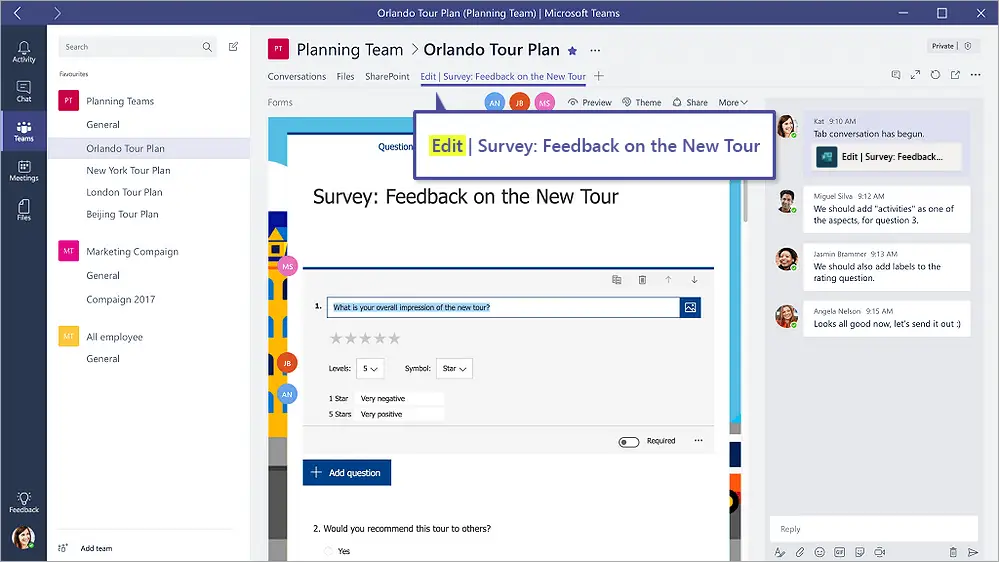 Most people, I mean me mostly, don't know what's the other green icon Microsoft app other than Excel. Until Teams become the tool your boss uses to harass you more instantaneously. And, one day, some HR is smart enough to figure out how to save cost from using survey tools and opt for the Microsoft forms. 
My point is if your sample is confined in the Microsoft work environment, then Microsoft Forms may work as it is integrated with Teams. 
For academic research, you can still use Microsoft Forms to build forms, but its features are quite limited. But because of its lack of advanced features, it's incredibly beginner-friendly.
How to choose a survey tool for academic projects
The best online survey tool offers a comprehensive questionnaire-building solution and metric analysis tools.
First of all, context matters – for some use cases such as teaching a small research class, free survey tools may just be enough. 
Related considerations are:
Budget: This is an obvious one – if you don't have a fat budget, then consider reducing the scope
Scope and complexity: Always link the scope and complexity to the research question – be ruthless in cutting down unnecessary questions or functions that do not add to the research question
Know the difference between must-have and nice-to-have: Do you really need a multilingual survey or a question library?
Secondly, focus on your objectives. Back when I was a management consultant doing consumer research for big brands, actionable insights are what matters. 
It doesn't mean it's less rigorous than academic research. It just means clients want you to go further and tell them what are actions needed based on what you know. And, how you know what you know is truthful. 
Related considerations are:
Survey logic. This is determined by the complexity of your research project. Usually, only paid tools have an easy-to-manage survey logic function. Don't overwhelm yourself with overcomplicated survey logic
Data collection consideration. How easy is it to collect and manage the data? Does it work well with other data analytics tools?
Finally, think about collaboration and scalability. Can you outsource to a research vendor? Or, are you the research vendor? Assuming you are working mostly solo, then you want to consider the below.
Ease of use: Does it require any coding skills? Is it easy to overview the survey questions? 
Template Relevance: The best scenario is for you to get the survey templates that top researchers have used and see how the survey results lead to the research paper
Collaboration: Do you need to work with others? Does the survey tool support it?
Audience: Who are you surveying? What tools or channels will be more relevant for them? Some tools can embed questions on social media. 
So, choose the right online survey tool that works the best for you. 
Final Thoughts
It is important to find a survey tool that is best suited to the needs of your research since all of the above online survey tools have their advantages.
It is also important to take into consideration the time that you have to devote to this survey in order to get the most accurate results. 
The way that you set up your survey can also shape how well it works for you, so it is important to choose surveys wisely and invest in the tools that are right for you. In this article, I try my best to talk about the best survey tools for research and I hope you really enjoy reading this article.
Reference
[1] https://academic.oup.com/intqhc/article/15/3/261/1856193