---
TL;DR.
The best proof-reading software can help you reduce errors and achieve academic excellence. 
Read online reviews but test the tool – take advantage of trial periods to find the best proofreading software for yourself
Run the experiment like a science project – start with clear hypotheses. Define your success criteria
---
Proofreading is an integral part of the research process. It can mean the difference between a paper that is accepted and one that is rejected.
But proofreading can be difficult, especially when working on your manuscript, checking the experiment/survey results, and taking care of your newborn baby.
That's where proofreading software comes in. These programs can help you find mistakes in your writing and correct them quickly and easily.
There are many different types of proofreading software available, each with its own set of features. As a result, it can be challenging to know which program is right for you.
That's why we have created this guide to the best proofreading software for academic professionals. 
The best part? We have tested it with this very article, so you can see it for yourself. 
How to choose the best proofreading software?
In recent years, there has been a proliferation of proofreading tools available online. These programs can help you detect plagiarism in your work, fix grammar mistakes and punctuation errors, and even make suggestions for changes in your writing style.
But which proofreading tool is best? Which one should you use? And how can you decide which proofreader is best for you when each one has a slightly different set of features?
Here, we will compare the most popular proofreaders available today. Then, we'll discuss their key features and help you decide which one is best for your needs.
The first thing to look out for when choosing a proofreader is what it can do.
Some tools check for common mistakes in grammar, punctuation, and style, and many of them also assist you in checking for plagiarism.
Another critical aspect to consider is how accessible the proofreader is. For example, is it available only online, or can you download it? How easy is it to use? And what tools does it offer?
Finally, keep your own needs in mind when choosing a proofreading tool.
For example, if you plan to submit your manuscript for peer review, will the proofreader help you identify potential plagiarism issues? Or does it work best as a general proofreader that allows you to fix spelling and grammar mistakes?
Limitation of Proof-reading Tools
Although proofreading tools can be a great help in improving your writing, they do have some limitations.
First, proofreaders can only detect errors that are already in your text. They cannot help you to come up with ideas or to come up with better sentences.
Second, proofreaders can only correct certain types of errors. For example, many proofreaders are not very good at detecting grammar mistakes in scientific papers.
Finally, proofreaders can be time-consuming. It can take a lot of time to go through your text and fix all the errors that the proofreader finds.
Consider using a writing tool to improve your writing fundamentally. We review the best one as of today here, including some less-known secret weapon AI tool.
Best Proofreading Software & Tools in 2022 (Free & Paid)
Hemmingway Editor App – Best Proofreading Software that is basic, free, and works offline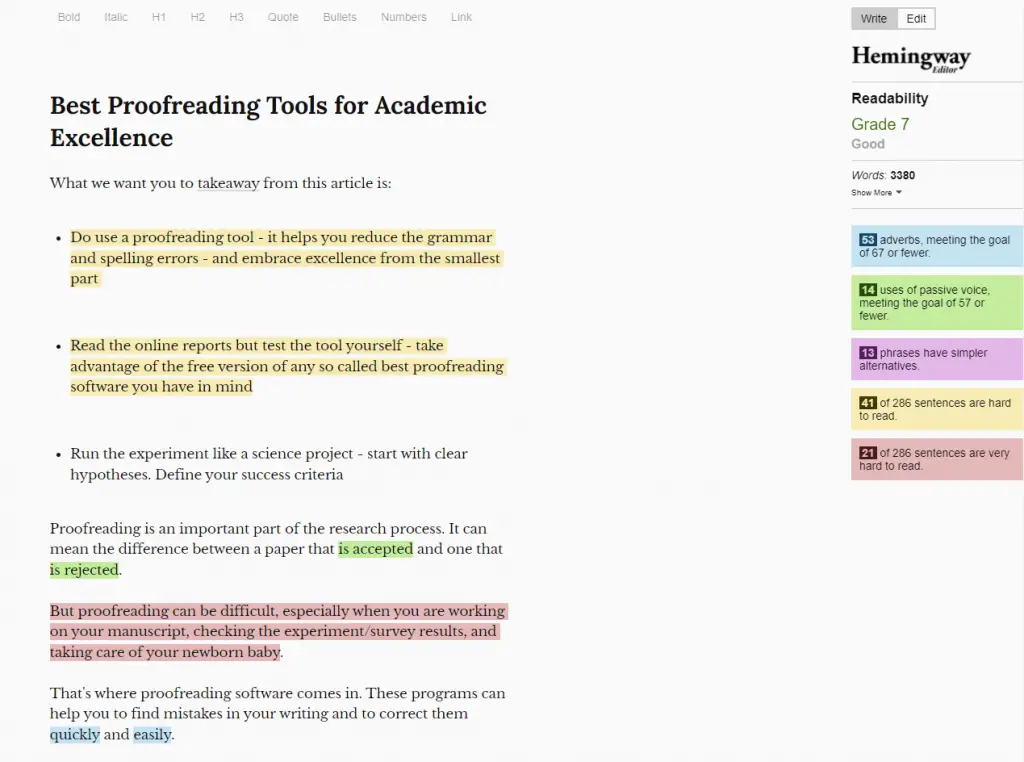 Hemmingway Editor is one of those great tools that people don't talk about it first because it doesn't have a strong affiliate incentive program. But, we like to use it to make sure our readability is around Grade 6. And, that is the primary use for us editors at scijournal.org.
It handles the basic stuff like spelling errors. We ask our writers to use the free version for self-editing. 
It is not a Chrome extension, so it doesn't work with Google Docs. 
Pros
We like the readability as a guideline to keep our writing accessible to read.
It helps us to run a sample check to quickly check someone's work in terms of wording and content structure.
It has a clean interface that's easy to use with no log-in needed.
It is one of the free online proofreading tools that are reliable.
It can work offline as a desktop app.
 Cons
It's not an automated solution as it requires you to fix grammar errors yourself. 
It doesn't have a Chrome Extension that works with Google Docs.
Its writing advice is quite broad, without any specifics.
It's not made for book authors or scholars with a considerable volume to flip through (best hire an editing service for those…)
There is a free online tool, but it does not save your work. You can lose your work if you are disconnected or accidentally close the tab.
It doesn't offer you customization, e.g., if you want to sound professional, causal, or funny.
Not connected to any AI that offers things like plagiarism checker
There could be lots of formatting issues with exporting. 
Hemmingway is probably the best choice as a free online editor that checks writing style. But as you scale up and produce more writing, you might need something that can work more efficiently. 
We love this tool for its basic writing style and spelling mistakes checker. But, it has no plagiarism checker, which adds to our editing process.
Grammarly – Best Proofreading Software (for now)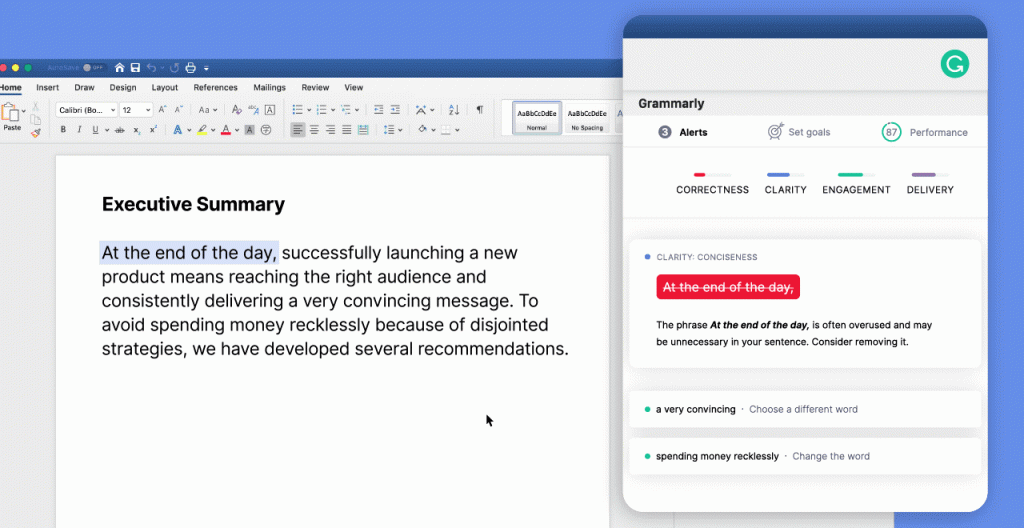 I don't intend to write yet another article about Grammarly being the best tool. Our research process started with a hypothesis that other online proofreading tools are better than Grammarly. However, if there is enough interest, we will publish that single review of Grammarly. 
For now, our conclusion, sadly, is that Grammarly does a great job of being an editing software.
Grammarly is considered the best proofreading tool for many reasons. 
Pros
We emphasize Google Docs integration, but Grammarly works with most platforms such as Word Outlook; Windows and iOS, mobile and iPads.
Offers browser extensions for Chrome, Firefox, Safari, and Edge.
Its free version offers powerful basic functions such as spelling, grammar, punctuation, conciseness.
Automated solution "Change-all" option (use it with care…).
Its AI-powered function learns from and grows with you as you give it feedback. It will adapt to your style and adjust the algorithms behind that suggestion to make it more accurate and helpful.
Its premium goes beyond just checking typos but also big picture feedback, clarify-focused sentence rewrites, tone adjustments, word choices, formality level, fluency, and consistency (such I'm vs. I am).
It makes your editing process easy with a sleek interface – clean and intuitive that requires no learning time.
It allows you to set goals and customize them for different purposes.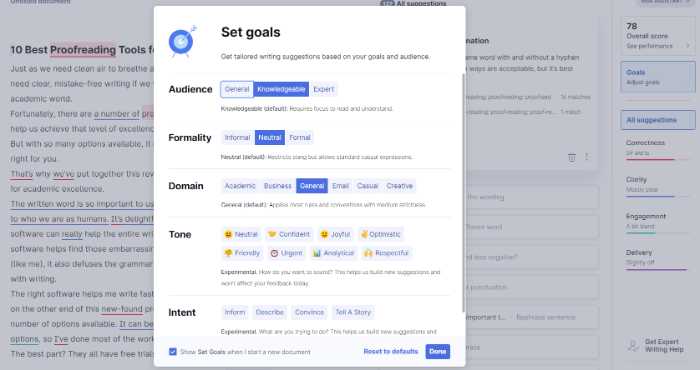 Cons
Customer service seems to be a common reason for complaints.
Experienced writers will agree that you can't trust any tool and rely on it to do your job – the same with Grammarly.
In our experience both as authors and editors, we don't trust its reports from others who use Grammarly.
In our experience, you will need to click and check to get the best results. You simply cannot blindly follow its suggestions. 
As the best tool in the market, Grammarly is not cheap.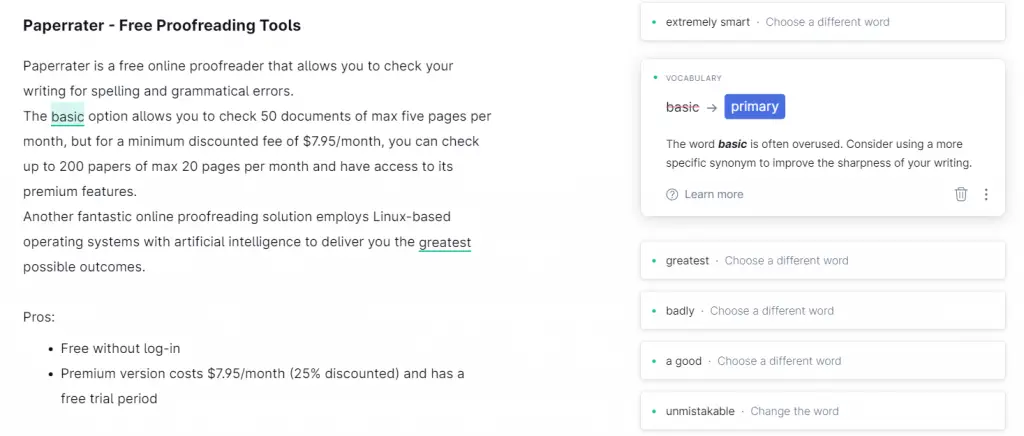 Pricing:
It has a free plan with a basic function that rivals most free editing apps. Its premium plan is $30/month and drops to $12/month if paid annually.
WhiteSmoke's Proofreading Software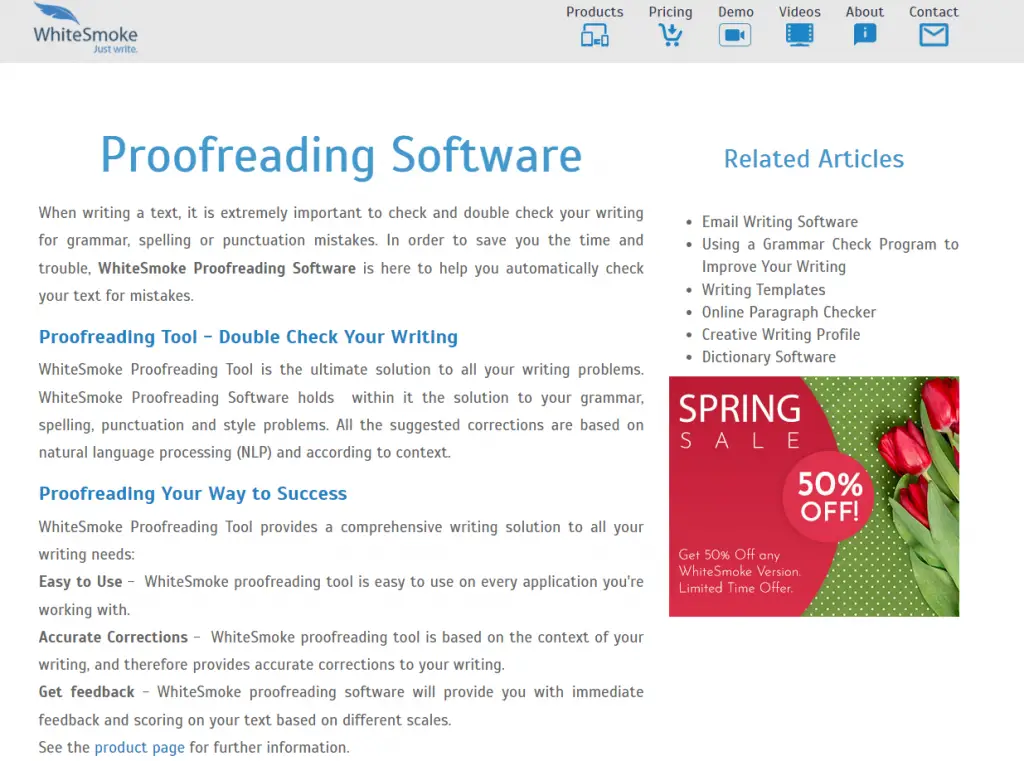 WhiteSmoke is an excellent spell check software that also checks the spelling and word choices. 
Is White Smoke a cheap product? The price is lower with the three-year plan. Education companies have named White Smoke the top proofreading tool on the Internet.
White smoke can simplify the workflow and improve the performance and efficiency of your research assistant. The WhiteSmoke platform also uses artificial intelligence and algorithms to enhance your writing skills.
WhiteSmoke's proofreading software is available for the PC, Mac, and iPad. The latter makes it easier than ever to work on your texts anywhere, at any time. Moreover, WhiteSmoke also offers a free online plugin compatible with Microsoft Office 2007 and 2010. A simple installation process and the program's intuitive design make it very easy to use.
The software is available in English, French, German, Italian, Spanish, and Chinese (traditional).
Pros:
Easy to use and could teach you how to better at academic writing, e.g., style errors, help you catch spelling errors or grammatical errors.
Proofreading software designed with professional editors in mind.
Detects more than 90% of all grammatical, spelling, and punctuation errors.
Predictive text suggestions help you get the right word or phrase within seconds.
Available for PC, Mac, and iPad.
Free online plugin compatible with Microsoft Office 2007 and 2010.
WhiteSmoke comes with a Grammar Checker, Plagiarism Checker, and Translator.
Cons
It does not catch all errors.
The interface may be confusing to some users.
People complain about the lack of updates available.
Its service seems to be a big problem and could take days to respond.
Stability is an issue, e.g., crashes in mac IOS sometimes.
Pricing:
$59.95/year ($5/month value) for browser extension.
$79.95/year ($6.66/month value) for desktop app and more.
$137.95/year ($11.50/month value) for business suite — includes phone customer support.
Slick Write – A free editor tool great for non-native English writer/speaker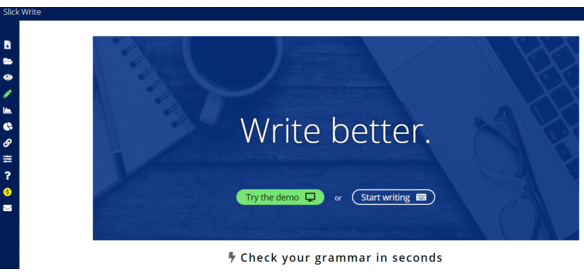 Slick Write is like an improved version of Hemmingway Editor. It's a tool that features several useful functions to help you write better content.
Slick Write is a free web-based application, so it's easy to use, and there is no need to install the software on your computer.
Slick Write allows you to check to spell, highlight passive sentences, and identify long and short sentences.
Slick Write's features are A word count, a readability score based on the Flesch Reading Ease and the Flesch-Kincaid Grade Level equations, a passive voice analyzer, and an advanced grammar checker.
Besides this, it highlights a list of hard-to-read words, which is great for writers who don't know all the vocabulary.
Pros:
Slick Write is easy to use.
The spell checker is accurate enough.
It highlights long and short sentences.
You can check the readability of your text.
It comes with a free editor and a grammar checker (with ads).
Cons:
There is no need to install the software, but this also means that it can be difficult to find if you don't know what you're looking for.
The word count is not always accurate.
It doesn't work correctly on mobile devices.
The advanced grammar checker is difficult to use.
You can't customize it to suit your own needs.
Pricing: free
Slick Write is a great tool, but it also has some flaws. Still, we can conclude that it is a handy tool, especially for non-native English speakers.
Ginger – reads aloud and translates.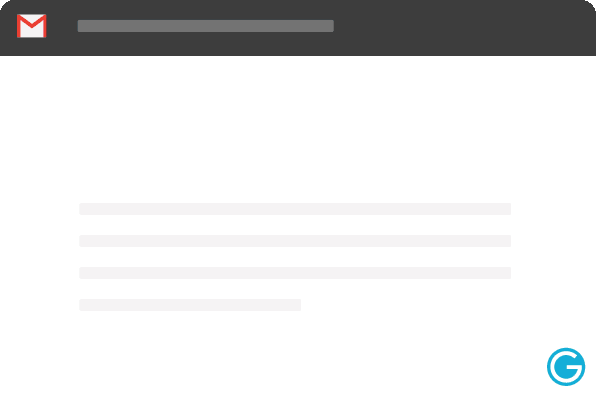 Ginger is a great proofreading software because it can read aloud, which is helpful. Your ears can help you catch mistakes when your eyes are exhausted while typing. Additionally, Ginger also offers a grammar checker and a spell checker, so you can ensure that your text is perfect before you publish it. Overall, Ginger is an excellent tool for ensuring your writing is flawless.
Ginger's online proofreading service does a great job checking your mistakes in the document you submit. It checks for various errors (like misused words correction, consecutive nouns, phonetic spelling mistakes, etc.). 
Ginger's translation capability makes it an excellent tool for researchers who need to write in multiple languages.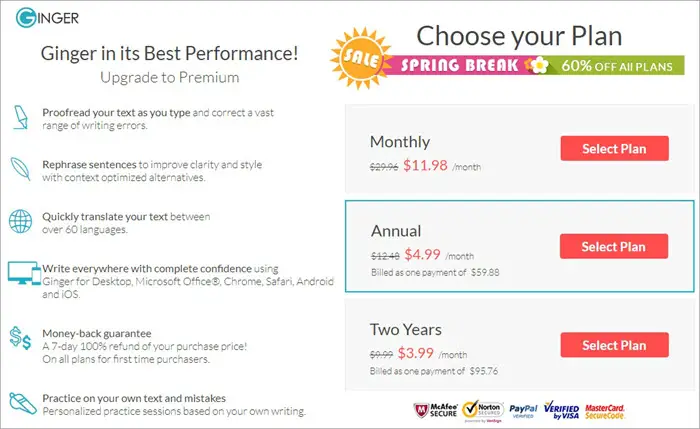 Pros
Most comprehensive out of all Grammarly alternatives.
It has a free Chrome extension that proves its value before charging.
It has a floating device (G icon) that shows up when it's working.
It could double as a Grammar Checker and Sentence Rephraser.
Cons
Ginger's free version is limited to 300 words.
The translation service is not always accurate, and the grammar checker is not always reliable.
ProWriting Aid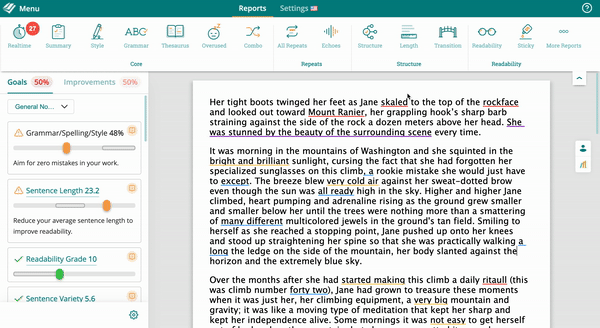 ProWriting Aid is a great editing tool that integrates into many different platforms. It is brilliant and catches most errors. One-click suggestions make it easy to accept good changes, and the interface is clean and intuitive. It requires almost no learning time, and basic suggestions are free. Advanced grammar suggestions (including tone) are available in paid plans.
Pros:
The ProWritingAid software is a fantastic editing program that works with various platforms, such as Chrome, Google Docs, MS Office (in Windows), Scrivener.
It is extremely smart and catches most errors.
One-click suggestions make it easy to accept good changes, and the interface is clean and intuitive.
It requires almost no learning time, and basic suggestions are free. Advanced grammar suggestions (including tone) are available in paid plans.
Cons:
It also requires an internet connection, as you probably guessed. Powerful AIs need high-performance PCs. They operate in the cloud on fast,
It also doesn't work with Microsoft Office on iOS, as it does with Grammarly.
In terms of ProwritingAid vs. Grammarly, ProwritingAid is not as sleek, e.g., it offered fewer one-click fixes, the interface was not as clean, navigation was not as intuitive, and suggestions were not as well-presented
Extra features, like reports, cluttered the screen without being useful.
Pricing:
ProWritingAid offers a free version. In addition, there are two premium plans, ProWritingAid Premium ($79 per year) and ProWritingAid Premium+ ($89 per year). Its monthly, yearly, and Lifetime subscription plans are also available.
Paperrater – Free Proofreading Tools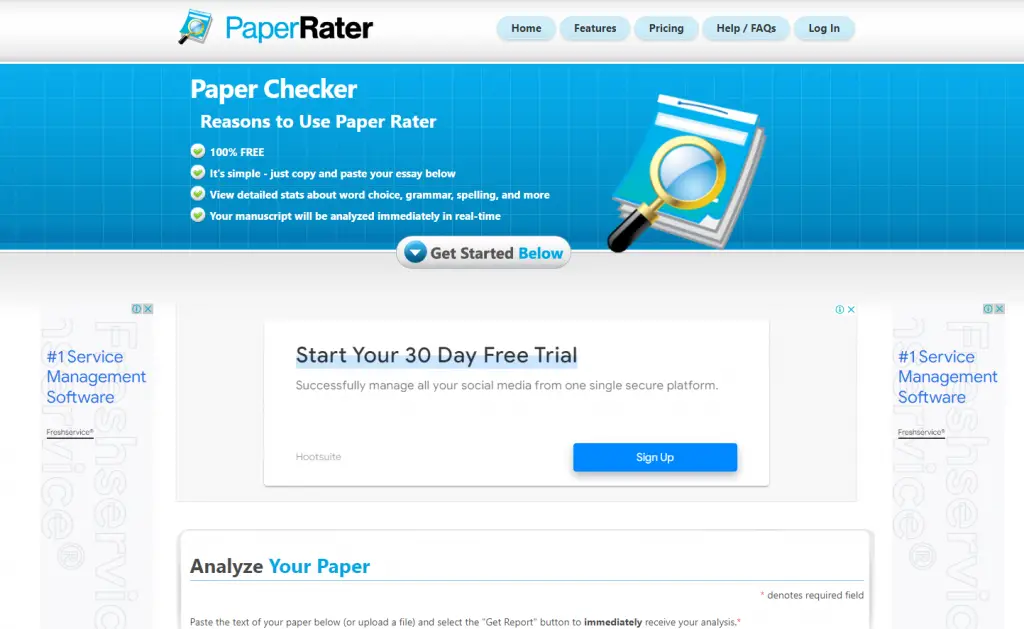 Paperrater is a free online proofreader that allows you to check your writing for spelling and grammatical errors. 
The basic option allows you to check 50 documents of max five pages per month, but for a minimum discounted fee of $7.95/month, you can check up to 200 papers of max 20 pages per month and have access to its premium features.
Another fantastic online proofreading solution employs Linux-based operating systems with artificial intelligence to deliver you the most excellent possible outcomes.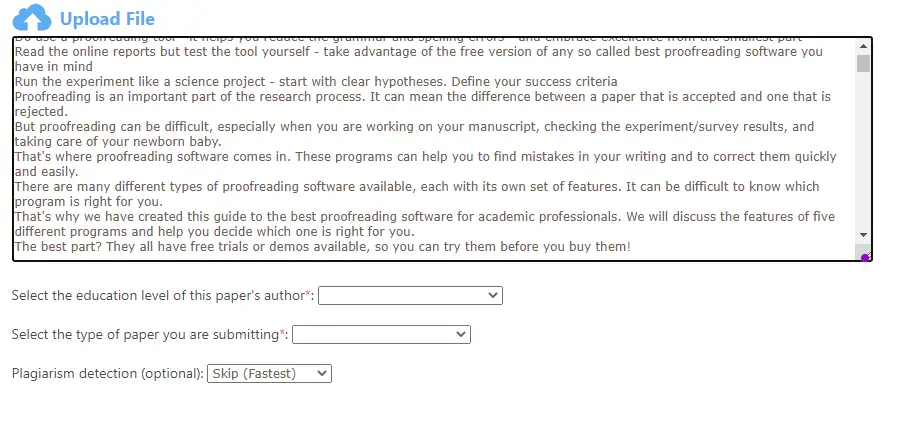 Pros:
Free to use without log-in like Hemmingway Editor
Premium version costs $7.95/month (25% discounted) and has a free trial period.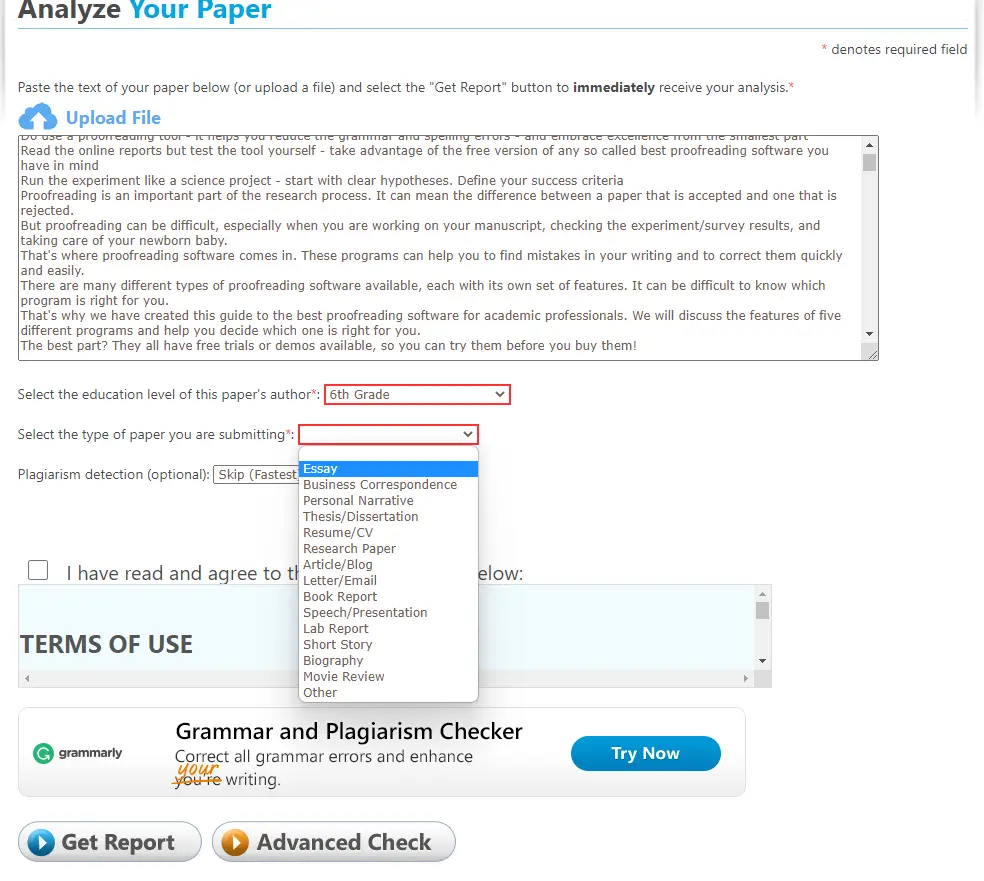 Cons:
You need to set the education level of the author (Hemmingway wins)
You need to select the type of paper (Hemmingway wins)
Lots of ads as a free tool (Hemmingway wins)
The report is badly presented (see below; Hemmingway wins)
In terms of paid tool, Paper Rater vs. Grammarly is not a fair comparison; it is kind of like comparing Nokia with Apple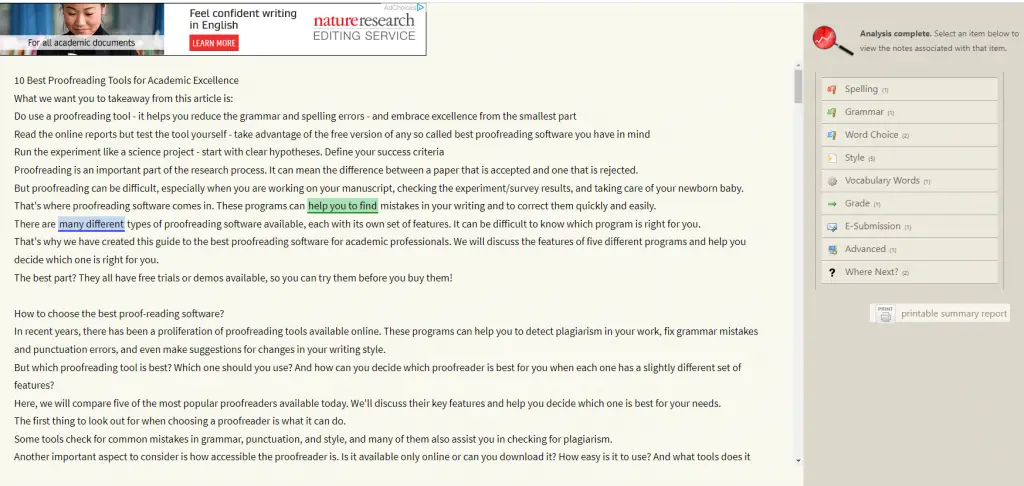 Paperrater could be an excellent tool to experiment and form the basis for comparison with other online proofreading tools. 
CorrectEnglish (CE)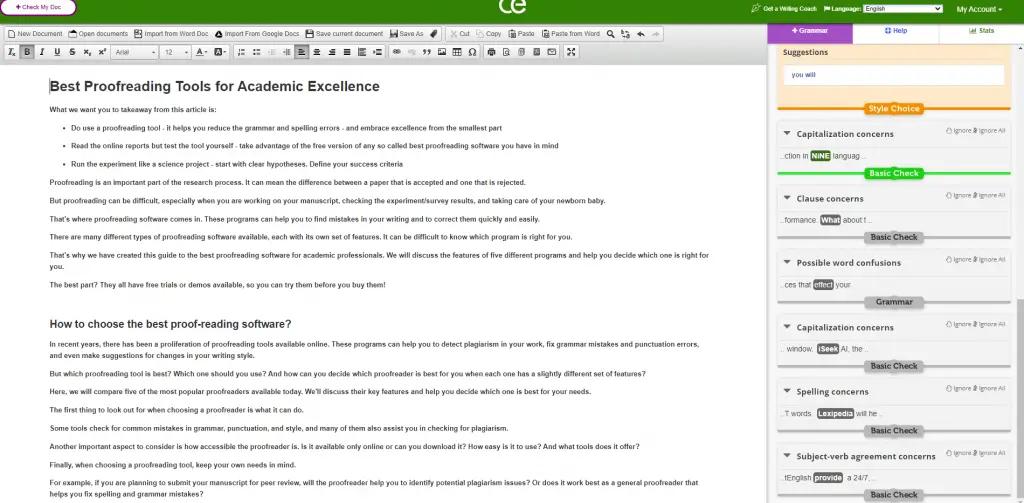 CorrectEnglish is an editing tool that helps writers improve the accuracy and clarity of their writing. It does this by identifying grammar, punctuation, and style errors and providing feedback on how to fix them.
CorrectEnglish is available as a desktop app, a web app, and a mobile app. It can be used to write essays, articles, reports, etc., and is suitable for all writing proficiency levels.
Since its launch in 2014, CorrectEnglish has helped thousands of writers improve their writing skills.
Pros
Its free tool captures images when you copy and paste the whole thing (CE wins).
Check spelling and grammar with unmistakable explanations on why corrections are needed.
Accessibility: Works wherever you do, providing you with instant feedback.
It offers a quick stat that measures your writing.
Format documents for APA and MLA automatically.
Ensure all of your work is completely original with a plagiarism check.
Check spelling and grammar with detailed explanations on why corrections are needed.
Cons:  
Requires a sign-up for trial (Hemmingway wins)
The free version only works for 250 words (Hemmingway wins)
Its suggestions are not highlighted and not actionable; you need to search for them (same as Hemmingway)
Pricing is hard to justify at $24.00 monthly (Grammarly wins)
Pricing
CE charges $24 per month or <$12 paid annually. I would suggest you test its tool with other premium tools like Grammarly. 
Proofread Bot – A limited free tool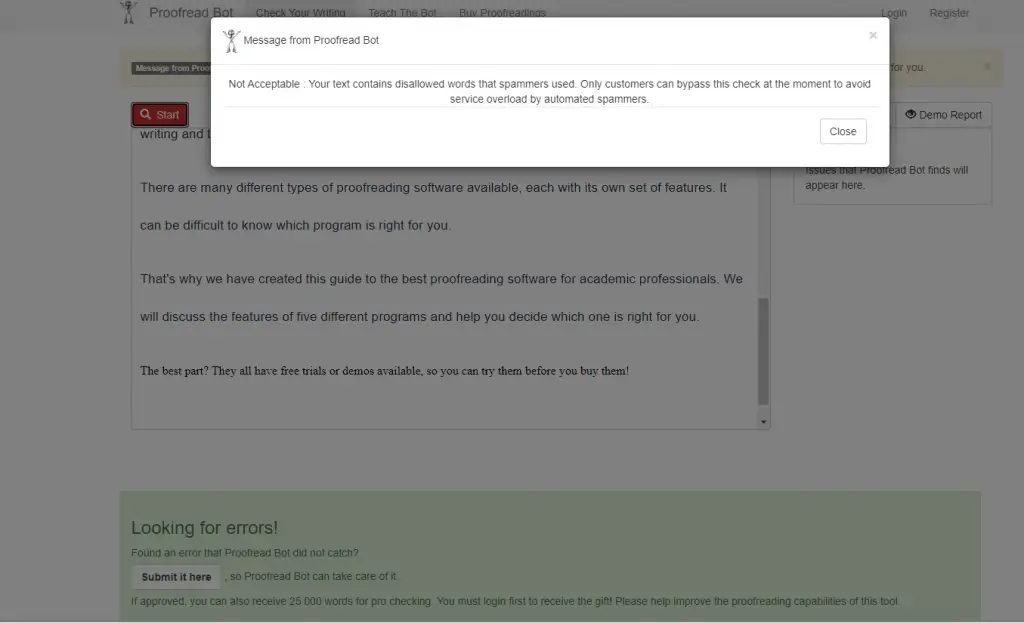 Proofread Bot is an online proofreading tool that helps students and professionals achieve academic excellence. It scans through essays, papers, and other documents for grammar mistakes, typos, and other errors, helping users produce polished and error-free writing. 
Pros
Easy and free to use like Hemmingway Editor
Cons
It can only check 600 words, which is not very useful as a free tool (Hemmingway wins)
There is some weird message that comes up when we test it with this article (Hemmingway wins)
As one of the free proofreading software programs, Proofread Bot is not as useful as Hemmingway at this writing. But, you are free to test and prove us wrong. 
After the Deadline – not an easy tool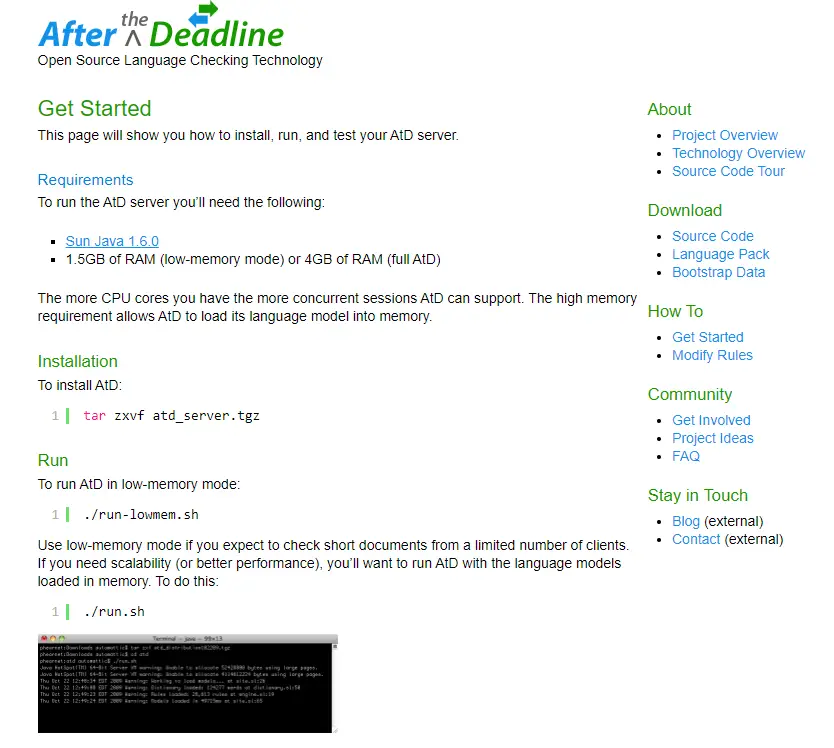 After the Deadline is a free, open-source web proofreader created by Automattic, which created WordPress. It will take longer than a week to complete if there are no other applications. 
As the Deadline is open-sourced, developers can incorporate it into their software. 
As you can see, this tool is not very easy to use. We like to focus on the content, not the tech or the tool. So, this tool is not for us.
LanguageTools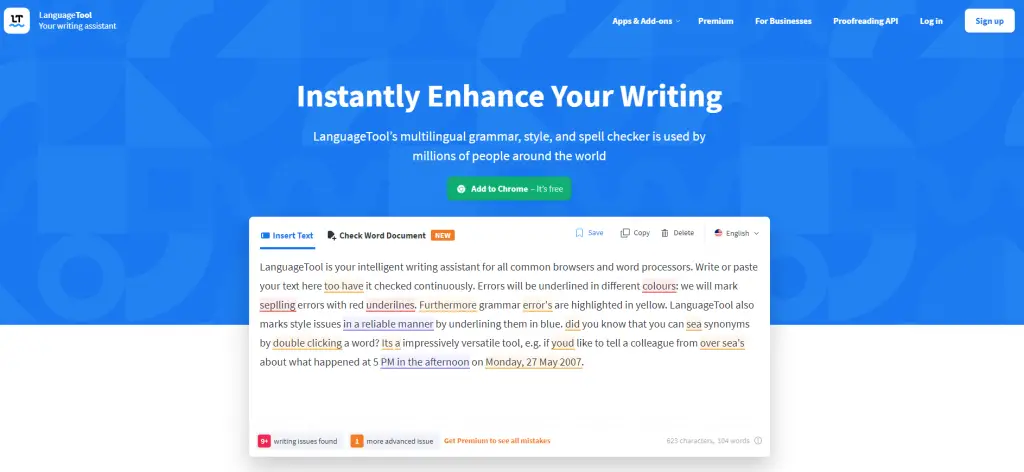 LanguageTool can easily read multiple languages for blogs and email. LanguageTool is very affordable, streamlined, and has handy integration. The main drawback is the limitation on the free version to 10k characters. 
Final thoughts
Grammarly can be a good tool for a professional writer even with its lack of perfection. It has many useful functionalities in a simple, clean interface and is probably the most intelligent proofreading AI. 
Those wishing to self-publish or have a high stake academic paper should still hire a publisher. 
But, using a proofreading tool as part of your writing process will help you become more professional, authoritative, and trustworthy. 
Did we miss anything? What are tools that we miss? What features do you like the most or less about the tools we discussed?
FAQ
Proofreading Software vs. Human Proofreader
Why can't I just proofread myself? You can. And, most of us do that. And, most of us can use a tool to make our writing better.
True, most proofreading tools cannot take over the work done by a human. Not completely. Our judgment and understanding of a content's intent still beat most AI tools. 
Using Grammarly or Pro WritingAid or other writing software will make you a better writer. Like proofreaders, these tools can help us see what our eyes can't due to long hours of working on the same document.
Is Grammarly better than a proofreader?
People use Grammarly to check their writing for mistakes. It's an online app that acts as your editor, giving tips on the errors you might have missed. With the Grammarly Premium account, you can upload all of your work into a cloud-based platform and never worry about finding sentence reversals again!
Whether it can replace a good proofreader, we think not. Simply because we assume the proofreader knows your objectives and context better than an AI tool can.
We will talk about academic proofreading services in our next issue.
Can I use ProWritingAid offline?
Yes, you can use ProWritingAid offline. You will need to download the app, and then you can use it without an internet connection.