With the internet being as vast and expansive as it is, it's no wonder that more and more people are turning to it for research purposes. And when you're writing a research paper, it's important to make sure that all of your information is coming from reliable sources.
The problem with this, of course, is that not all of the information out there is reliable. In fact, a lot of it is downright plagiarized. It can be tough to determine whether or not a source is reputable, and more often than not, you'll end up plagiarizing content without even realizing it. 
But how can you be sure? 
Plagiarism checkers.
Use the best plagiarism checker tools for research papers to make sure your content is original and trustworthy.
We will discuss some of the best tools used by professionals below.
Why use a plagiarism checker tool for research?
When writing a research paper, it is important to ensure that all of your sources are properly cited. 
A plagiarism checker tool can help you to ensure that your citations are accurate and that you are not inadvertently plagiarizing someone else's work. 
It can help you to identify any potential areas of plagiarism in your own work so that you can correct them before submitting your paper.
Plagiarism is not only detrimental to your writing, it is also unethical and morally wrong to pass off something as your own that belongs to another person.
The ramifications of plagiarism can be severe because it can lead to a student being expelled from a PhD program, revoked degrees from colleges and universities, lawsuits for copyright infringement, and/or criminal charges.
Plagiarism also has negative effects on an individual's career by making him/her look like they are not trustworthy.
Overview Of The Best plagiarism checkers for research papers
Trinka – Designed for Academic and Technical writing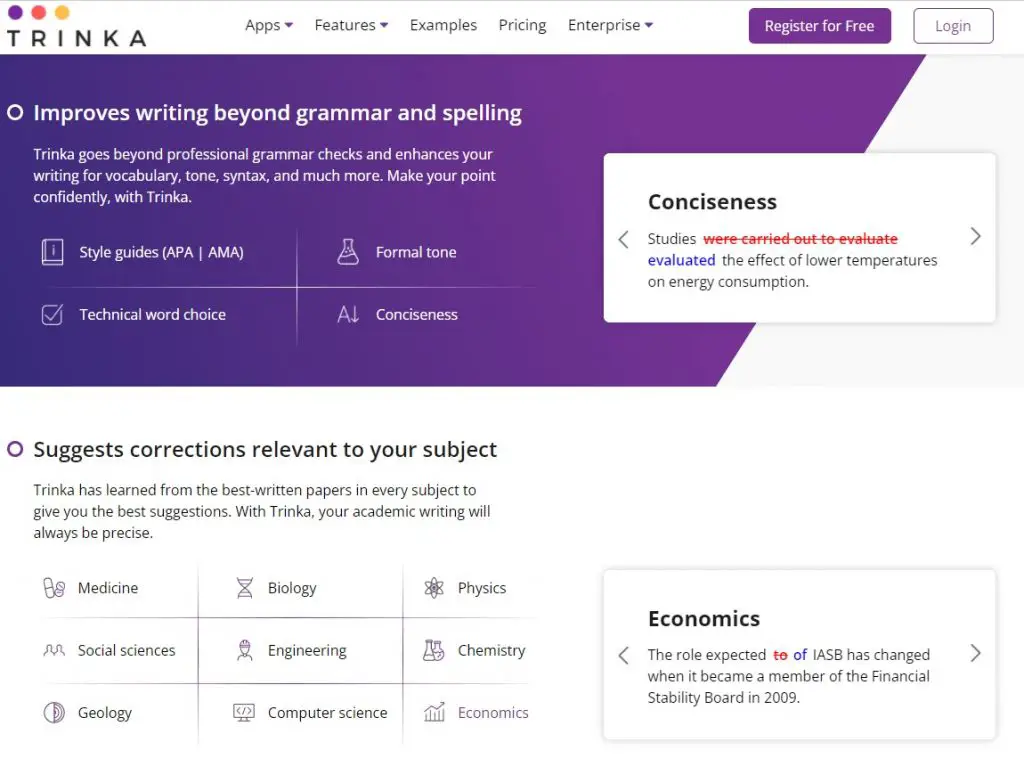 Trinka is an AI-powered English grammar and plagiarism checker. It also doubles as a language enrichment writing assistant.
We have been testing Trinka recently and fell in love with it. Trinka is founded by Enago, an established academic service provider. So, they are well-versed in the needs of academic papers or technical writing. 
Using real-time writing recommendations, Trinka corrects contextual spelling problems and sophisticated grammatical issues.
It aids academics and professionals in ensuring that their writing is clear, succinct, and interesting.
Below is a comparison of its performance against Grammarly from a Trinka whitepaper. Trinka wins in Domain, Usage, and Style.
We are also delighted to see its Publication Readiness feature included in the free plan. If you have issues with publishing your paper, chances are something is wrong with your manuscript. This Publication Readiness Checker may just be that difference maker.
Pro
More suited for academic and technical writing 
Consistency Check that's made for scientific writing
Publication readiness check is a lifesaver (included in the free plan!)
Flexible – credit-based pricing. Free-credits every month
Cons
No desktop or mobile app
Free version limits word count to 10,000 words/month
Turnitin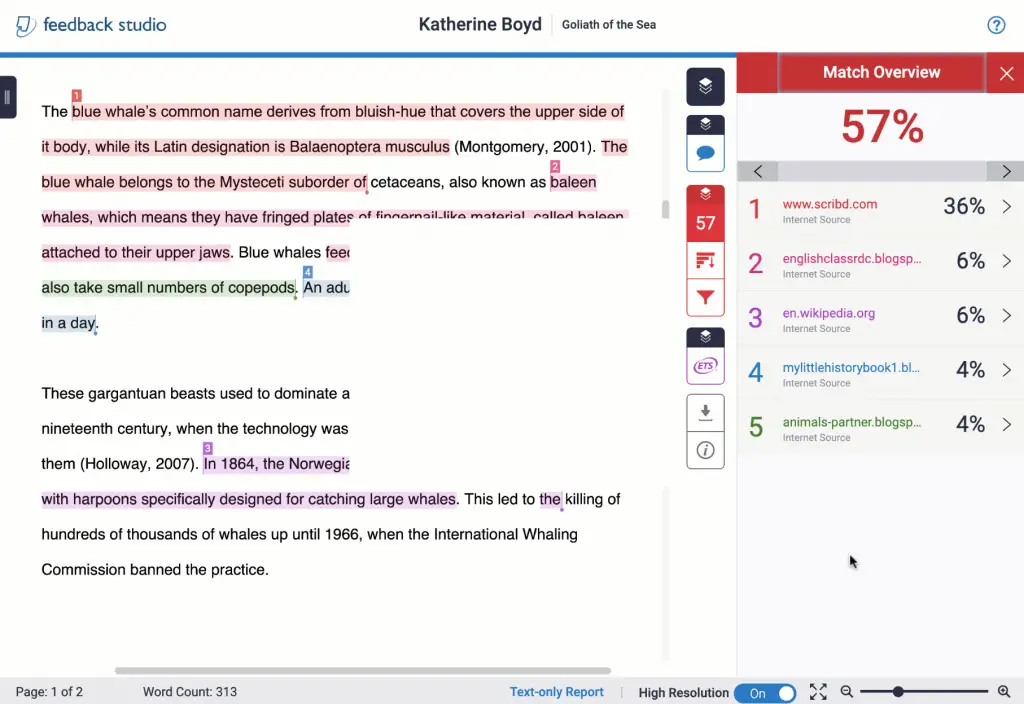 Turnitin is a great tool for academic researchers and PhD students to use to check their papers for plagiarism. It can help them to make sure that their papers are original and have not been copied from another source. Turnitin also provides feedback on how much of the paper is plagiarized, which can help researchers to improve their writing.
One of the benefits of Turnitin is that it is available online and can be used from any computer. This makes it easy to use for students who are working on papers at home or away from campus. Turnitin also has a user-friendly interface that makes it easy to use.
Another benefit of this plagiarism tool is that it is affordable. The price for using Turnitin is lower than the price for most other plagiarism detection tools. This makes it a cost-effective option for researchers and students.
Finally, Turnitin provides accurate results. The plagiarism detection tool has been tested and proven to be reliable in detecting plagiarism. This means that researchers and students can trust the results that are provided by Turnitin.
✔Pros
This tool provides a report that shows the percentage of originality, from what exact materials the info was copied or rephrased.
Instructors can also ask the service to ignore small matches, such as three words or fewer, and they can set the number.
It's possible to use the service and opt-out of storing student papers, and to opt-out of checking them against any specific type of source (such as the repository of student papers, the internet, and publications).
✘Cons
Turnitin cannot match students' work to websites that require a login or those which do not allow search engines to add them.
$ Pricing
Duplichecker
Duplichecker is a valuable online tool that can help academic researchers and PhD students to improve the accuracy and consistency of their work. It allows users to compare two pieces of text and to identify any similarities or differences between them. 
This can be helpful for checking the accuracy of research findings, for plagiarism detection, and for ensuring the consistency of terminology and style across a document or project.
The main Duplichecker interface is easy to use. Simply paste in the text that you want to compare, and hit the 'Compare' button. The tool will then show you a list of all the similarities and differences between the two texts. You can click on any of the highlighted text to see a more detailed comparison.
✔Pros
Detects plagiarism in multiple languages and let's teachers know which websites were used.
Allows you to check plagiarism through text, URL and different files such as doc, pdf, rtf, among others.
Differentiate duplicate and unique phrases.
It has excellent artificial technology, so you can check plagiarism, paraphrased content, and grammatical errors.
✘Cons
Duplichecker guarantees you 100% security, it does not save texts or documents after their plagiarism is verified.
The free version has a maximum of 1,000 words, which is very little.
$ Pricing
Quetext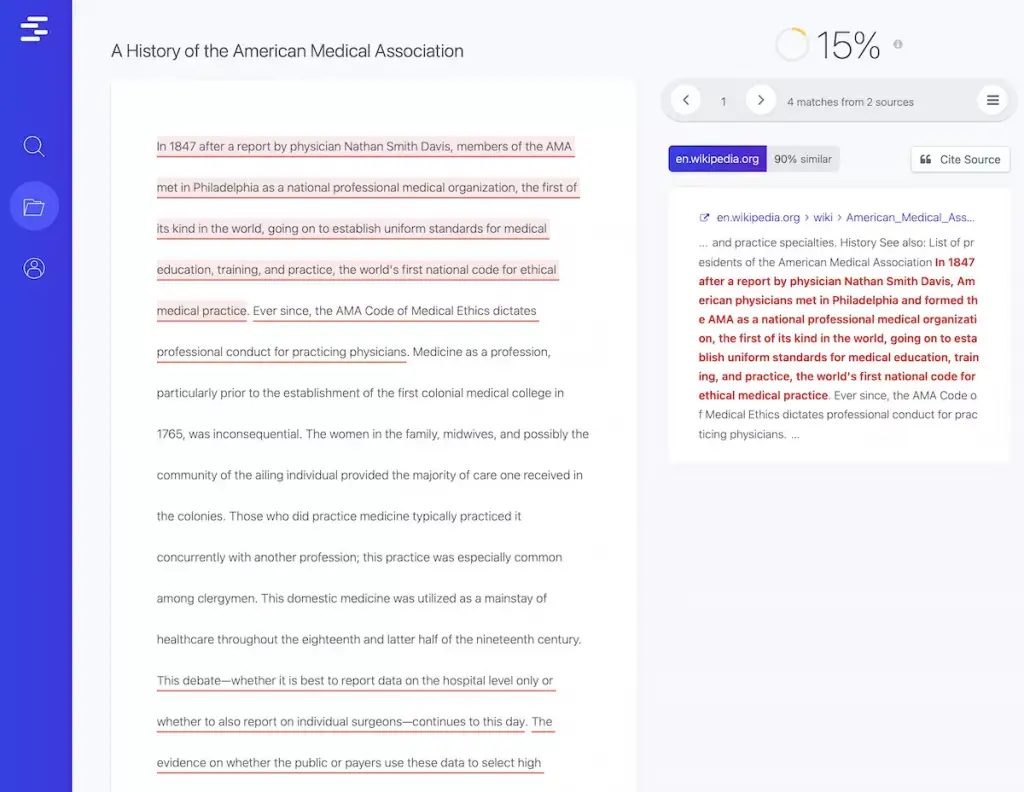 Quetext is an online platform that enables academic researchers and PhD students to find and use public domain texts for their research. Using Quetext, academic researchers and PhD students can search for texts from a variety of different sources, including books, journals, newspapers, and websites. 
Quetext also allows academic researchers and students to save, annotate, and cite the texts they find. In addition, Quetext offers a variety of different tools that academic researchers and PhD students can use to improve their research productivity, including a thesaurus, a plagiarism checker, and a citation tool.
✔Pros
Uses DeepSearch™ to scan papers, documents and other input writings for slightest possible traces of accidental plagiarism.
Their comprehensive plagiarism score is backed by billions of internet sources
Respects user privacy and doesn't store your submitted content in their database.
✘Cons
Requires paid subscription to scan more than 3 documents or documents more than 500 words.
To use the Upload Files and Exclude URL feature, you have to get the PRO plan.
$ Pricing
Copyscape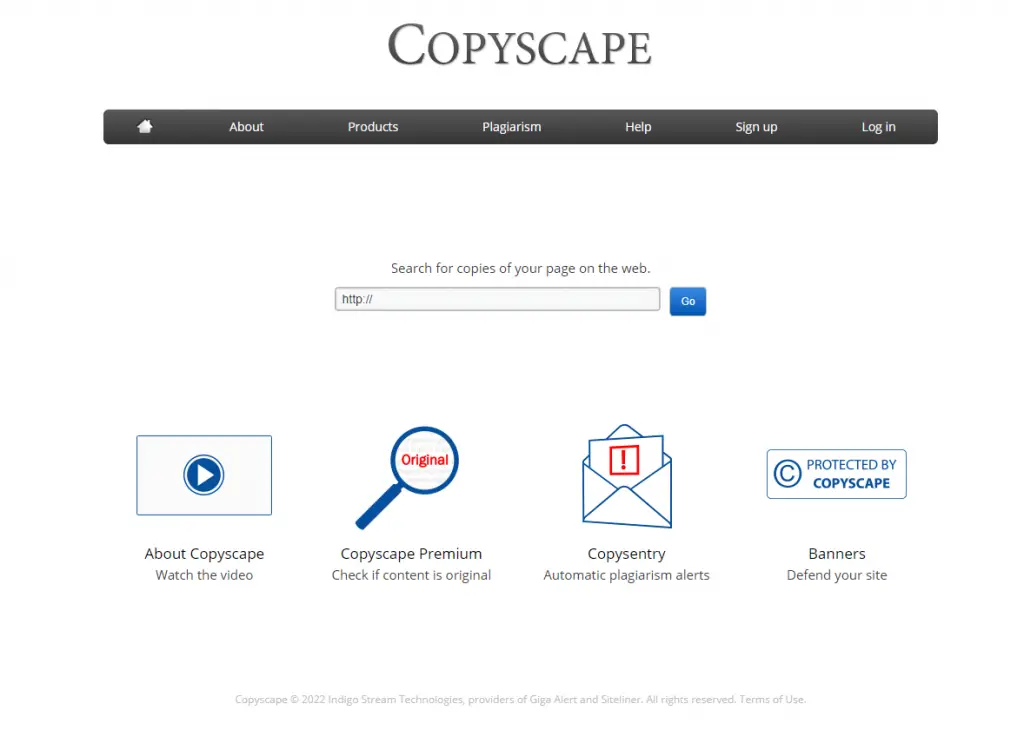 Copyscape is an online plagiarism checker that is used to determine the originality of a document. It is a very popular tool and is used by academic researchers and PhD students to ensure that their work is original. 
Copyscape allows you to compare your work with other sources online to see if there are any similarities. If there are similarities, then it will show you where they are located in the text. It is a very useful tool for academic research and can help to prevent plagiarism.
✔Pros
They also have an API if you want to check automatically.
It allows you to check the copy resources as well which gives you the perfect belonging of content.
Integrates with other software; such as Grammarly.
✘Cons
The pricing structure is a bit weird. Instead of just charging per document, they charge per 200 words and then 100 words after.
$ Pricing
Grammarly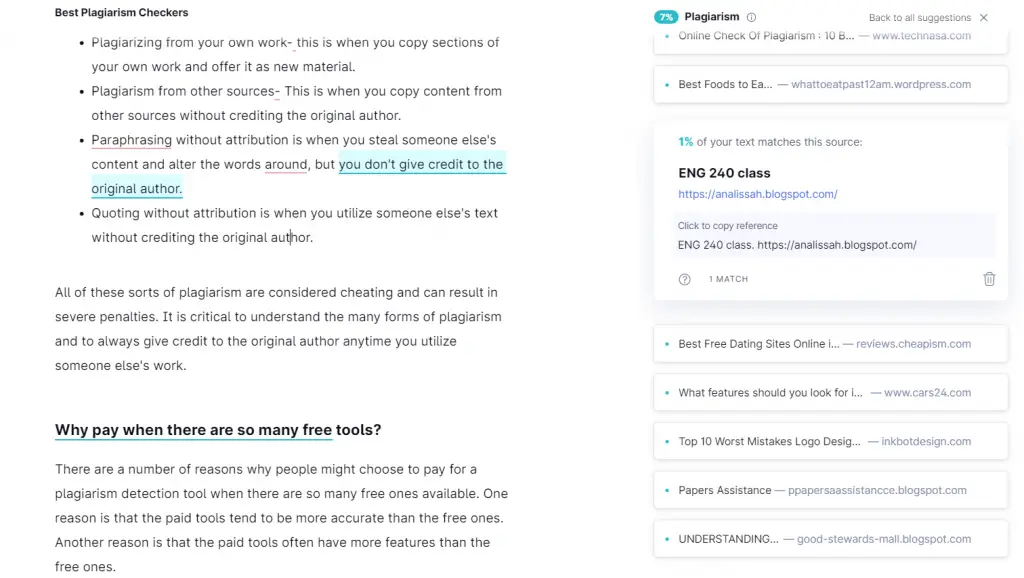 As a researcher or Ph.D. student, it's important to make sure that your work is original and properly cited. Grammarly's plagiarism checker can help you do this by checking your work for plagiarism and providing feedback on how to properly cite your sources.
Grammarly is a free online tool that can help you improve your writing skills. It not only provides a plagiarism scan but also provides a grammar checker, plagiarism scans, and incorrect citation checks. It also provides feedback on how to improve your writing style.
Grammarly is available as a desktop app and a browser extension. The desktop app is available for Windows and Mac, and the browser extension is available for Chrome, Firefox, Safari, and Opera.
✔Pros
Over 600 universities and millions of bloggers, authors, and creative people trust Grammarly.
Detects even the tiniest possibility of plagiarised content and generates a percentage report.
Grammar and punctuation checker that works well (you sure can have different tools for this, but having everything in one place is a bonus).
✘Cons
Huge lags when editing larger chunks of text.
Acclimatization can take time (e.g., this article is 2,500 words and takes quite a few seconds for Grammarly to check)
$ Pricing
Copyleaks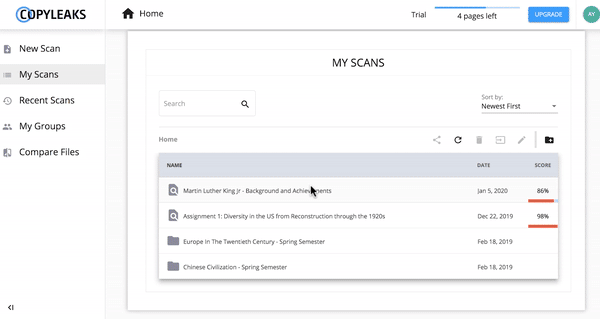 Copyleaks is an online plagiarism detection service that helps academic researchers and PhD students to identify potential cases of plagiarism in their work. It allows users to compare their work against a database of millions of academic papers, and highlights any potential areas of overlap. This can be helpful in identifying accidental plagiarism, as well as instances of deliberate plagiarism.
Copyleaks also offers a handy plagiarism checker tool, which can be used to scan an entire document for potential plagiarism. The checker is free to use, and can be accessed on the Copyleaks website.
✔Pros
In any language, Copyleaks detects plagiarised content.
Has a large internal database of user-submitted content (for accurate results) that is utilised to match for comparable content.
They offer a division that specialises in plagiarism detection for SEO firms and publishers.
✘Cons
You can scan up to 2,500 words every month for free using Copyleaks.
You'll need to upgrade to their paid edition to get additional information.
$ Pricing
SmallSEOTools Plagiarism Checker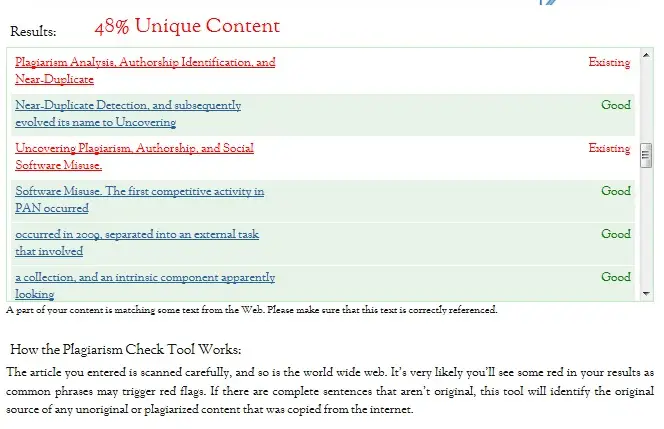 When it comes to academic research, plagiarism is a big deal. Many scholars and students rely on specialized plagiarism tools like SmallSEOTools Plagiarism Checker to help them avoid accidentally copying someone else's work or unintentional plagiarism. This tool is essential for anyone who wants to ensure the accuracy and originality of their writing.
Small SEO Tools Plagiarism Checker is a free plagiarism checker that allows you to compare your work against billions of web pages, articles, and other documents. It's simple to use; just copy and paste your text into the box on the homepage and click "Check." The tool will then detect plagiarism or duplicate content in your text-if any, and provide you with a plagiarism report.
✔Pros
SmallSEOTools is a free online plagiarism detector for students that is both easy and powerful.
Offers a number of other tools that can be useful for checking for plagiarism in web content.
It allows you to upload documents from the cloud (Google Drive and Dropbox).
✘Cons
Sample versions are mostly useless.
$ Pricing
Plagium
Plagium is significant for academic researchers and Ph.D. students because it allows them to check their papers for plagiarism. It also helps them to find sources that they may have missed when writing their papers.
Plagium is also essential for businesses because it can help them to make sure that their marketing materials are not plagiarized. It can also help them to find new ideas for their marketing campaigns.
Finally, plagium is important for authors because it can help them to find out if their work has been plagiarized. It can also help them to find new sources for their work.
✔Pros
An institution's institutional account can be used by several users.
The commercial version includes a function that allows you to upload several files and compare the similarity of two writings.
✘Cons
To gain access to additional features, you must first register.
The free version only allows for cursory searches; deep searches require a premium membership.
$ Pricing
Ultimate Guide to a plagiarism detection tool for Academic Research
Defining plagiarism – types and examples
Plagiarism occurs when you replicate the thoughts, ideas, and words of another without giving them the credit they deserve. 
So, when you do research online, make sure you 1) cite the source and attribute the credit when it's due and 2) blend the reference into your own content. 
We have talked about some of the Best Academic Writing Tools here. 
Plagiarism may be classified into several types:
Plagiarizing from your own work- this is when you copy sections of your own work and offer it as new material.
Plagiarism from other sources- This is when you copy content from other sources without crediting the original author.
Paraphrasing without attribution is when you steal someone else's content and alter the words around, but you don't give credit to the original author.
Quoting without attribution is when you utilize someone else's text without crediting the original author.
All of these sorts of plagiarism are considered cheating and can result in severe penalties. It is critical to understand the many forms of plagiarism and to always give credit to the original author anytime you utilize someone else's work.
Why pay when there are so many free tools? 
There are several reasons why people would opt to pay for a plagiarism detection program when there are so many free ones accessible. As a researcher myself, my biggest reasons are:
Accuracy – I want to be able to trust the tool to detect plagiarism in my writing. 
Ease of use – how easy is it to trace the plagiarism and make the fixes
Performance – does it tell me who's content my writing is similar to?
Free tools either have issues with accuracy or are inherently difficult to navigate. Also, most of them do not show the source of plagiarism. 
Other than these, you may also consider the following. 
What features should you look for in a plagiarism checker tool?
When looking for a plagiarism checker tool, you should consider the following features:
1. Ease of use – The plagiarism checker tool should be easy to use, with a user-friendly interface.
2. Accuracy – The plagiarism checker tool should be accurate, and be able to detect plagiarized content quickly.
3. Coverage – The plagiarism checker tool should be able to detect plagiarized content from a variety of sources, including online articles, journals, and books.
4. Speed – The plagiarism checker tool should be able to scan content quickly so that you can get results fast.
5. Price – The plagiarism checker tool should be affordable, and offer a variety of pricing options.
6. Support – The plagiarism checker tool should offer customer support so that you can get help when needed.
Conclusion
So what's the best way to avoid plagiarism and make sure your research paper is up to the desired standards? Use a plagiarism checker tool, of course! There are a number of different plagiarism checkers out there, and each one has its own strengths and weaknesses. 
But no matter which tool you choose, using it is better than not using it at all. Have you tried using a plagiarism checker for your research papers? If not, now might be a good time to start. Let us know in the comments which plagiarism checker works best for you.