---
TL; DR.
Organizing your research and keeping track of deadlines with the right project management tool helps you achieve more with less.
We've listed 19 of the best tools for research, but it's important to find one that works best for you. 
Specify your needs and goals before testing the tools for managing a research project.
Take advantage of trial periods and online reviews to find a program that meets your needs.
---
Why use a project management tool for research at all?
The process of managing an academic research project is challenging, especially for those who are new to research. Some of the common issues include:
Tracking multiple deadlines and tasks
Communicating with team members
Tracking the comments from professors, peer researchers, or vendors
Managing complex paperwork and data
Keeping on top of changes and revisions
Thankfully, there are a number of project management tools that can help. 
By using the below project management tools for research, you can create task lists, set deadlines, track progress, and collaborate with other team members. This can help reduce stress and make the research process more streamlined.
What Features Should You Look For In A Project Management Tool For Research?
When looking for the right project management software for research, it is crucial to consider the most important features. Some essential elements to look for include:
Cost: The tool should be affordable enough for you.
Ease of use: How intuitive is the tool? Can you easily create tasks, subtasks, and milestones?
Features: The tool should have all the features you need to manage your research projects, such as task lists, deadlines, chat functions, and file sharing.
Compatibility with your individual environment: Is the tool available on Mac, PC, or both? Will it work with your other software?
Compatibility with your research environment: what tools does your institution or organization use? Will they work well together?
Collaboration: Can you invite other people to collaborate on your project? What features does the tool offer for collaboration?
Reports: Does the tool offer reporting, or is it more of a to-do list? Do you need this feature for reporting to others such as project sponsors?
Overviews Of The Best Project Management Software for Research
Asana – free project management software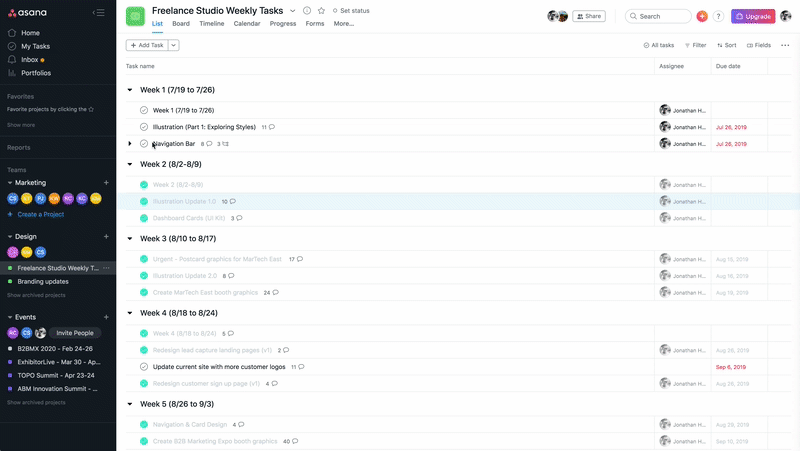 Asana is the best project management software for people who prefer to work with lists instead of boards.
 It can be tailored to meet the demands of a wide range of academic research projects. Asana was created so that any size team can track their progress and address their research related issues in one location, eliminating the need for endless meetings, email updates, and notes. 
Asana's free version is excellent for keeping track of your assignments and responsibilities, as well as functioning as a central center for academic research and conferences. 
Pros
Asana is very easy to use and can be learned quickly.
It has a clean and modern user interface that makes it easy to navigate.
It has a wide range of features, which makes it a versatile tool. 
Cons
Asana can be challenging for teams with more complex workflows.
It can be difficult to track tasks when there are a large number of collaborators.
It is best suited for teams who will be working closely together.
Pricing/Free Version
Free version available
From $10.99/user/month
Trello – free project management software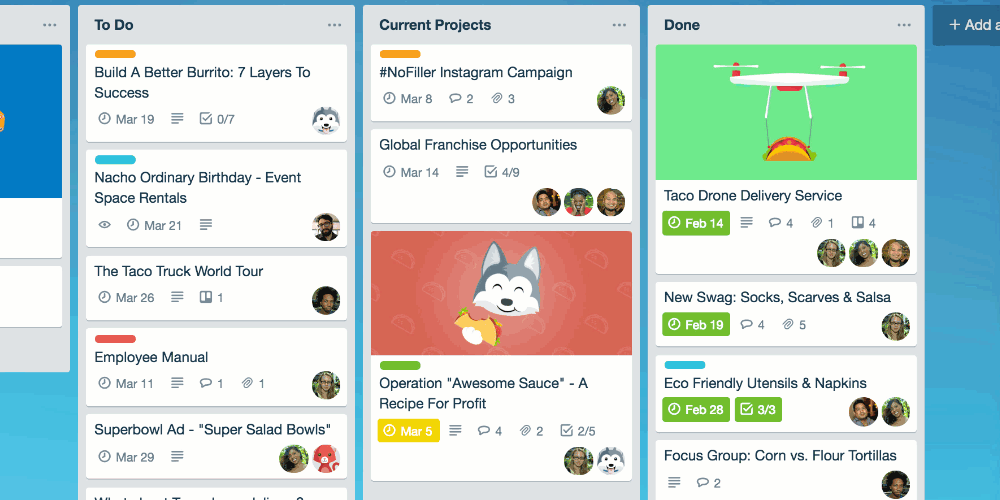 Trello is the best project management software for people who like to work with boards and images vs. lists. 
It is a great project management software that can be used for a variety of purposes, including research. It's a very visual tool that allows you to create boards and cards to represent your tasks and projects. This can be helpful in organizing and keeping track of what you need to do. 
Unlike Asana which is designed for customers who want more control and flexibility in the way they view their tasks, Trello is a simple task management tool based on the Kanban system for organizations. 
Pros
Trello works in real-time. Members are free to work on the projects without interfering with the updates.
A user can add a new member by merely entering the new user's email address and clicking "Add Member."
The system for receiving notifications is excellent. Because every action performed on the platform can be viewed, this is one of Trello's strongest features.
Cons
Trello's commenting system should be better.
It's not always the best tool for complex projects.
Pricing/Free Version
Free version available
From $5/user/month
Jira
Jira is a project management software that is used by teams of all sizes to manage their projects. It helps to track tasks, issues, and dependencies. Jira is popular because it is customizable and easy to use. 
Jira Software is part of a suite of tools for managing work in teams of various sizes. Jira was created with the intention of serving as a bug and issue tracker. Jira has since evolved into a robust task management platform for various applications, ranging from requirements and test case management to agile software development.
Pros
Jira is a trendy project management software that many companies use.
There is a lot of support and help available.
Jira integrates with a variety of devices, including Mac, Windows, and Linux computers, as well as Android and iOS mobile devices.
Cons
Jira can be pretty expensive, depending on the features you need.
Jira can also be complicated to use and configure.
Pricing/Free Version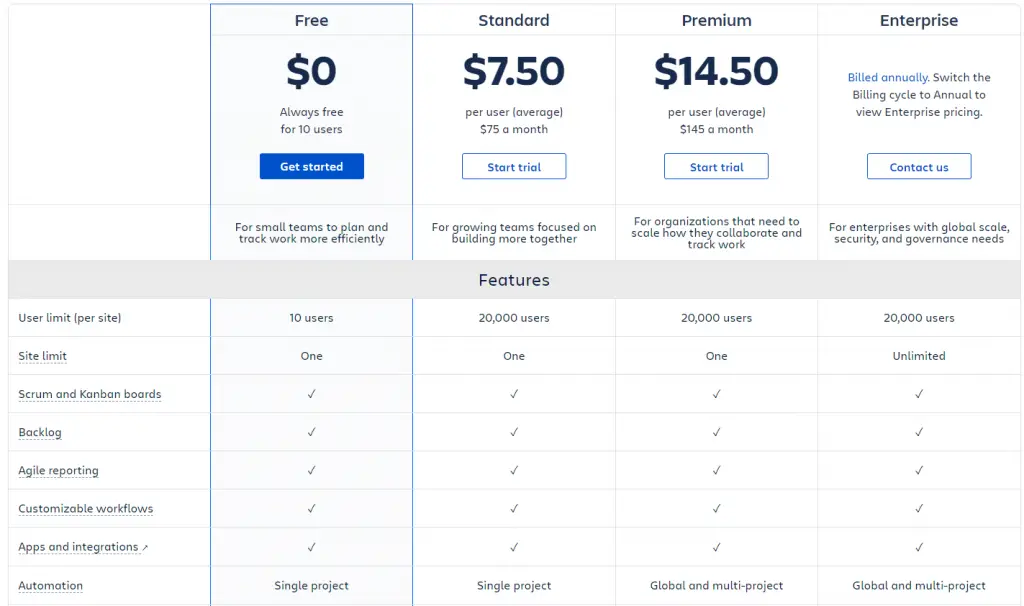 Free version available for 10 users
From $7.50/user/month
Wunderlist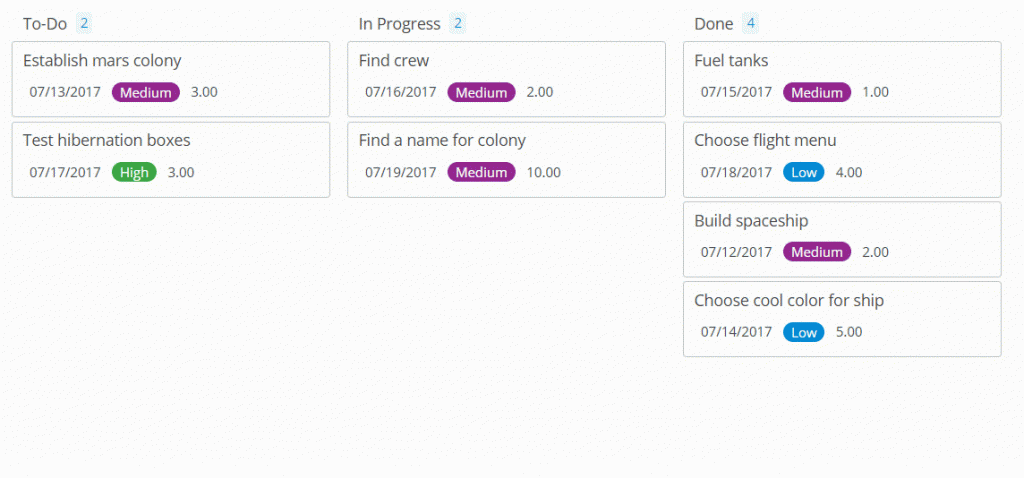 Wunderlist is a cloud-based task management tool that helps you organize and manage your tasks. It offers a variety of features, such as the ability to create to-do lists, share lists with others, and set deadlines for tasks.
Wunderlist is a task manager and to-do list app that helps people get things done. Wunderlist makes it simple to capture, share, and finish your to-dos, whether you're sharing a grocery list with a loved one, working on a project, or organizing a vacation. 
Pros
Available on multiple platforms.
Cross-platform synchronization.
Integration with other apps and services.
Cons
Limited functionality compared to other project management tools
No invoicing or time tracking
Pricing/Free version
Free version available. 
From $4.99/user/month.
ClickUp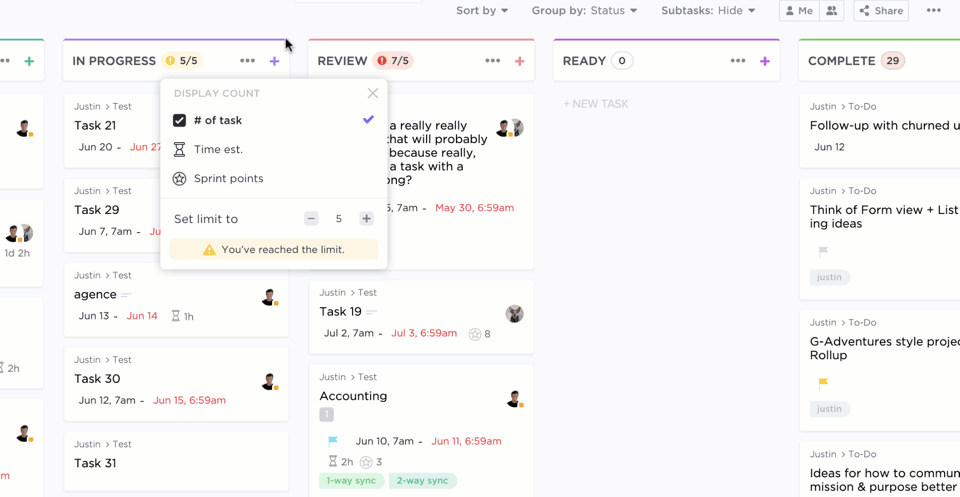 ClickUp is one of the best project management software for research. It is a great choice for both individual researchers and research teams. It is cost-effective, cross-platform, and easy to use. 
ClickUp works to organize your research tasks into lists, and then drag and drop them to create a workflow that best suits your needs. It adds comments and attachments to your tasks to keep track of all the relevant information related to your project. 
ClickUp also assigns tasks to specific team members and then tracks their progress as the project progresses.
Pros
It allows users to view their tasks in a list or board view.
Users can also add comments to tasks and projects. 
ClickUp allows users to create tasks, projects, and subtasks. It also allows users to set due dates and priorities for tasks.
Cons
ClickUp does not allow users to create folders.
Some users have complained that the user interface is not very user-friendly.
Pricing/Free Version
Free version available.
From $5/user/month.
Wrike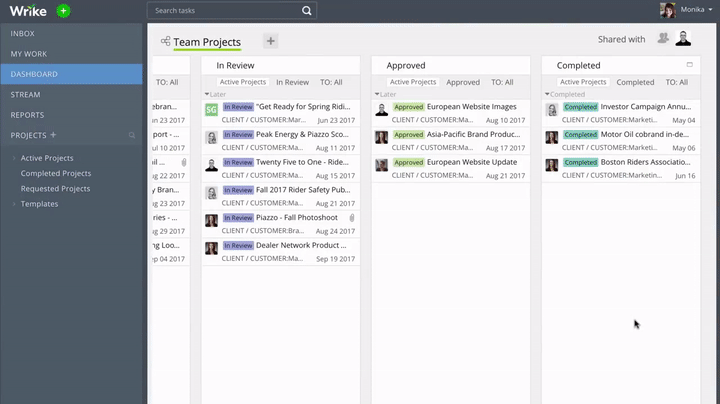 Wrike is a cloud-based project management tool that helps teams manage projects from start to finish. It offers a variety of features, such as task management, file sharing, time tracking, and reporting. Plus, it's easy to use and can be accessed from anywhere. This makes it a great choice for researchers who need a tool that's both versatile and easy to use.
Pros
Wrike is extremely versatile and can be customized to meet the specific needs of your project.
It has a great user interface that is easy to learn and use.
Wrike is also very reliable and has a good track record for uptime.
Cons
The pricing can be a bit steep for some users.
Wrike can be a bit overwhelming for beginners, and it may take some time to get used to all of its features.
Pricing/Free Version
Free version available.
From $9.80/user/month.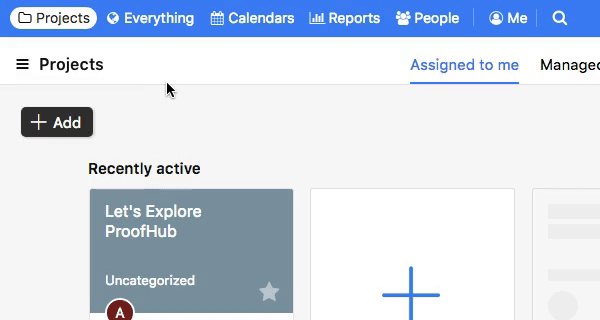 With proofHub all your work will be managed with the click of a button. You can seamlessly collaborate, no matter where you are or who's participating in what tasks! Proofhub offers an array of features from Gantt charts to time tracking which makes managing projects easy even if their size varies greatly. 
Whether you're managing a team of 10, 50 or 500 members – ProofHub provides powerful tools to eliminate the need for dozens of other project management software. 
Pros
ProofHub is a versatile project management software that can be used for various purposes, including research projects.
It is easy to use and can be accessed from any device or computer.
The pricing is very affordable.
Cons
There is no customer support available on the weekends.
The user interface could be improved upon.
Pricing/Free Version
Free trial available.
From $45/month.
Zoho Projects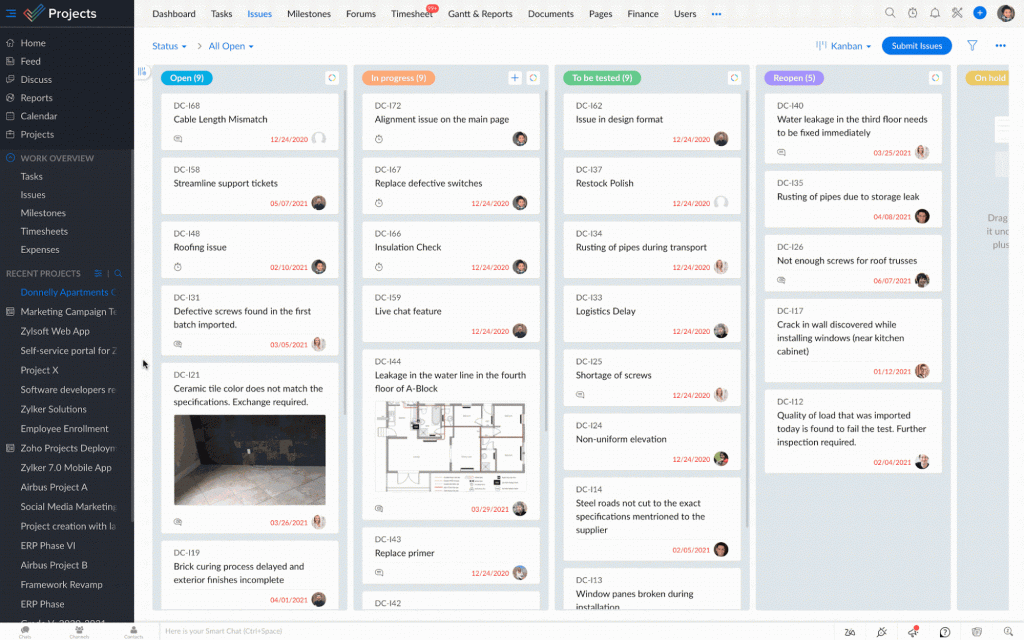 Zoho Projects is a web-based project management tool that helps you manage your projects efficiently and effectively. It offers a range of features such as task management, time tracking, document collaboration, bug tracking, and more. 
You can also create custom workflows to suit your project requirements. Additionally, Zoho Projects integrates with other Zoho applications such as CRM, Invoice, and Meeting Scheduler, so you can manage all your projects from a single platform.
Pros
Zoho Projects is a very cost-effective tool. It is one of the cheapest project management software available on the market.
Zoho Projects is also a cross-platform tool. 
The user interface of Zoho Projects is straightforward to use.
Cons
We have witnessed most complaints regarding the customer support which is not very efficient. 
Pricing/Free Version
Free version available.
From $5/user/month.
GanttPro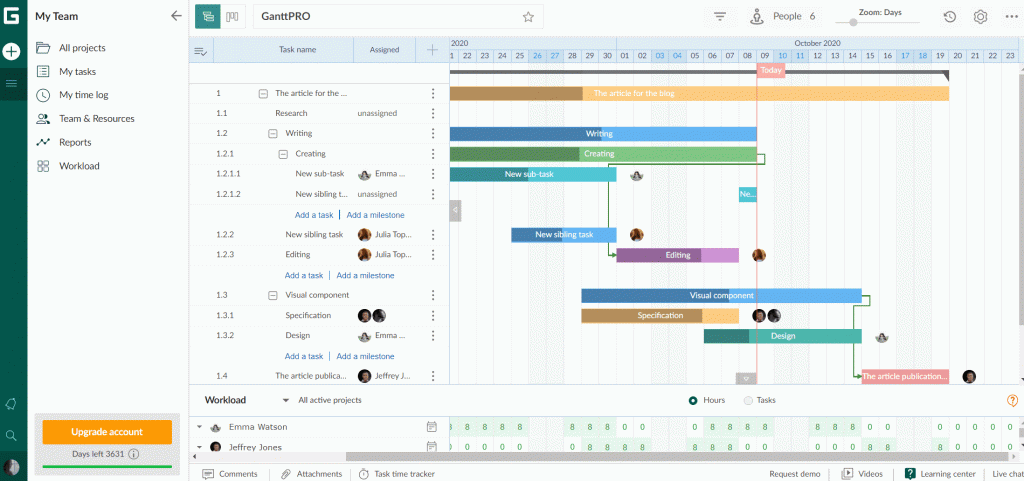 GanttPRO is a powerful project management software that helps you organize all types of projects from different areas. It has an intuitive interface and offers many features, such as sibling tasks or subtasks with set dependencies on milestones for more visibility when managing your work at hand efficiently in one place!
GanttPRO offers features to break down projects efficiently into subtasks, sibling tasks and subprojects with set dependencies. Users can also choose between different types of boards views or task dashboards for more visibility on their workflows throughout the process!
Pros
With a quick learning curve and an intuitive interface, you'll be up and running in no time.
Various and adaptable project views.
Gantt chart templates for professionals.
Cons
Integrations aren't overly important.
There aren't many choices for creating repeating tasks.
Pricing/Free version
14-day free trial
From $8.90/user/month
ProWorkflow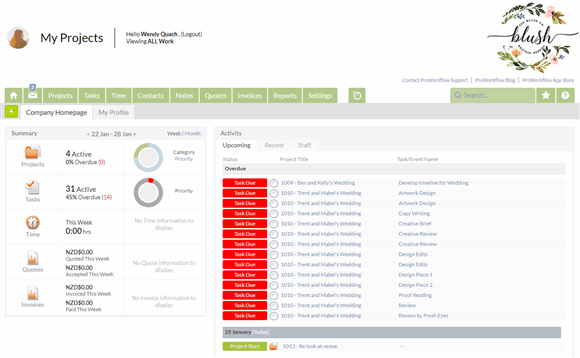 ProWorkflow will help your team stay organized and on top of their game. It's a complete online project management solution that allows you to track projects from conception until completion. 
It also aids you in reporting back as needed along with any activity with task detail such as start date/finish dates assigned hrs allocations rates for each employee. This is based on what tasks are currently active at a particular time and how much was allocated during the said period!
Pros
For arranging project information, there is an intuitive structure and navigation.
The system is very expandable thanks to custom fields and no user caps.
Powerful reporting capabilities make it simple to look back on previous efforts.
Cons
There are no asset/inventory management functions available.
Budgeting and cost tracking are largely based on hours worked, making profitability difficult to track.
Pricing/Free version
14-day free trial.
From $20/user/month. 
Codebox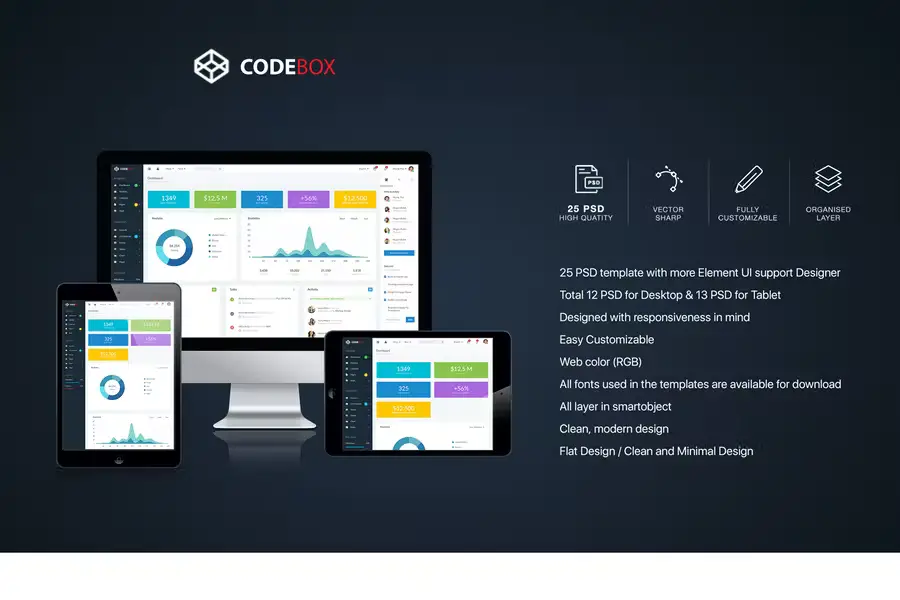 Codebox is a cloud-based platform that provides secure data storage and collaboration for businesses. It allows users to store and share files, create and manage projects, and collaborate with others in real-time. 
Codebox is best for software engineering teams who want to centralize their code repositories and share them with others in real-time. It can also be used by development managers who need an easy way to track project tasks using a Kanban view or project managers who need tools to manage and track bugs and issues.
Pros
It is a great online project management tool that can help with organizing and managing your research projects.
It's easy to use and can be accessed from any device.
Cons
One downside of Codebox is that it can be a bit pricey for some users.
Codebox can be expensive for larger teams.
Pricing/Free version
Free trial available.
From $5/user/month. 
Workzone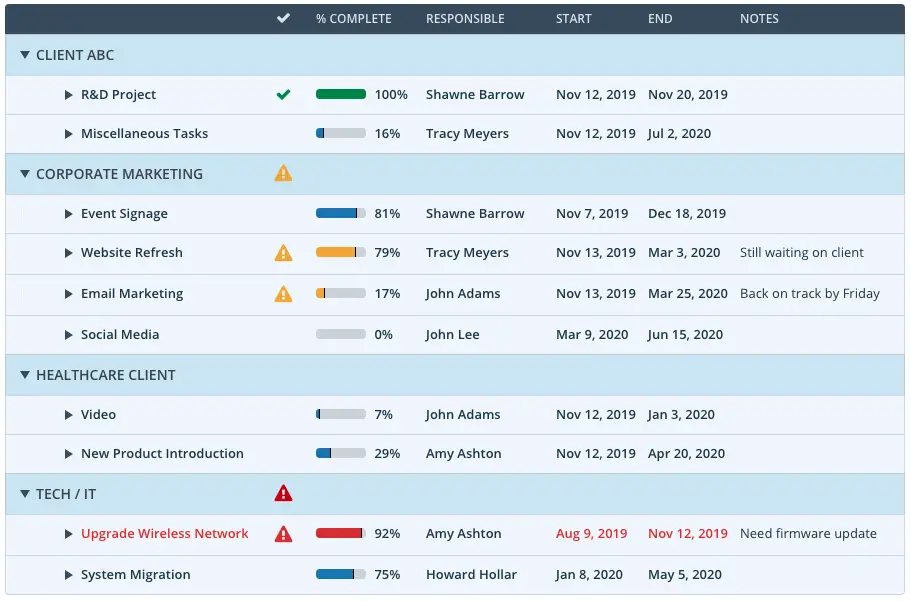 With Workzone, teams of 5+ members can keep their projects in sync and manage various tasks with ease. The software has been designed to answer real-world problems like marketing campaigns that need an operations plan or agencies with many clients at once–it's powerful but still easy for anyone looking into adopting it!
The company has been developing its product for over 20 years, so it answers those real-world problems with features that make managing campaigns a breeze (even if you're only working on one).
Pros
Good for managing tasks and projects and collaborating with team members.
Affordable pricing plans.
Easy to use and navigate.
Cons:
Limited integrations with other software.
Pricing/Free version
No free version.
From $24/user/month.
Paymo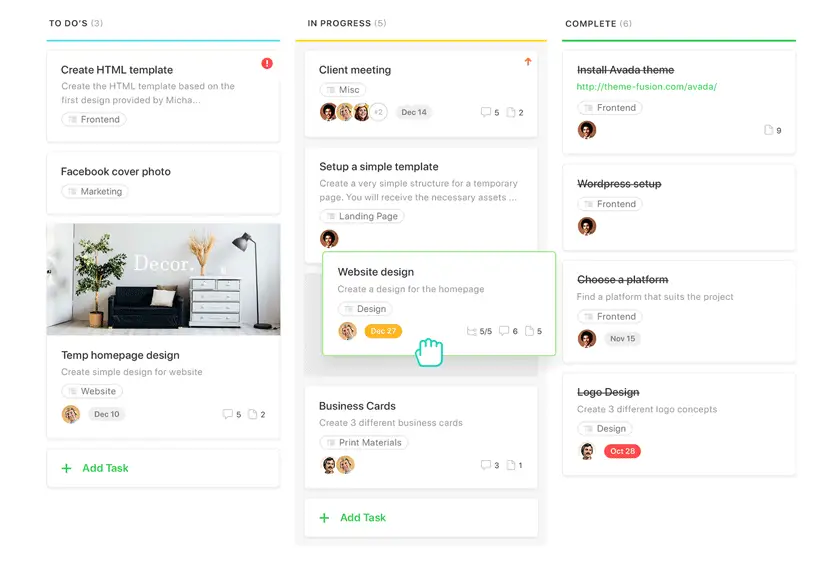 Paymo is a great project management software that can help you manage your research projects more effectively. It offers a variety of features such as task management, time tracking, and invoicing, which can help you stay organized and on track. 
Additionally, Paymo is cross-platform and easy to use, making it a great choice for researchers who need a reliable and efficient tool to help them manage their projects.
Pros
It's a great tool for managing projects, tasks, and team members.
The interface is very user-friendly and easy to navigate.
There are a lot of customization options available within the software.
It's affordable and has a free trial available.
Cons
The reporting features could be improved upon.
There are not a lot of integration options available as of yet.
Pricing/Free version
Free version available.
From $9.95/user/month.
Airtable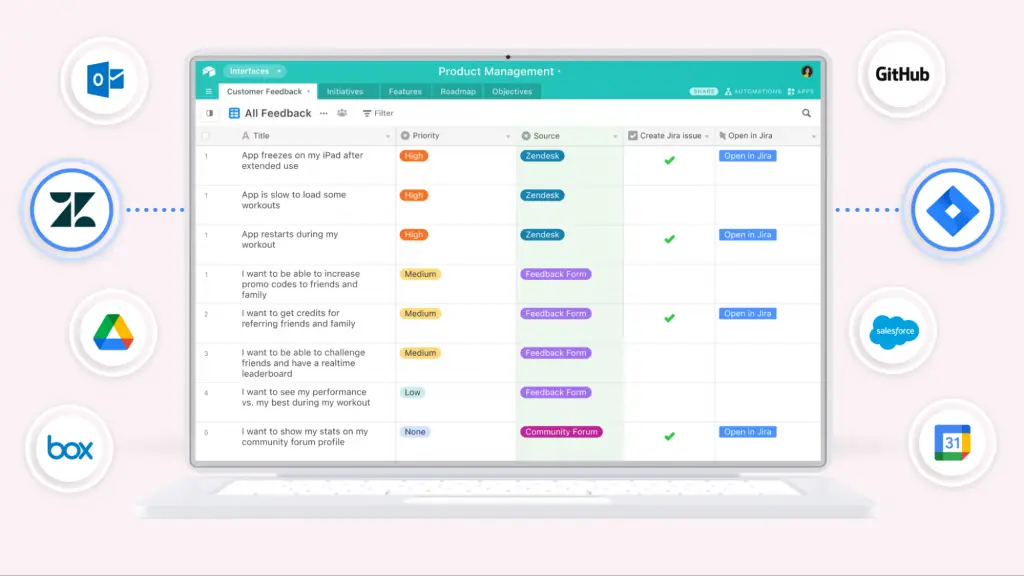 Airtable is a project management tool that helps users manage their tasks and projects. It offers a variety of features, including the ability to create and share custom templates, collaborate with others, and track progress. It also integrates with other applications, such as Google Drive, Dropbox, and Evernote.
At its foundation, Airtable enables you to quickly create a database containing the data that matters to you, then use it to fuel the visualizations, workflows, and integrations that make up a custom application that is really unique to you.
Pros
Airtable is a great way to keep track of your research projects. 
It's easy to use, cross-platform, and best of all, it's free! 
Cons
It can be difficult to keep track of all the different cells in your table.
It can be time-consuming to create and edit formulas. 
Pricing/Free Version
Free version available.
From $10/seat/month.
TeamGantt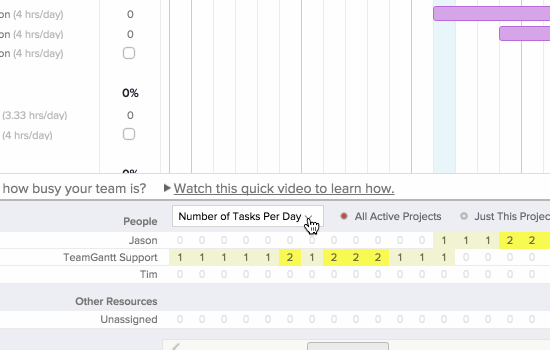 The TeamGantt tool is an excellent option for small businesses who need to plan and track projects but don't want the bells-and-whistles of more expensive platforms. It offers free plans tailored precisely how you Like them or pay extra if necessary!
With TeamGantt, project managers can view their team's progress on a Gantt chart. The software also tracks workloads and availability of collaboration features like chat or tagging to help teams work more efficiently together while staying in touch with what they are working towards at all times – no matter how many tasks you have open!
Pros
Projects can be set up and tracked in a variety of ways.
Share charts without requiring the receiver to log in.
Task duration can be easily dragged and dropped.
Cons
The functionality of dependencies might become sophisticated.
There are no in-app alerts.
Pricing/Free version
Freemium version available.
From $24.95/month.
Kissflow Project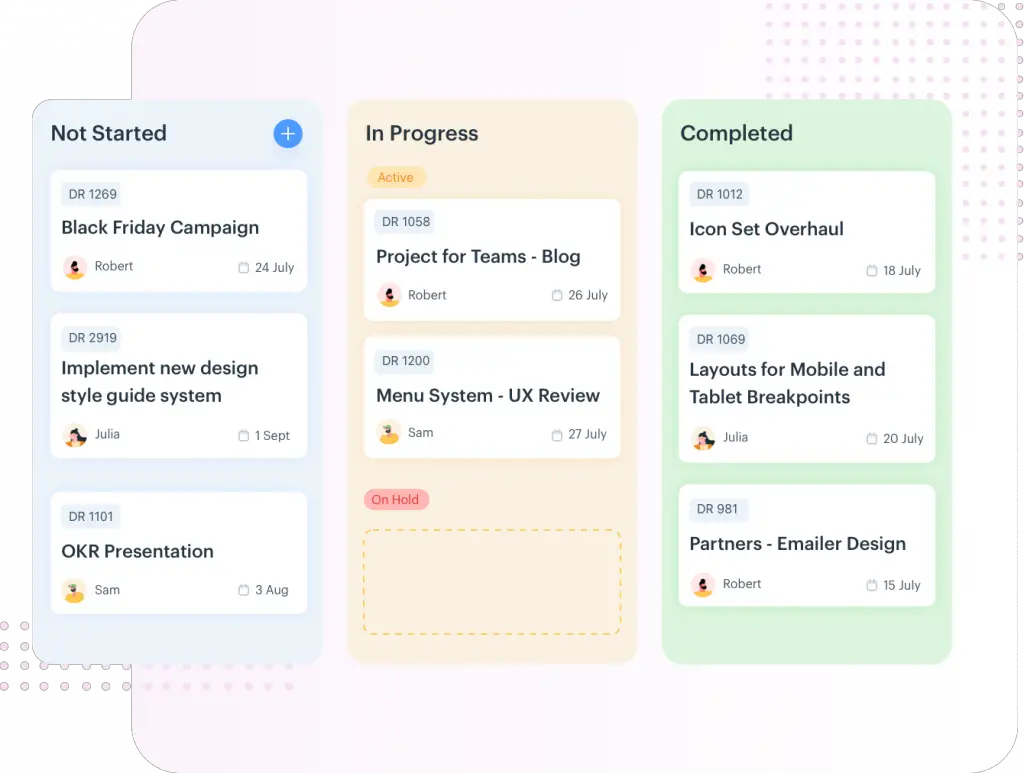 Kissflow's project management system is designed to improve coordination, transparency, and productivity. The tracking features are streamlined to provide a clearer view of what matters most in your business or professional life!
With the customisable platform, you can easily manage your team's projects. You'll be able to create boards for different tasks with Kanban or List Views and swimlanes that divide up work amongst employees so they don't get overwhelmed by all of their responsibilities at once! 
Pros
Kanban, lists, and swimlanes are examples of many views.
For tracking progress, there are three states available.
Reporting features that are extremely powerful.
Cons
There is no Gantt chart.
There is no way to set up repeating tasks.
Not suitable for large-scale projects.
Pricing/Free version
14-day free trial.
From $35/month.
MeisterTask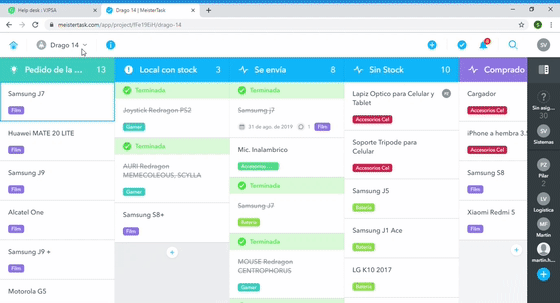 There's no need to manage your projects manually anymore with MeisterTask. It's a web-based task and project management software that can be used on simple, kanban style boards for agile software development teams looking for an easy way out of the laborious process! 
Pros
Intuitive functioning and a user-friendly interface.
It's possible to automate repeated tasks.
Timeline feature in the style of a Gantt chart.
Cons
Recurring tasks are only available to paying users.
There is no desktop application for Linux.
There are no subtasks available.
Pricing/Free version
30-day free version
From $8.25/month
Workday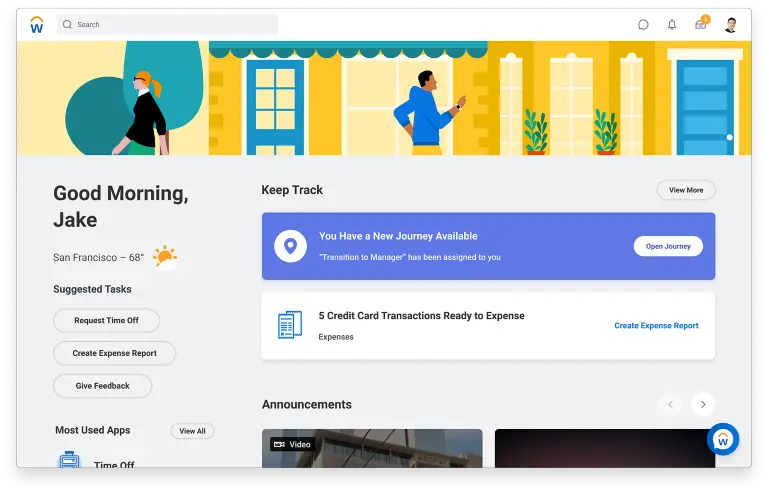 Workday is a cloud-based software company that provides financial management and human resources software to businesses. Workday offers a suite of applications, including payroll, time tracking, benefits administration, expense management, and performance management.
Workday offers analytics that are embedded, actionable, and available in real time and gives you a single, actionable view of your whole organization, from financials to employees. Workers can securely access insights as needed, collaborate, and take action without ever leaving Workday.
Pros
Workday is a cloud-based platform that is quickly gaining traction among businesses of all sizes.
It offers a comprehensive suite of tools for managing finances, HR, and other business operations.
The software is easy to use and can be accessed from anywhere with an internet connection.
Cons
Workday can be expensive for smaller businesses.
The software can be complex for users who are not familiar with accounting and HR best practices.
Pricing/Free version
No free version.
From $99/user/month.
Evernote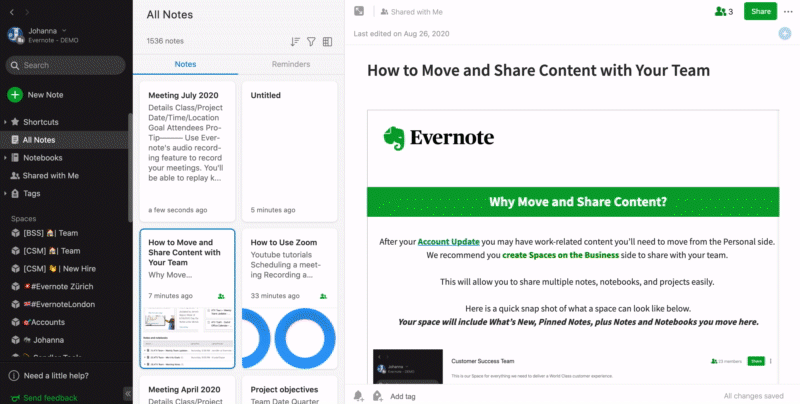 Evernote is a cross-platform note-taking application that helps you organize your life. With Evernote, you can take notes, capture ideas, and track tasks. The best part about Evernote is that it is available on various devices, including desktop and mobile devices.
Evernote groups your notes into Notebooks, which are similar to file folders. It's meant to be used as a note-taking tool, so you can use it to jot down ideas or things you notice with a text, camera, or voice note.
Some people use it for project management, which is a wonderful concept because it keeps everything in one location. When you combine notes and tasks with others, though, it might get overwhelming.
Pros
Available on all devices.
Organizes notes in a variety of ways.
Great for collaboration.
Cons
Some features are not available on free accounts.
It can be slow to load on older devices.
It can set tasks and deadlines but no weekly report on who did what.
It can be challenging to collaborate with others on a research project.
Pricing/Free Version
Free version available
From $7.99/month
Final Thoughts 
Project management tools are a necessity for any researcher looking to streamline their work. In this roundup, we've looked at 19 of the best project management software tools for research. Each tool has its own unique set of features, so it's important to choose one that will fit your specific needs. 
We hope that this article has helped you find the right tool for managing your next academic research project.