---
TL;DR
A good transcription tool will likely help you with your research projects, especially when there are lots of qualitative data.
The best solution is still AI + humans. Despite the progress in speech recognition software, human still shines when it comes to difficult text and specific context.

The most important feature in a transcript tool, in our opinion, is the custom dictionary that learns and grows with you.

Researchers should still check the most importmant text.
Each tool has some slight difference in terms of how it works and different researchers have a different use in mind. Be sure to test a few before committing.
---
Looking for the best transcription tools for researchers? This article is for you. 
Every researcher will spend a lot of time handling qualitative research data, such as transcribing audio files from 1-on-1 interviews, dissertation interviews,  or focus groups at some point. 
Top researchers have a system or method to handle this efficiently. Some have the luxury of cheap labor such as research assistants. Some rely on the best transcription tools. 
This article will talk you through our findings on the best transcription tools in the market. 
Transcription is an extremely time-consuming and exhausting process. The audio files can be messy if you are not careful. It could take hours just to organize them let alone in-depth analysis. 
Worst, if you are looking for the right transcription software at the eleventh hour. Learning the tool while handling your project sponsor or professor's questions can be a double whammy. 
That's why we put together this list of the 10 best transcription tools for researchers. In order for you to focus more on the high-impact insights generation work and less on the tedious data processing tasks, we researched and compared the most popular best transcription tools.
Why Use A Transcription Tool For Research?
Focus on what really matters. Don't waste your time transcribing qualitative interviews for your academic research. 
Increased accuracy – A transcription software is one of the essential digital research tools as it helps to ensure accuracy when converting data from recordings or videos into a searchable document. 
Increased efficiency – An automatic transcription tool can help to speed up the process of converting data from an audio or video file into a searchable document. 
Easily editable – A transcription tool allows documents to easily be edited for any needed changes. This can save time when converting data from recordings or videos into a searchable document.
Overview Of The Best Transcription Tools for Researchers
Best AI/Hybrid Transcription Tools
Rev – Best-known Transcription Brand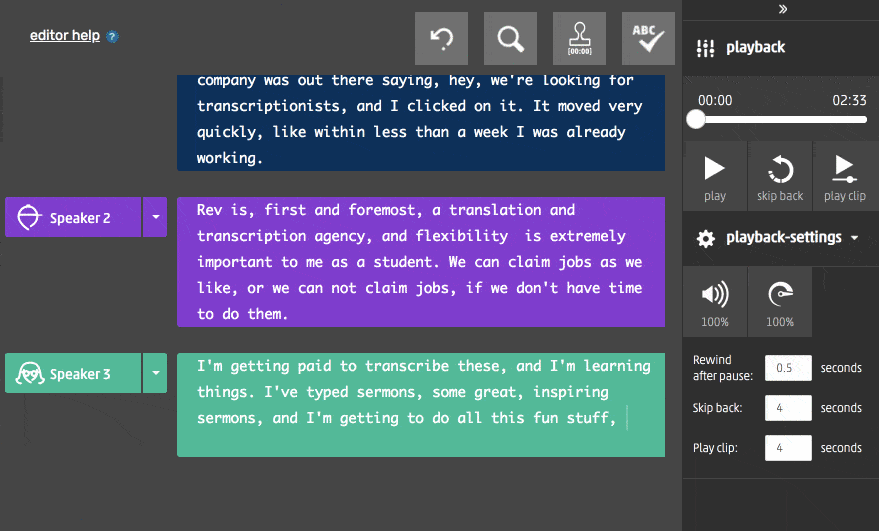 One of the most popular tools for transcribing interviews and audio data is Rev.com. Rev is fantastic for quick and accurate transcriptions, and it offers great features like timestamps, speaker identification, and automatic punctuation. 
Using a combination of AI and humans, they reach an accuracy of at least 99%. One thing we like about it is that Rev doesn't charge you more for 12-hour delivery, whether you have multiple speakers and no extra cost for strong accents. And it is able to offer you a strong price at $1.25 per minute.
The last time we check there is a free trial going on. Try it for free here.
This makes Rev a perfect tool for researchers worldwide who need to quickly transcribe audio, recordings, or videos and preserve their qualitative data. Additionally, because Rev is online-based, it can be accessed from anywhere with an internet connection.
Rev also released a free iPhone call recorder that allows you to record and transcribe iPhone calls. It is available for both incoming and outgoing calls. Excellent for phone interviews and meetings.
Bonus tips: You can check out Rev Transcription Library and see it for yourself.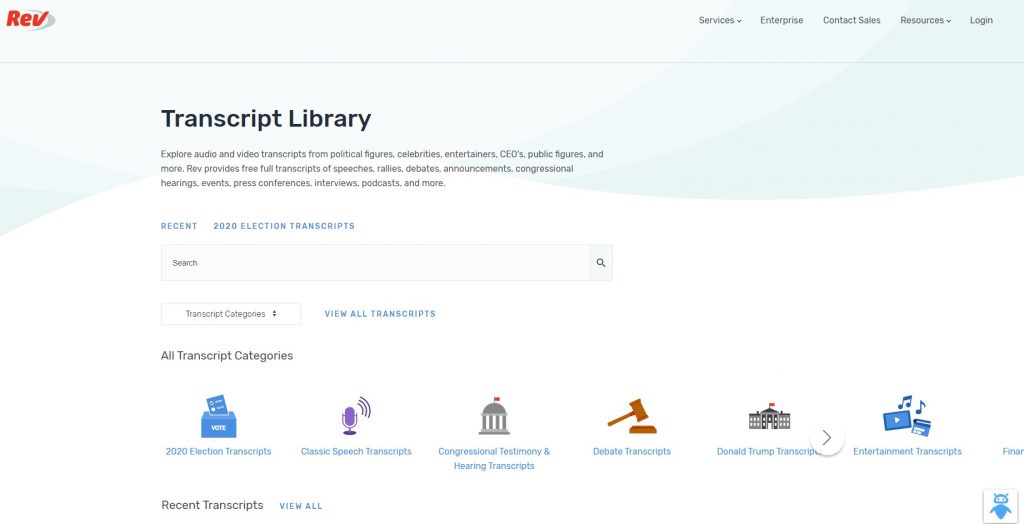 Pros
Accurate: High accuracy of ~99% using a combo of AI and human 
Fast: A transcript lands in your inbox within 12 hours after you upload an audio or video file.
Professional: 60,000+ professionals at your service 24/7 with 99%+ accuracy guaranteed.
Competitive Pricing: no extra for 12-hour delivery, multiple speakers, or strong accents
Security and confidentiality agreements are in place
Cons
The conversion of the qualitative research process can be slow, which can be frustrating when you need to work quickly.
The cost can be prohibitive for some researchers. 
Pricing/Free Version
Each minute costs $1.25, so a 60-minute interview will cost $75. 
For "extra-fast" delivery, it costs $2.25 per minute. A 60-minute interview would cost $135.00 to have returned in 3 hours.
It has a free 45-minute trial and $0.25 per minute afterwards
Sonix – AI Tool with a custom dictionary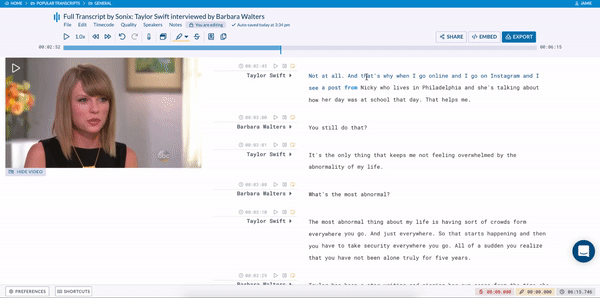 Sonix is a world leader in automated transcription. It allows you to transform your audio into text with cutting-edge artificial intelligence and polish the transcripts with its in-browser editor.
The service is easy to use, and the transcripts are accurate and affordable. Sonix is the perfect solution for Ph.D. students and researchers who need to transcribe audio files quickly and accurately.
Pros
Unlike some AI tools (like Descript), Sonix has a custom dictionary. This is a lifesaver for academic researchers as there are many specific terms and phrases that often escape the generic tools
It is also easy to export files into different formats, which is really helpful.
With Sonix, your entire team can collaborate on research projects.
Cons
The cost of the subscription can be prohibitive for some users.
The search function is not very user-friendly.
Pricing/Free Version
Free trial not available.
From $10/hour in the pay-as-you-go option 
$22 for a monthly subscription
Descript – AI Transcription Tool (with strong voice and video editing functions)
Descript is mainly designed for podcasters, but can also work well for researchers. Descript is very powerful. But, to say it's a transcription tool is a bit misleading. It's more like a video editing tool that brings in the transcription and caption and much more all into one place. 
For people who need to record interviews or videos for academic purposes, I can see why someone will love this tool.
So, you have an interview that you want to turn into a video with a caption. Forget about exporting and importing different files for video, transcript caption, or voice. You can do it all in Descript.
Insider tip: Descript has a unique AI voice dubbing capability that allows you to clone your voice. So, you are a tech-savvy researcher who loves to use tools to create leverage, then do check it out.
Pros: 
One of the few video editing tools that combines the text, voice, video where you can click and edit the words
For example if you see a script that is off-topic and want to delete it. Finding the text is easy AND it will also remove the video portion for you.
Add a stock voice. Descript will record the voice for you. And, you can train Descript to create your own synthesized audio to create a personal overdub voice. Creepy… 
Removing filler words is easy – no more re-listening 100 hundred to clean up the video AND it has a one-click removal like Grammarly
It makes large editing for misspelled words easy with its "Transcription Glossary" that will increase the accuracy for uncommon or difficult words
The accuracy also varies with the quality of the recording and your accent (tip: try American voice)
Cons
No custom dictionary: You will need to manually correct any specialist vocabulary or words that Descript routinely mistranscribes. Could be a big drawback for the more technical researchers 
For extra accuracy, you can get a human to review, but it costs $2 extra per minute.
Pricing
A generous free trial includes 3 hours of transcription with the full power of audio and video editing. Unlimited screen recordings. The overdub AI is some next-level stuff – it allows you to clone realistic voices of your own. Traditional researchers are shy from using multimedia and social channels to promote their work.
But, you are one of those rare ones and use a lot of videos or voice in your work, you will love this tool.
The price of the basic package is $12 per month, which includes 10 hours of transcription. At $1.2 per hour – pretty good deal compared with other AI transcription tools.
Happy Scribe – A promising startup from Barcelona that combines AI with professionals
Happy Scribe is a young but promising transcription tool that is gaining in popularity because of its user-friendly interface, its powerful language translation, and many features that make transcription easier than ever before. 
Happy Scribe provides transcription and subtitling solutions using artificial intelligence in more than +119 languages. 
Happy Scribe can be used to ease the time-consuming transcription process by transcribing audio recordings, videos, and even handwritten notes that can aid in your data analysis. It also has a built-in text editor, which makes it easy to make any needed changes to the transcript. 
Additionally, Happy Scribe offers a number of handy tools that can be used to improve your transcription experience, including a pause button, a speed control slider, and a feature that allows you to replay the audio recording while you are transcribing it.
Pros
Very high Trustpilot score (4.9 out of 5.0) perhaps as they are quite new
Most users say it's useful to work with videos in foreign languages.
Great user-friendly interface, which makes it easy and fun to use. We have seen this comment even in the most negative review.
Happy Scribe supports multiple file formats, including PDF, Word, Excel, and more.
An easy no-sign-up process that allows you to experience the product before you sign up
Cons 
Some users don't like its easy no-sign-up process which they feel the process is not transparent nor secured.
Crashes during or after the uploading process. 
Foreign languages may require more proofing than English.
US users complained about slow customer support. Make sure you are ready to repeat it to different support team members.
A few users experienced issues with transatlantic refund (outside of EU) in the early days of the company.
Pricing
100% Human Transcription costs €1.70/min or ~USD 1.95; 99% accuracy.
AI Transcription costs €0.20/min or USD 0.23/min; 85% accuracy.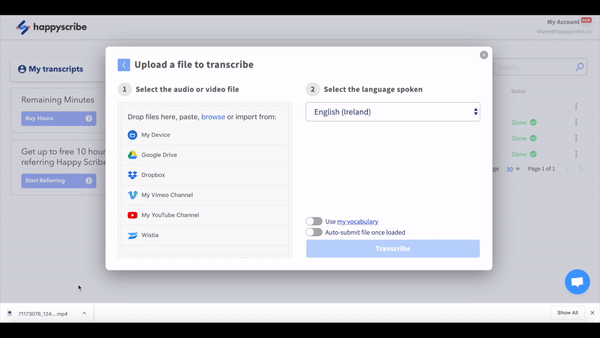 Otter.ai – Easy-to-use software with good accuracy
There are so many ways to import recordings, live audio, and web links for transcription in Otter. A major perk of the free version is the ability to import two files per month and to transcribe unlimited live recordings. 
You will be able to see the speakers separately and the timestamps will make referencing easier the original audio file or meeting, should you need to. 
For example, students can use it to literally search "exam" when professors slip out a "this will be in the exam." One nursing student (see video below) has used this to help her study during COVID and impress her peers by timestamping what is said and exactly when.
As a researcher, you can use this to capture how many times a keyword of your research is said. You can use it to analyze a focus group or individual interview in ways that weren't possible before.
You can really impress your professor or sponsor by fully capturing what is said during a meeting. I bet you have many video calls during COVID. Wouldn't it be nice to have a live transcription captured on the side?
The use case is limited only by your creativity.
The days of recording a voice, playing it back at home, and taking notes are gone. You can finally focus on the content and meaning, not just the voice and text.
The good news is Otter.ai is offering special deals to students and researchers. Go to otter.ai/edu. Thousands of students have discovered the power of Otter Voice Meeting Notes to help take notes during lectures, transcribe research interviews, capture notes from group study sessions, and process public audio data for research purposes.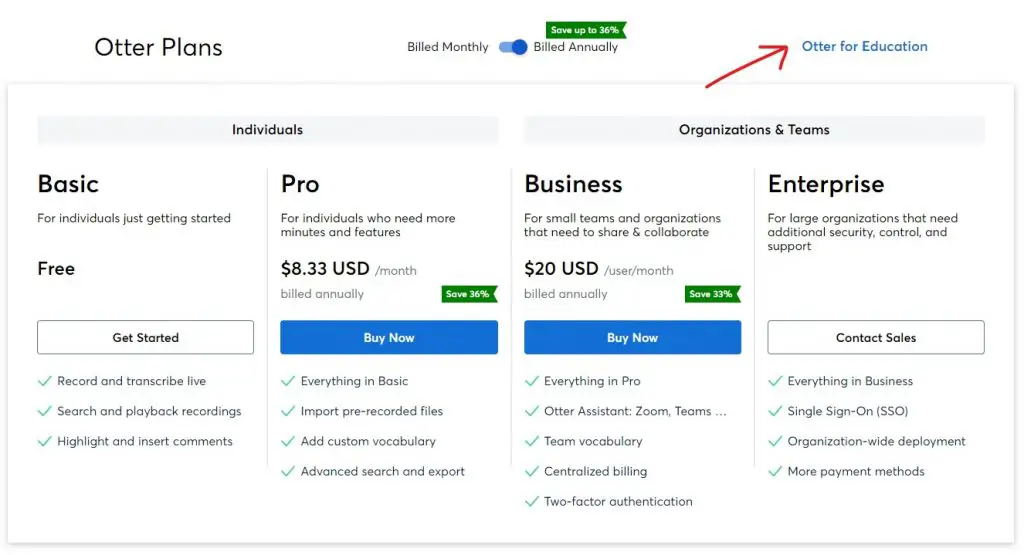 Pros
Otter is fast and easy to use. It is highly accurate when it comes to picking up correct words and phrases that are used daily. 
Furthermore, you can hear the real voice of the person as it reads back the audio, not that of a robot.
Works in real-time with audio recording concurrently.
Cons
Otter may not be very accurate when it comes to harder words such as complex medical terminology. You will need to read the transcript carefully and ensure that it is accurate.
Also, there could be some glitches with strong accents. 
Pricing
Otter.ai is offering 6 hours of free transcription services regardless of whether you are in school
Reduct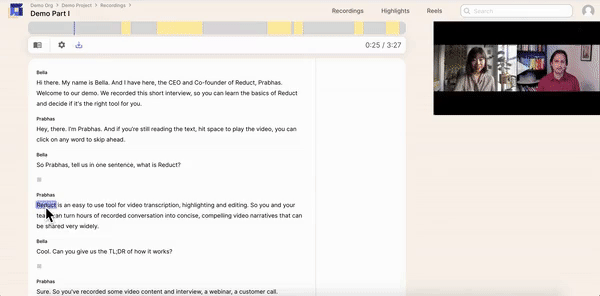 For Ph.D. researchers, Reduct is a video transcription program and an intuitive video editing tool that offers two types of transcription: AI and human. 
The AI transcripts are reported to have approximately 85% accurate. 
The human option can achieve 99 percent accuracy but can take up to a day (or more, depending on the transcribe source) to get.
Pros
Its built-in text editor will assist you in identifying and correcting spelling and grammatical problems.
Allows you to add videos and transcripts to the individual video or folder of videos you want to share with other Reduct users.
Cons
Reduct can be time-consuming, especially if there are a lot of recordings or videos to transcribe.
Pricing/Free version
Free trial available.
From $30/editor/month.
Outsourcing Services
Scribie – One of the most affordable outsourcing options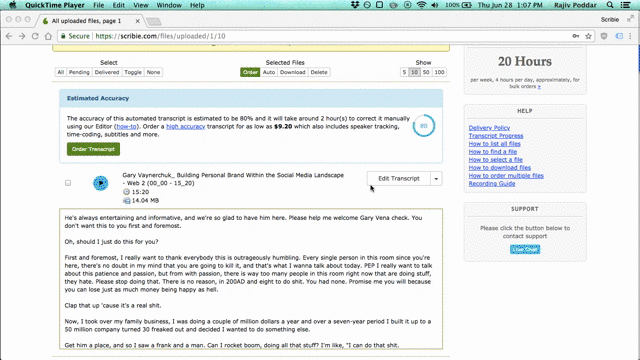 Scribie is a transcription tool that is great for Ph.D. students who wish to transcribe their research data. This automated transcription tool offers a simple, easy-to-use interface that makes transcription of research interviews quick and easy. Plus, Scribie offers great features like transcription accuracy verification, automatic document formatting, and document sharing. 
Scribie is available for free, but users can also upgrade through paid plans.
Scribie offers a way to cross-check transcriptions with the original recording. Users simply click on the word and they will instantly see the original audio playing back next to it. This way, if there are any differences between what was originally said and what Scribie transcribed, it's easy to pinpoint those changes.
Pros
Thanks to Scribie's integration with Google Docs, documents can be shared with only the people who need access to them.
Researchers are also able to download their transcription as an editable .docx or .pdf document.
Cons
The quality of the transcriptions can vary, so it is important to check the transcribed interview audio for accuracy before using them in any research.
Pricing/Free Version
No free version.
From $0.10/min.
Transcription Hub – Best Outsourcing Option
Transcription HUB is a cutting-edge transcription services firm that specializes in offering low-cost, high-quality audio/video transcription and translation services. They provide value to researchers working all around the world by combining innovative technology and clever labor.
Researchers looking to ease their research process can try out this verbatim transcription software called Transcription Hub. Transcription Hub is a web-based application that helps people to transcribe audio or video files. It is designed to make the transcription process easier and faster. 
The app allows users to import files, edit them, and then export the transcriptions.
Pros
Can save time by outsourcing transcription work
May have more accurate transcripts due to multiple people checking them
Allows you to get back transcripts back quickly
Cons
May be more expensive than doing transcription in-house
Pricing/Free Version
Free version not available.
From $0.75/min.
GoTranscript – Human Generated Transcription Services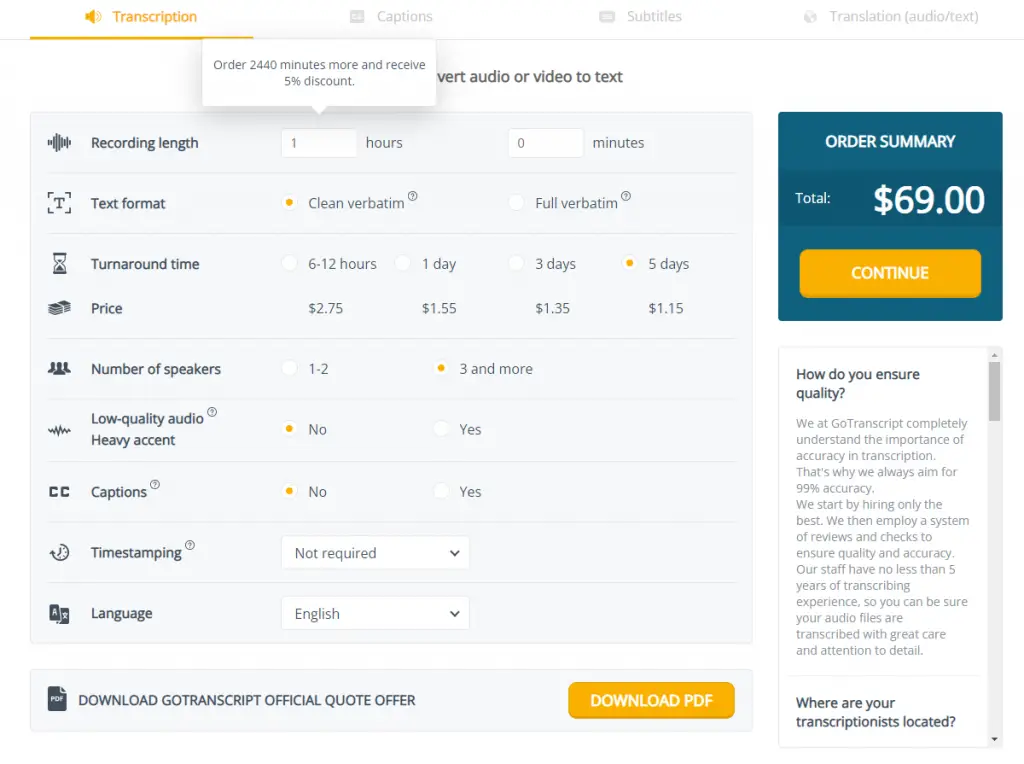 Transcription tools can be incredibly useful for Ph.D. students and academic researchers. GoTranscript is a transcription and translation company that provides high-quality transcription and translation services to Ph.D. students and academic researchers all over the world. 
GoTranscript have a team of experienced transcribers and translators who are dedicated to providing accurate, reliable, and fast services. GoTranscript also offers a variety of discounts for students and businesses, making their services more affordable for everyone.
GoTranscript have agreed to offer our readers a 10% discount for ALL orders through this link or use the coupon code: scijournal.
Pros
All human – with 20,000 staff, so the accuracy as it relates to understanding context is likely to be better than non-human ones
Affordable prices – GoTranscript offers discounts for students and businesses, making their services more affordable for everyone.
Quality services – GoTranscript has a team of experienced transcribers and translators who are dedicated to providing quality services.
Variety of languages – GoTranscript offers transcription and translation services in a variety of languages, making them a great option for researchers and students who need translations into or from multiple languages.
Cons
Customers cannot schedule a video or phone check-ins with GoTranscript, nor can they receive a free live chat from their website.
Few customers (<5%) have experienced delay with the fast delivery service; most are quite happy with the fast delivery
Very few (1 out of the 3,000+ reviews) have issues with uploading speed.
Pricing/Free Version
There are multiple factors that affect the pricing, e.g., length, verbatim requirement, turnaround time, number of speakers
For 60 minutes recording, not full verbatim, in 5 days, 3 and more speakers, not heavy accent and no caption, the cost is $69 – about $1.15 per word. If you need a caption, then the cost becomes $93 for the same 60 mins recording, or $1.55 per min
Assuming you have a recording with a strong accent, the cost jumps to $87 or $1.45 per min. If you need a caption, then the cost becomes $111 for the same 60 mins recording, or $1.85 per min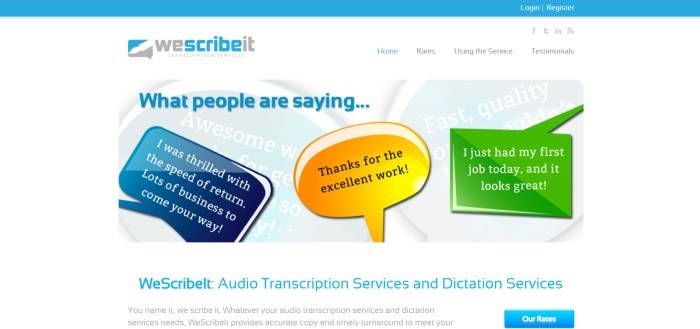 WeScribeIt offers audio transcription and dictation services for academic researchers, with expedited files delivered in as little as six hours. Translation, foreign language services, and closed captioning are some of the other options available. This organization guarantees the quality of all of its work and completes transcriptions with human typists.
WeScribeIt provides an easy-to-use transcription service that can be used to transcribe audio and video files or research interviews. The service is easy to use, and the transcripts are high quality. The service is affordable, and the transcripts are delivered quickly.
Pros
It stores audio transcription files online for 15 days and fully completed documents for one year. 
Customers can use this company's transcription price calculator to estimate the cost of a job before requesting a transcription.
Cons
The turnaround time can be slow, so it may take a while for your transcriptions to be delivered.
Need sure you understand how its pricing works, otherwise you may end up paying more than you expected.
Pricing
General: $1.50/min; Legal: $2/min; Medical: $1.50/min
Ultimate Guide to Transcription Tools for Academic Research
What is A Transcription Tool For Research?
A transcription tool for research is typically a software application that allows researchers to create, edit, and manage transcriptions of audio or video files. 
Most transcription tools offer a number of features that can help streamline the transcription process, such as the ability to create and manage transcripts, track speaker IDs, and mark timestamps. Some transcription tools also include built-in text-to-speech engines that can automatically generate a transcript from an audio or video file.
What features should you look for in A Transcription Tool For Research?
When looking for a transcription tool, you'll want to make sure that it has the features you need. For example, some tools allow you to import audio files, while others let you type directly into a text box. 
You'll also want to make sure that the transcription tool is easy to use so that you can save time while transcribing your research findings.
When looking for a transcription tool for your research, you should consider the following features:
Accuracy: The most accurate transcription software has a 90% accuracy rate. 
Processing Time: Depending on the transcription software, the turnaround time varies. It is determined by the length of the recording. An hour-long uploaded audio file or a live meeting takes roughly half an hour to transcribe on average. 
Integrations: Modern AI transcription software is delivered as a service (SaaS). This allows them to connect and interface with other apps in order to streamline processes. 
Usability: You should also think about how easy it is to utilize the product. Choose transcribing software that provides a pleasant user experience for the best results. 
Final Thoughts
Transcription of verbal and non-verbal social interactions is often a central component of research projects. But, transcription can be a nightmare for many researchers as it is often labor-intensive and time-consuming.
This article gives you some ideas for the tools, services, courses that are available. 
For some important text, you should run it through proofreading tools and then manually edit it to make it professional. 
We hope you learned something new, and are curious about your experience.
If we miss anything, do let us know.